event preview
Celtic Festival bringing Celtic music, culture back to Saline
Posted on Tue, Jul 10, 2012 : 5:33 a.m.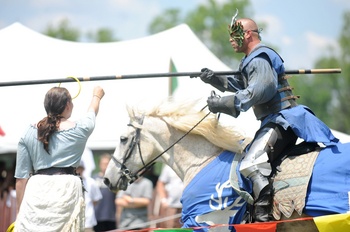 Angela J. Cesere | AnnArbor.com file photo

Well, once again, it's time to get Celt-ified.

Every year about this time, Mill Pond Park in Saline is turned into a celebration of Celtic music, dance, customs and Celtic culture in general. That's been true for 17 years now, since the very first Saline Celtic Festival, and this year's event promises to be another feast for lovers of All Things Celtic.

For starters, the headliner for this year's festival, which is this Saturday, is Eileen Ivers, who has arguably been the best-known Irish-music fiddler on the scene for the last 15 years or so, due in part to her stint in "Riverdance" back in the '90s. (She was also a co-founder of the beloved trad-Irish group, Cherish the Ladies.) This is a return engagement for Ivers, who also played the festival in 2008.

Technically, the festival itself is Saturday, but the "pre-Fest" kicks off on Friday night with the Pub in the Park, featuring Road Kilt, the local Celt-rock band, and emceed by the quick-witted Beth Patterson, a Celtic / Cajun-music artist from Louisiana. Friday's Pub Night also features a new event, a Limerick Contest, and the always-popular Mr. Pretty Legs in Kilt contest.

Sheila Graziano, who has served as the festival's artistic director for every year since its inception, is excited to have Ivers—and her band, Immigrant Soul—back at the fest.
PREVIEW
Saline Celtic Festival
Who: Musical acts include Eileen Ivers & Immigrant Soul, The Tartan Terrors, Rant Maggie Rant, Seven Nations, Moxie Strings and many others. For full list and description of performers, see www.salineceltic.org/music-and-dance.html.
What: Multi-faceted Celtic festival celebrating various aspects of Celtic culture, including music, dance, athletic games, historical encampments, merchants, a textile tent, Clan tent, music and dance workshops, demonstrations and much more. For more info about the fest events and performers, see www.salineceltic.org/.
Where: Mill Pond Park, Saline.
When: Saturday, 10 a.m.-11 p.m. (Music performances begin at 12:30 p.m.) Pre-Fest "Pub in the Park" is Friday at 5:30.
How much: In advance, Saturday: Adult, $10; youth (13-17), $5; group (10) $80. Saturday, at the gate: Adult, $15; youth, $5; seniors $12. Children under 12 and active military, 12, free. Saturday evening after 8 p.m., $10. Friday night Pub in the Park, $5. Tickets can be purchased at the gate or in advance at www.salineceltic.org/tickets.html or at various locations around Saline and Ann Arbor, including the Saline Celtic Festival Office and Saline City Hall, both located at 100 N. Harris. For more info, call 734-944-2810 or write info@salineceltic.org.
"To me, she personifies the spirit of Irish music," says Graziano. "She is everything Irish music needs to be, and should be. She has the energy and the history, she has great reverence for traditional Irish music, and plays it wonderfully—but she's not shy breaking beyond the boundaries and reaching outside of the parameters of trad music."
Indeed, Immigrant Soul often backs Ivers' alternately fiery and wistful fiddle playing with world-beat rhythms.
"And in addition to being supremely talented, she is very meticulous—she does everything with so much style or grace, whether she's playing a breakneck jig or reel, or a slow air," says Graziano.
Another band that will have the place jumping is The Tartan Terrors, an Ontario-based group that boasts a world-champion bagpiper, but also engages in a lot of jokey shtick and banter and visual humor. "Like, the bass drummer is very short, but they put him behind this giant drum," says Graziano with a laugh. "I see them as sort of a Celtic vaudeville act. It's a very unique show, and they're definitely into providing sheer entertainment."
Meanwhile, another top act at the Fest, Seven Nations, is a Celtic-rock group "that's a real party band," says Graziano. "We wanted to bring in a band like them to get people up and dancing. They close the festival on Saturday, and also close the Pub in the Park on Friday."
The yin to Seven Nations' yang at the Fest will be Rant Maggie Rant, who play "mostly traditional music, and they're very refined musicians, and are very sophisticated. And singer Glen Dias has a really powerful voice," notes Graziano, adding that this is the group's third visit to the Fest. The group is also Canadian, and Graziano is proud to say that the Saline Celtic Fest was the first U.S. Celtic festival to ever book them, helping the group build up an audience in Michigan and the Midwest in general.
Other artists / acts playing at the festival include Fiddlers ReStrung, Moxie Strings, The Bowzies and The Celtic Connections Band.
As always, there's also a dance stage, which will host a participatory events like Ceili Dances and The Tartan & Thistle Ann Arbor Scottish Country Dancers, as well as performances by the Ealain Ceime Irish Dance School, Irish Dance School of Lansing, Ann Arbor Morris & The Quality and The CommonWealth Dance Collective And Fest-goers will also be treated to a Highland Dance Competition.
Other festival events are the Saturday morning 5K run/walk, and Wee Folk Activities, which include crafts, "wee folks" Highland Athletics, face painting and a few surprises.
Speaking of Highland Athletics, the adult version is always a fest favorite, in which burly guys compete in events like Heavy and Light Weight for Distance, Weight Over Bar, Sheaf Toss, Caber Toss, and Braemar and Open Stone. This year, the fest has added an amateur open event for men and women of all ages.
The annual music workshops return, on Friday, and will include Celtic Fiddle Styles, the Tin Whistle, Guitar Accompaniment, and Irish Step Dancing. The fee is $8, which includes admission to all of the Friday events.
The Pipe Bands competition is another popular event. Each band will perform a five-minute judged competition set, and then later Saturday afternoon, each will perform a 20-minute concert set.
The Living History area, meanwhile, features jousters, sheep-herding demonstrations by Irish sheepdogs, and the annual appearance of Millie the Mill Pond Monster. (Millie's appearance will include a surprise this year, says Graziano.)
And the Textile Arts Tent features the "wauking of the tweed," in which women "sit around a table in a circle, take eight-foot length of coarsely-woven fabric, and pound the fabric with their hands to fill in the holes," describes Graziano. "And, while they're doing that, they sing these great old ancient work songs."
One event that promises to be amusing is the Haggis Hurl, in which Fest goers compete by tossing a haggis at a target. (A haggis is Scottish dish that consists of a sheep's stomach stuffed with its innards, like the heart, liver and lungs. Hm, sounds tasty, doesn't it?)
"The history of this event is interesting," says Graziano. "The way the story goes, the men would go off to work, and the women would prepare them the haggis for their lunch, and then take it to the men at lunch time. But the men often worked across a river, or some other body of water, so a woman had a lot of status if she had a good, strong, throwing arm to enable her to hurl it across the river to her husband."
Graziano has "immensely enjoyed" her 17 years as artistic director of the Fest, and helping to make it one of the most well-respected and notable events on the national Celtic-festival circuit, she says. But, this is her final year as artistic director.
"I've loved finding the artists and bands, and booking them, and working with them, and just being part of putting together such a wonderful festival," says Graziano. "But, it's very time-consuming. We work on this pretty much all-year long, and we're all volunteers.
"And over these 17 years, there are other projects I've shelved because I didn't have enough time to devote to them. I want to improve my fiddle playing, and I'm the artistic director of the Commonwealth Dance Collective, so I want to devote more time to that as well," says Graziano, who's also a traditional-step-dancer.
"Plus, I also now have a six-month-old grandson, and I'm definitely looking forward to spending time with him."