concert preview
Ruthie Foster's unique musical mix coming to The Ark
Posted on Sat, Sep 1, 2012 : 9:26 a.m.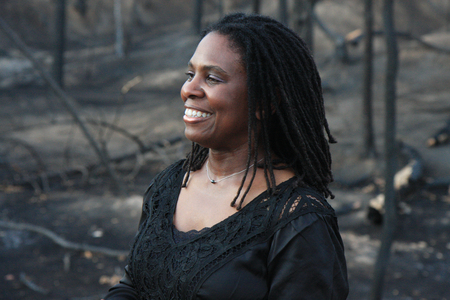 It would be safe to say that Ruthie Foster has fairly catholic tastes in music. Since her 1997 debut, she has generously borrowed from blues, soul, funk, rock, gospel, and country-music styles—sometimes engaging in some song-to-song genre-hopping, sometimes commingling those styles within a single song to create something new.

Her last album, "The Truth About Ruthie Foster," from 2009, was, on the one hand, an intensely bluesy effort, with guitarist Robben Ford flaunting his blazing rocking-blues chops. But it also drew heavily on Memphis soul—Foster even traveled to Memphis to record it.

And on her current disc, "Let it Burn," she again draws from variety of styles. In this instance, New Orleans R&B is prominent in the mix, due to the presence of the Funky Meters' rhythm section of bassist George Porter Jr .and drummer Russell Batiste. But she also recruited Hammond B-3 master Ike Stubblefield, who at times brings a jazzy organ-combo feel to the proceedings, and at other times lays down some churchy gospel-music chords.

Also bolstering that gospel element are a few members of the Blind Boys of Alabama—the pre-eminent trad-gospel group of the last 40 years: They sing backing vocals on four of the tracks.

Adding to the record's multi-genre "musical survey" vibe is her choice of songs. She only wrote or co-wrote three of the disc's 13 songs, so she flung a fairly wide net when choosing songs to interpret. And they definitely run the gamut—from dramatic re-workings of vintage songs like Pete Seeger's "If I Had a Hammer" and Johnny Cash's "Ring of Fire" (actually written by Johnny's wife, June Carter, along with Merle Kilgore) to '70s-era classic rock tunes like Crosby Stills & Nash's politically charged "Long Time Gone" and the Band's plaintive "It Makes No Difference."

Plus, she tackles Los Lobos' "This Time," John Martyn's "I Don't Want to Know," the Black Keys' "Everlasting Light," and the traditional "The Titanic," among others.
PREVIEW
Ruthie Foster
Who: Acclaimed singer and songwriter.
What: A blend of gospel, blues, folk, and soul.
Where: The Ark, 316 S. Main St.
When: 8 p.m. Tuesday, Sept. 4.
How much: $20. Tickets available from The Ark box office (with no service charge); Michigan Union Ticket Office, 530 S. State St.; Herb David Guitar Studio, 302 E. Liberty St.; or online from the Michigan Union Ticket Office.
"We just felt like we wanted to open things up even more on this album" says Foster, who brings her trio to The Ark on Tuesday. "Some of these songs, I picked myself, and some of them were brought to me by my producer, John Chelew.
Foster also had it in her mind to work with local musicians, wherever she ended up recording, and when Chelew mentioned New Orleans as a possibility, "I wasn't gonna argue with that, because I love New Orleans R&B, and the first name on our list was George Porter Jr."—the grand poobah of New Orleans R&B bass players, who was a co-founder of The Meters in the 1960s and played with them for more than 15 years, blazing some important funk-music trails along the way, and is still a Crescent City musical force.
"We didn't bother telling those guys what to do, we just played the songs for them and let 'em do their thing, let 'em lay down those funky grooves they're so great at," says Foster by phone from her home in Austin, TX. "They definitely brought more groove than I would have gotten from anyone else."
Bringing Stubblefield on board was borne out of Foster's desire for the disc not to be a guitar-intensive one like her previous album was. In fact, Foster, an accomplished guitarist, didn't even play guitar on the album: They recruited David Easley to play atmospheric pedal steel. "We were going for a more soul-type record, with the organ right up front, and Ike definitely gave us that."
Inviting the Blind Boys was an instinctive choice for Foster, who grew up in the church, and whose grandmother had five brothers, "and I grew up hearing them singing in church, so I love male voices singing gospel music," says Foster. The Blind Boys' soul-stirring gospelized harmonies definitely bring a new, unexpected fervor to David Crosby's "Long Time Gone," which is also propelled by Stubblefield's supple organ flourishes.
The biggest surprise is their remake of "If I Had a Hammer." They render it in swampy, foreboding, jazzy, slow-burn fashion that is initially unrecognizable.
"Yeah, it's definitely not something you would expect," says Foster with a laugh. "It starts with just the bass player, and then we all come up. I like that it begins low and sensual and sexy, and when we do it live, when people hear the first lyrics, and realize what it is, some of them gasp, or there are nervous giggles. But I like that maybe this kind of treatment takes the powerful message of the song (equality, justice, peace, common ground) and reaches young people who might never have heard it."
"Ring of Fire" is upended in similar fashion, as Foster and the band turn it into a poignant, atmospheric ballad that is a 100 percent left turn away from Cash's uptempo arrangement with Spanish horns.
As for her equally gospelized, organ-fueled take on the Band's "It Makes No Difference"—a song that the Band's great singer Rick Danko "owned" with his plaintive, yearning vocal performance: Foster says that she's "a huge fan of the Band, and I love that song. I brought that one to the mix, talked to my producer about it, but he said he wanted the album to be more 'up,' and thought this song was too 'down.' But I said, 'We're bringing in all these great songs, and this is a beautiful one.' I thought it would really add to the color of the album.
"I just decided to let my vocals take the song where it needed to go, and made sure I maintained the intensity expressed in the lyrics. That song is really intense—I think it's much more intense than it is sad."