play review
Shakespeare in the Arb offers fun take on 'Merry Wives of Windsor'
Posted on Fri, Jun 8, 2012 : 2:37 a.m.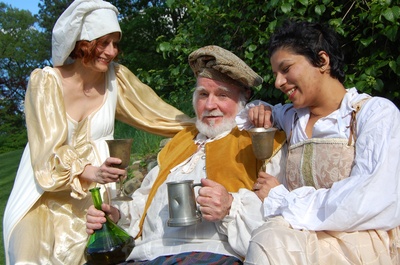 Photo by Jonathan White

You know you're watching one of director Kate Mendeloff's annual, outdoor Shakespeare in the Arb productions—this year, "The Merry Wives of Windsor"—when shortly before seeing Falstaff don a pair of antlers in the final scene, you see 4 actual deer standing near the performance area.

Such are the marvelous coincidences that inevitably occur when watching these productions, which require that audience members walk to different parts of Nichols Arboretum to watch the play unfold, scene by scene. (Golf carts are on hand for patrons who need assistance.)

Normally, there's a kind of loosely linear quality to these scene stops, but for "Merry Wives," Mendeloff establishes the play's (largely interior) settings in specific areas, and thus brings the audience back to each space as required by the script. This means that no particular transition is all that long or taxing; but this also means that the number of times you'll need to get up and move is fairly high. (During one shift, a little girl asked, "Why are we moving so much?" and a nearby patron said, "From the mouths of babes.")

The play, of course, tells two stories: one that's focused on Falstaff (Martin Walsh), who decides to woo two wealthy married women, Mistress Ford (Maria Thomas) and Mistress Page (Jean Leverich), for monetary purposes; and one that's focused on young Anne Page, who wants to marry her love, Fenton, though her mother wants her to marry a French physician named Dr. Caius (John Hill), and her father wants her to marry a meek young man named Slender (Dan Cox). In both stories, the women have the last laugh. (Note: The show is double-cast, so the performers listed here may not be the ones you see when you go.)

At this point, I must confess that due to my own personal comedy of errors—involving rush hour traffic, a highly ill-advised "alternate route," and an inadvertent hike around the Arb—I missed the first scenes of "Wives" on opening night. But this didn't detract from the enjoyment I took in watching what Mendeloff's cast of U-M students and community members could do with Shakespeare's verse in an idyllic local setting, on a pleasant summer night.

Appropriately—since helicopters, chugging trains, and barking dogs are also part of the "outdoor production" bargain—the actors in "Wives" paint their characters with a broad comedic brush. One of the best recurring bits involves suspicious husband Master Ford (Graham Atkin), who, while using Falstaff to test his wife's loyalty, disguises himself by wearing thick, circular glasses and a tiny hat, perched atop his head. The opening night audience seemed delighted each time Atkin appeared in his "Master Brook" attire, happily anticipating the laughs to come (like when he first entered and ardently whispered to the crowd, "It's me, Ford!").

Matthew Flickinger, as Parson Hugh Evans, and Hill, meanwhile, get to employ accents and wordplay for laughs. Thomas is winning as one of the scheming wives; and Walsh seems perfectly suited to play Falstaff.

"Wives" demands more props than the usual Shakespeare in the Arb production, given all the interior settings (the Page home, the Ford home, the Garter Inn, etc.), but Mendeloff has a good visual sense for evocative detail. With just a tablecloth, some cups, a wine holder, and a few barrels, a shady space in the Arb suddenly becomes Falstaff's tavern—and convincingly so.

The costumes, as always, are lovely, and the sense of fun that pervades the actors' performances is contagious. Yes, at about three hours, the comedy—which is not one of Shakespeare's best—feels long. (A wordplay scene involving a young boy's Latin lesson, for example, while executed reasonably well, reminds you why the scene often gets the ax.) Even so, Mendeloff's sure-handed guidance, paired with the communal good will born of a warm summer night in Michigan, will likely leave you feeling pretty merry yourself.

"The Merry Wives of Windsor" continues through June 24. Full details here.