play review
Encore Theatre 'Nunsense' might not get you in the habit (of laughing)
Posted on Sat, May 19, 2012 : 6:01 a.m.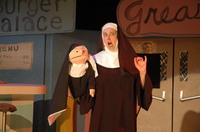 Photo by Encore Theatre

The big punchline in the opening number of the musical "Nunsense," now playing at Dexter's Encore Theatre, is that the show is "habit-forming."

And while there have, indeed, been six sequels to Dan Goggin's original, 1985 cabaret-turned-musical—demonstrating that the song's claim has proven to be true for many theatergoers over the years - Encore's two-hour production of the first "Nunsense" failed to inspire much devotion in me.

Indeed, the show feels uneven and oddly inert, despite its darkly wacky premise: after the Little Sisters of Hoboken's cook—Sister Julia, child of God, of course—accidentally, fatally poisons all but 19 of the order, 5 of the nuns gamely stage on a variety show in an attempt to pay for the last few burials.

Director Barbara Cullen oversees the production, which seems to plow through the show's connecting-tissue dialogue in order to get to the next song. Actors often deliver Goggin's jokes not only without punch or emphasis, but with an almost apologetic air. For this reason, many of the jokes didn't land particularly well on opening night. The overall effect communicated a lack of confidence in, and commitment to, the material.

"Nunsense" also never quite gels in regard to its vocal performances. Madison Deadman (young, ballet dancing Sister Mary Leo) and Amy Smidebush (second-in-command Sister Mary Hubert) are both classic showbiz belters, wholly filling the Encore with their accomplished, polished voices; Sue Booth (Sister Robert Anne, a tough Brooklyn native) and Mary Rumman (Sister Amnesia, who I also thought of as Sister Edith Bunker thanks to Rumman's expression, voice and inflection) are impressive singers in their own right, but their voices are soft enough that music director George P. Cullinan's piano sometimes threatens to overwhelm them. Barbara Scanlon (Sister Mary Regina, Mother Superior) fits squarely in the middle, seemingly opting to rein in her voice a bit to fit the space.

This variety of vocal styles results in a few balance problems when the actresses sing together (particularly in "The Drive In," in which the bass line gets temporary primacy). But Deadman and Smidebush consistently provided opening night's vocal highlights; and Smidebush's fantastic rendering of the show's sublimely soulful gospel topper, "Holier Than Thou," brought the house down, as it should. (Smidebush thus became, in my mind, "Sister Christina Aguilera.")

Regarding the show's technical elements, Daniel Walker designed the (necessarily spotlight-heavy) lighting; Sharon Larkey Urick designed the nuns' habits and accessories (loved Sister Robert's Converses); and Leo Babcock designed the set, which is made to look like the backdrop for a high school production of "Grease."

One scene in "Nunsense" features Mother Superior doing impressions, and includes the line Katherine Hepburn delivers repeatedly in classic movie, "Stage Door": "The calla lilies are in bloom again." In the film, Hepburn struggles with how to convey her character's painful emotions through seemingly pedestrian dialogue.

Similarly, Encore's "Nunsense" labors mightily to unlock the show's inherently whimsical sense of fun. That it falls short demonstrates no failure of faith, but rather an artistic miscalculation.

"Nunsense" continues through June 10. For tickets, see the Encore website.