play preview
All-male Propeller troupe bringing 2 Shakespeare classics to Ann Arbor
Posted on Fri, Feb 15, 2013 : 10:11 a.m.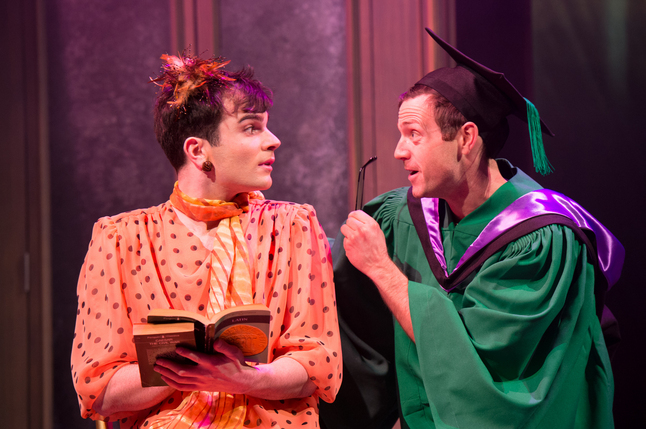 Photo by Manuel Harlan

Two plays featuring men playing women who disguise themselves as men?

That can only mean one thing: Britain's innovative, acclaimed, all-male theater company Propeller has returned to Ann Arbor. The company presents "Twelfth Night" and "The Taming of the Shrew" in repertory, courtesy of the University Musical Society, Feb. 20-24.

And while "Twelfth" and "Taming" would appear to present Propeller's actors with complicated gender puzzles to solve, director Edward Hall doesn't see it that way.

"You just have to play the characters," said Hall. "It just sounds logical to me. If an actor is playing Hamlet, it is not that different than playing Viola. The actors are not those people, so they have to understand … what the character's journey is through the narrative, and get a sense of how they walk and move, and how they react to certain things.

" … You as the audience have a much more acute awareness of the process of acting," Hall continued. "You know they're pretending. That in some sense helps you take the imaginative leap, particularly in Shakespeare, where the stories take place on a metaphorical plane, in fairy tale dreamscapes. These places aren't real, these imagined landscapes of Padua or Illyria.

"Shakespeare's not Googling a place and writing from received knowledge, but rather from his imagination. So when the audience makes the jump and pretends, it gives us license to pretend in other areas, and gives us freedom as performers."
PREVIEW
Shakespeare's "Twelfth Night" and "The Taming of the Shrew"
Who: Britain's innovative, all-male theater company, Propeller, led by Edward Hall, and presented by UMS.
What: Two of Shakespeare's comedies presented in repertory. In "Twelfth Night," a brother and sister are separated in a shipwreck, and love's wires repeatedly get crossed as fate brings them back together. In "The Taming of the Shrew," a family marries off a feisty older daughter to a man determined to "tame" her, while multiple suitors vie for the younger daughter's hand.
Where: Power Center, 121 Fletcher St. in Ann Arbor.
When: "Twelfth Night" plays Wednesday, Feb. 20 at 7:30 p.m.; Friday, Fe. 22 at 7:30 p.m.; Saturday, Feb. 23 at 2 p.m.; and Sunday, Feb. 24 at 7:30 p.m. "The Taming of the Shrew" plays Thursday, Feb. 21 at 7:30 p.m.; Saturday, Feb. 23 at 7:30 p.m.; and Sunday, Feb. 24 at 2 p.m.
How much: 734-764-2538 or www.ums.org.
Of course, in Shakespeare's day, men played all the roles, just as they do in Propeller's shows. But there's more than a little debate surrounding exactly how Elizabethan actors tackled the task of playing women.
"Some say that young boys always played girls' parts, but there are a stream of mature women in Shakespeare," Hall said. "A boy wouldn't likely play Paulina in 'Winter's Tale' or Margaret in 'Richard III.' … But there is irony in the writing sometimes, demonstrating Shakespeare's awareness that a man is playing it. You hear those lines, like Viola saying, 'I am not what I am,' and Duke Orsino saying you can't compare a woman's love with a man's love. We hear the shallowness of that comment, and people laugh because it's ludicrous. I think Shakespeare means for us to do that."
Hall also points to Paulina in "Winter's Tale," who is the only character that repeatedly dares to berate King Leontes for mistakenly accusing his wife of adultery.
"When a man plays that part, it's clear that what Shakespeare's saying is, men don't have the ability to say what needs to be said sometimes in an emotional situation, because … they tend to be more buttoned up. When a woman expresses these things, she's accused of being female—which is ridiculous, of course. They're women. Of course they're female. And in Paulina's case, she's simply saying what the audience has been screaming within themselves for the last 45 minutes."
Those who got the chance to see Propeller's mesmerizing take on "Richard III" and "Comedy of Errors," when the company came to town in 2011, may remember that live music plays a large role in these productions. So it's not surprising to learn that Hall looks for a variety of skills when selecting actors.
"I like to know what else people can do other than act—what their skills are in other areas," said Hall. "That's how we got tap dancing into 'Twelfth Night.' … And we don't use outside composers or musical arrangers. That's all inside the company. So it's important that there's a degree of musical dexterity within the company."
Hall refers to "Twelfth Night" as "a haunting, lyrical look at love"—specifically, misplaced, unrequited love.
"Some characters in the play miss it, some have never had it, and some are in the throes of it," said Hall, who specifically addressed Malvolio's final speech to those who tricked and humiliated him.
"The prison scene is really important to me, and the way we stage it, you really get close to Malvolio's pain and agony," said Hall. " … You have this tragic figure that still makes you giggle nervously, but you also feel really badly for him, because Shakespeare has revealed his humanness. There's no such thing as a bad guy you can't feel sympathy for."
"Shrew," meanwhile, has a reputation for being a misogynist play, but Hall argued, "It's not a misogynist play, any more than 'MacBeth' advocates for regicide."
Hall includes, in Propeller's production of "Shrew," an oft-removed framing device in the play, wherein a nobleman convinces a tinker that he, too, is a nobleman, and the unfolding story is supposedly presented for the tinker's entertainment.
"This takes place in a world where men can exert their will over women, and women must promise to love, honor and obey," said Hall. "Shakespeare takes the situation to its logical conclusion. (Petruchio) breaks (Kate). He physically abuses her, denies her sleep for days on end—what happens to Kate is pretty intense. She gives in and capitulates. But the irony is she has no choice. There is no choice for her at all. … And we do the whole play. A lot of people cut the Induction. … In Shakespeare's play, (the tinker) disappears when the story begins, but I think he needs to step in. So in our show, he steps in as Petruchio and becomes this outrageous, misogynist rogue who thinks he's learned how to treat women."
Both productions are sure to earn laughs and spark debate, since a dark undercurrent pervades "Twelfth Night" and "The Taming of the Shrew."
"There's high comedy in both," said Hall. "They're very funny, while also only a breath away from tragedy."