movie review
metro times:

'Prometheus' offers stunning visuals, muddled script

Posted on Fri, Jun 8, 2012 : 12:56 p.m.
Prometheus
Opens today at Rave, Quality 16, Brighton
Review by Jeff Meyers of the Metro Times
Grade: B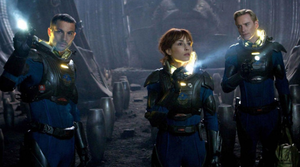 Let's start with the visuals, because, no matter what your reaction to
Ridley Scott'
s prequel to the Alien franchise, the imagery—particularly in 3-D —is truly astonishing. Like Martin Scorsese's "Hugo," Prometheus demonstrates the impact and majesty that can be achieved when a master craftsman employs the latest cinematic technologies. Here, Scott's use of CGI is both seamless and, surprisingly, modest. He has a real talent for envisioning worlds that don't exist, then giving them weight, substance, and even lyricism. There are moments in "Prometheus" that will take your breath away, haunt your dreams, and bounce around your skull for days afterward.
Too bad its muddled and chaotic script, by Jon Spaihts and Damon Lindelof, is more interested in presenting than exploring provocative ideas.