Rose Ensemble to bring ancient voices to life
Posted on Sat, Mar 26, 2011 : 5:45 a.m.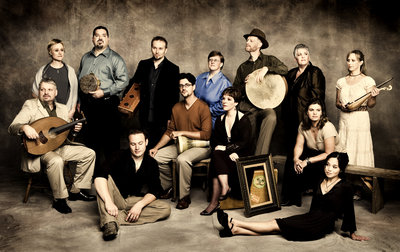 When the Minnesota-based Rose Ensemble arrives in Ann Arbor April 2 for a concert presented by the Academy of Early Music, the group brings with it the "Voices of Ancient Mediterranean Christians, Jews & Muslims."
The program, at St. Andrew's Episcopal Church, spans four centuries of vocal and instrumental music and includes a diverse collection of Arab-Andalusian dances, Sephardic laments, Spanish villancicos, Hebrew chants and Galician spiritual cantigas.
"It's a musical look at an otherwise extremely complex and confusing body of subject matter," said Rose Ensemble founder and tenor Jordan Sramek. "There's so much to be said about the time. And how can you encapsulate music from the Land of Three Faiths in a sweet 90 minutes? You can only begin to brush the surface."
The solution, for the highly regarded Rose Ensemble, has been a concert whose contents have continually evolved since Sramek first crafted a program focusing on Spain's Queen Isabella (1451-1504) back in 2003 or 2004.
PREVIEW
The Rose Ensemble
Who: Early choral-music group.
What: "Voices of Ancient Mediterranean Christians, Jews & Muslims."
Where: St. Andrew's Episcopal Church, 306 N. Division St.
When: Saturday, April 2, 8 p.m.
How much: $25. Tickets available at academyofearlymusic.org; also at Nicola's Books in the Westgate Shopping Center (Jackson and Maple roads) and at the door 30 minutes before performance.
Isabella, as Sramek noted in a phone conversation, is remembered for many things. She was a pious and powerful ruler and a patroness of the arts. But as "Isabella the Monster" she was also responsible for the expulsion of the Jews from Spain.
"When examining the music of her time, we not only examined that which came from her court, but from many parts of the kingdom, from the streets, the synagogues, and other religious places in her realms," Sramek said. "Spain was the starting point for the program, but elaborating on the expulsion and the diaspora of the Jews leads you to places beyond Spain, and to other times and places around the globe.
There are so many things we have learned and discovered, and we reinvent the program every time we perform it."
It's not always easy, he noted, to identify elements of the program as belonging to one of the "three faiths" or a region associated particularly with one faith. Take, for example a piece based on a liturgical poem in Hebrew that comes from a little-known Libyan-Sephardic community.
Instruments show cultural cross-currents, too. A vielle, or medieval fiddle, used in the performance, is a copy of one from 15th century Spain. "It has a crooked neck, like an oud, and Islamic crescents for f-holes," Sramek said. "There is so much exchange going on."