Suzhou Kun bringing rare chance to hear Chinese opera to Ann Arbor
Posted on Tue, Sep 25, 2012 : 5:02 a.m.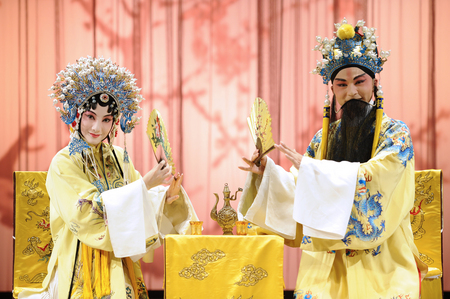 Mention top-flight opera performances, and folks from just west of the Hudson to the West Coast and beyond may sing a tune about the Metropolitan Opera's highly successful simulcasts of its Lincoln Center performances in movie theaters. But as Saul Steinberg's famous 1976 New Yorker magazine cover showed (albeit from a myopic New Yorker's perspective), the distance from here to there is very small indeed.

And if we're talking about the globalization of opera these days, the distance is not only minuscule, but art is flowing both directions. Opera is no longer just a Western export. In that famous Steinberg New Yorker cover drawing, a tiny hill across a pond-like Pacific read "China." And among China's many exports today is opera, Chinese grand opera, or kunqu, a 600-year-old art form mixing song, dance and pantomime that UNESCO, in 2001, declared a "Masterpiece of the Oral and Intangible Heritage of Humanity."

"As China becomes a global superpower," said Joseph S.C. Lam, director of the Confucius Institute at the University of Michigan," it exports its performing arts as soft power. Kunqu is now a branded manifestation of Chinese culture that global citizens need to know."

Helping arrange and fund University Musical Society performances by one of China's best kunqu troupes, the Suzhou Kun Opera Theater of Jiangsu Province, Lam and the Confucius Institute have made it easy for Ann Arbor's global citizens to count themselves up to date. Friday and Saturday, nearly a half-decade of planning comes to fruition as this troupe brings two evenings of Chinese opera excerpts to the Mendelssohn Theatre under UMS auspices.

The company's stay here also includes a photo exhibit and lecture demonstration as well as a Confucius Institute cultural symposium.

The performances themselves are in Chinese with English supertitles. Supertitles, of course, help translate opera—whether in Chinese or French or German—for audiences who don't speak the language of the opera. But these opera excerpts—from "Jade Hairpin," "All Men Are Brothers" and "Palace of Everlasting Youth" on Friday; and from the celebrated "Peony Pavilion" on Saturday—are accessible for Western audiences in any case, said the troupe's director, Cai Shaohua, in translated answers to questions put to him via e-mail.
PREVIEW
Suzhou Kun Opera Theater
Who: Opera company from China's Jiangsu Province, presented by the University Musical Society.
What: Excerpts from Chinese grand operas, including "The Peony Pavilion."
Where: Lydia Mendelssohn Theatre, 911 N. University Ave.
When: Friday (mixed bill) and Saturday (excerpts from "The Peony Pavilion:), 8 p.m.
How much: $30 and $40, UMS Michigan League Ticket Office, 734-764-2538, and online at ums.org.
Also: Kunqu Lecture and Demonstration, Wednesday, Sept. 26, 5 p.m., Rackham Building, Amphitheater (Fourth Floor), 915 E. Washington St. Free and open to the public. Kunqu Photo Gallery at U-M Hospital, through Oct. 20.
"Kun Opera merges literature, music, dance, theater and art into an exquisite and refined art form to a superlative degree," he said.
Seconds Lam of the Confucius Institute: "Kunqu is heartfelt and imaginative drama. And while the art is very sophisticated, it is also very down to earth. The audience will follow the story very easily. And the charm of it is, even if you don't know much you can get carried away by the music."
One of the other charms of these shows is that, in the love stories that are the focus of Friday's excerpts and in the episodes from "The Peony Pavilion" on Saturday, the performers are all young—mostly in the their 30s—which means that they are age-appropriate to their roles.
Said Cai: "Performers on Ann Arbor's stage will be mostly young actors and actresses of the same age as their characters; their portrayal is very close to what the script dictates. We emphasize a young cast because we realize that Kun Opera is in danger of disappearing because its artists are aging and so is their audience. We also invite some venerable and leading performers of the genre today—such as Wang Shiyu, Zhang Jiqing and Cai Zhengren—to take young artists playing the lead male and female roles by hand and teach them their own repertoire."
Added Lam: "If you are 70, you can fake 30, but not 16. And, he noted, "these are the young, hot stars."
When Lam brings up older stars trying to play 16-year-olds, he is not picking that age at random. Sixteen is the age of the heroine of the "Peony Pavilion," a Ming Dynasty opera whose story of forbidden love is often likened to "Romeo and Juliet." The opera has been seen in the West on a number of occasions in the last 15 years, to great acclaim; the production the Suzhou company presents, called "The Young Lovers Edition," created by Kenneth Pai in 2004, had a rave run at London's Sadler's Wells theater in 2008. Audiences found the show emotionally telling, and critics were thrilled with what Cai calls the blending of "orthodox Kun opera styles of singing, acting and recitation with modern lighting techniques and costume design to enhance the performance."
That full "edition" lasted 27 scenes and took 9 hours over 3 days—a length that was not contemplated for Ann Arbor.
"This time," said Cai, "we excerpt a series of the most classic and infectious scenes to present to all. Our show will be a coherent script, presenting the opera's dream love, romance and resurrection, which reflect the author's intention and spirit."
Asked to provide advice to anyone new to watching kunqu, Cai offered the following ideas:
"Watch and listen to the show with your imagination.
"First, keep your eyes on the performers' costumes and makeup to experience the simplicity and the aesthetic expressiveness of China's oldest traditional opera.
"Second is music: bamboo flute and Pan-ku (drum) are two essential instruments in Kun Opera music; every rhythm is related to story.
"Third, pay attention to the performers' gestures and singing skills, such as how they look at each other, how their hands move, and how they walk. They must perform a lot of elegant gestures while singing delicate tones."