concert preview
Schubert piano trios offer a Valentine's Day treat
Posted on Tue, Feb 9, 2010 : 11:36 a.m.
"Isn't it the most amazing music?" the pianist Wu Han says of the 2 Schubert piano trios she is touring now with 2 dream companions in arms: Emerson String Quartet cellist David Finckel, who is her husband and partner as co-director of Chamber Music Society of Lincoln Center; and Emerson violinist Phil Setzer. "It's just heaven on earth," she says. "Of course, when you play it, it's hell on earth."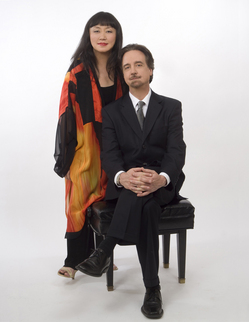 Christian Steiner
She emits one of her bubbly laughs over the phone from New York. "It's very hard music — very, very hard," she says of the Schubert trios, which the threesome, Ann Arbor favorites all, play here on Valentine's Day at Rackham Auditorium under University Musical Society auspices. "But it's the most sublime music, there's just no question about it, and every time you play it, you discover something you did not discover before. It's frustrating, too. You're never satisfied, you get so excited, and by the end of the time playing, you've just heard one more possibility."
Possibilities, Wu Han said, are one reason she has not listened to the recording she, Finckel and Setzer made of the trios (on Finckel and Wu Han's ArtistLed label) in April, 2008.
"We started backwards, recording before we toured," she says, "and to be honest, I have not heard that recording since we released it. There are so many possibilities, and I don't want to be locked into one. I want to give myself more opportunity to be creative."
---
PREVIEW

Schubert piano trios

Who: Wu Han, piano; David Finckel, cello; Philip Setzer, violin

When: Sunday, February 14, 4 p.m.

Where: Rackham Auditorium, 915 East Washington Street.

How much: $24-$48, from the UMS Ticket Office in the Michigan League, 734-764-2538, and online at the UMS web site.
---
Given the longstanding relationships among these 3 artists of the highest caliber, spontaneity is abundant in their performances, a quality all 3 prize, Wu Han says. "There is always something happening on stage; we never really want to lock into anything. It's hard to describe. We don't need to stop and rehearse and say, 'This time, let's do it this way.' With adding Phil in, we hardly need to talk. We just play through, and ask if anyone wants to play again, and things just happen. There are so many possibilities on these particular pieces, every time you walk on, it's always fresh."
Schubert wrote his trios, Opp. 99 and 100 (in B-flat and E-flat Major, respectively) at the end of his life (he died at 31 in 1828). They were emotionally brilliant jewels in a final year of composition that dazzles even without this pair. Also from this period: the 2 fantasies in C Major for violin and piano; the f-minor fantasy for piano 4-hands; the "Great" Symphony; the Cello Quintet; the final three Piano Sonatas; and numerous songs, piano and orchestral works.
While Wu Han has long known the trios — "I learned them 20 years ago," she says — it is only recently that she has performed them in public.
"I used to take them out and play them once a year," she says. "I would tell myself, 'When I get older and have the guts, I will play them (in public).' When I was younger I would take them out and start crying — there are a few pieces like that, the Schubert trios, the Schubert A Major sonata, that I could never play on stage, I was a basket case. But when David asked me if there were any pieces I'd like to play that I hadn't, I said, 'I'm old enough. I can control myself.' And so we invited Phil to join us, and we were so happy he said yes. It takes a lot out of our lives in sheer commitment, both in time and physical rehearsal time and traveling, but it is worth it."
And what is it like to play the two huge, taxing trios on 1 program?
Wu Han laughs again.
"What's it like to try to go to the moon? To eat way too much? To climb the Matterhorn?" she asks rhetorically. "I don't know. It's similar to all those questions. Definitely it is miserable, challenging, difficult. It is incredibly inspiring. It's like walking on a tightrope at all time. You cannot have one second that you can relax in terms of ensemble and music-making and keeping the shape. It requires all the discipline you ever have in music making."
Wu Han, David Finckel and Philip Setzer play and talk about the Schubert Trios:
You can also hear their recording here.