dance preview
Kidd Pivot dance company opening UMS season with reimagined 'Tempest'
Posted on Tue, Sep 18, 2012 : 7:02 a.m.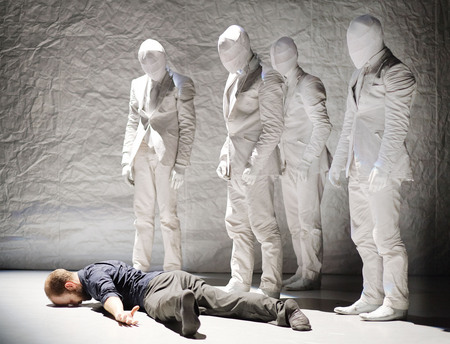 Dancer Eric Beauchesne has worked with Canadian choreographer Crystal Pite since 2001. What does he like best about the dances she's made for her Vancouver-based company, Kidd Pivot, since its 2002 founding?

"It's their eloquence and clarity and impact," he said recently, in a phone call. In fact, he added, "I would say that Crystal's work has always been 'crystal clear'—we make a lot of jokes about it that way."

So despite the mysteries of the company's latest full-evening work, "The Tempest Replica," based on Shakespeare's "The Tempest," audiences should have little trouble appreciating its intricacies, he said.

Who better to feel that's the case? After all, Beauchesne's role is that of Shakespeare's sorcerer Prospero, "The Tempest's" protagonist, whose fate, as Prospero notes in the play's epilogue, depends on the audience's applause:

"But release me from my bands With the help of your good hands: Gentle breath of yours my sails Must fill, or else my project fails, Which was to please."

Indeed, pleasing the audience is one of Pite's goals, Beauchesne said.

"It's as important for her to connect with the audience as to make a work with integrity. If the work is not connecting, she'll work it out until it happens. Some choreographers say 'if not, so what?' But with her, that's missing the point."
PREVIEW
Kidd Pivot
Who: Canadian dance company, presented by the University Musical Society.
What: "The Tempest Replica," 80-minute dance work by company director Crystal Pite based on the Shakespeare play "The Tempest."
Where: Power Center for the Performing Arts, 121 Fletcher St.
When: Friday and Saturday, 8 p.m.
How much: $16-$38. Tickets available from the UMS Michigan League Ticket Office, 734-764-2538, and online at ums.org.
Also: "You Can Dance: Kidd Pivot" Wednesday, 7:30 p.m., at the Ann Arbor YMCA. Join dancers from the Kidd Pivot dance company for an exploration of the company's movement style. No dance training or experience necessary, and all levels, ages 13 and up, are welcome. Free, but first come, first served until studio reaches capacity.
The point of Pite's "Tempest Replica" is storytelling that by turns oblique and direct. The work, which unrolls over 80 minutes without intermission and employs text and video as well as music, is broken into two parts. In the first, the company's 7 dancers, save Prospero, are clad all in white, in costumes and masks obscuring their features so that they seem like plaster figures.
"I'm the creator, the one making this show happen," said Beauchesne," adding that like Shakespeare's Prospero he is the master, the character making others do what he needs them to do to realize his goal.
In this "act" of the dance, Pite conveys plot points through sheer physicality, reinventing some types of pantomime to serve her narrative purpose and to overcome the "handicap" she's given herself through obliterating facial expression.
In the second "act," the characters return dressed normally, and it is here that Pite addresses the play's emotional affect through the dancing.
It's a tricky affair, one that employs stop-action and crisp, bold movement, and the dancers, as Beauschesne pointed out, have to convey a shift of feeling, from "puppetlike creatures to real people," even as they stay the same the whole time.
"Crystal loves bringing narrative to dance," he said. "This work, for sure, is her biggest trial in delivering a story, a specific story."
What's the point that her "Tempest" emphasizes?
For Beauschesne, transformation and humanization are central. Prospero gives up "knowledge and magic to focus on his daughter and to go back off the island," he said. "He lets go of revenge, which he has planned for 12 years, and enters a phase of forgiveness."
The main aspect, he continued, is "the giving up of a whole lifestyle and a series of goals." For Prospero, those included science and magic—and revenge. "But it could be anything—nowadays, we might talk about psychological rigidity," Beauschesne said.
"But being touched by other people's suffering," Beauchesne continued, "he replaces the desire for mastery and achieving these goals with love and compassion. He is facing this shift, that is what the journey is about."
It's a journey that makes the dance, of necessity, an ensemble work, rather than what Beauchesne, despite his leading role, would call a "solo with friends."
"Otherwise it would be just about Prospero," he said, "and the point is, it's not."