concert preview
AnnArbor.com Summer Concert Series to showcase bands from Neutral Zone
Posted on Tue, Jun 26, 2012 : 9:48 a.m.
The weekly AnnArbor.com Summer Concert Series brings something a little different this week to the patio of our community space: a showcase for three acts from Youth Owned Records, the music-business offshoot of the Neutral Zone teen center.

The acts set to perform Friday are:

• Teen singer songwriter Oren Levin

• Socially concious hip-hop artist Delegate

• Ann Arbor funk-rock band And the Elephant

Oren Levin is a multi-instrumentalist from Ann Arbor. A sophomore at Community High School, he focuses on piano and guitar along with vocals. He is interested in many genres of music, playing mostly jazz piano and blues/folk guitar. He appears solo, and in an acoustic duo with Isaac Scobey-Thal performing a few covers and new originals. Oren recently played at Breakin' Curfew 2012 with the rock band The Ins and Outs.

David "Delegate" Clair represents a new era of experimental hip-hop. His music is all about letting the audience connect with him on a personal level. "Hip-hop is my passion because it helps me escape from a troubled life," Delegate says. "It helps me vocalize and speak out about abuse and the effects that it had on me." His relatability comes from his experiences, which he draws on to write his raps and connect with his audiences.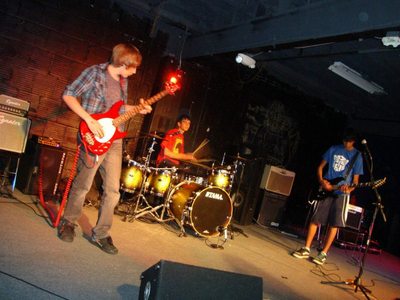 Based in Ann Arbor, And the Elephant is a teen band that blends reggae, alternative, funk and punk. The band is anchored by the bass playing of 16-year-old Ben Lawton. Mitesh Patel adds crispy and flavorful guitar, while his brother Niraj lays down danceable polyrhythms and lyrics. This trio is heavily influenced by the music of Red Hot Chili Peppers, but bring a new twist to the funk rock genre.
The Youth Owned Records showcase will start at noon Friday, June 29 on the patio of the AnnArbor.com Community Space at 301 E. Liberty Street, at Fifth Avenue. The AnnArbor.com Summer Concert Series continues at noon Fridays throughout the season; check out the website for more information.