Pioneer Theatre Guild telling its version of 'West Side Story'
Posted on Tue, Apr 24, 2012 : 6:59 a.m.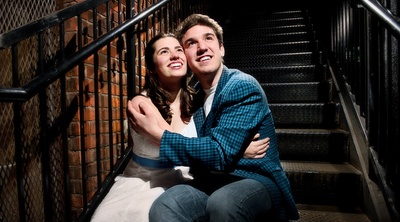 Photo by Myra Klarman

The Pioneer High School Theatre Guild will present "West Side Story" on Saturday, April 28 at 7:30 p.m.; Sunday, April 29 at 2 p.m.; Friday, May 4 7:30 p.m.; Saturday, May 5 at 7:30 p.m.; and Sunday, May 6 at 2 p.m.

All performances happen in Schreiber Auditorium, at 601 W. Stadium, and tickets are $15 ($10 for students and seniors), available at the door one hour before each performance. (Reserved seating will be available April 18 at showtix4u.com.)

From the iconic finger snapping, to the revolutionary dance moves of Jerome Robbins, coupled with the seemingly perfect music and lyric tandem of Leonard Bernstein and Stephen Sondheim, "West Side Story" has become one of the world's most beloved and cherished pieces of art ever to have graced the stage and screen.

The movie adaptation won the Academy Award for Best Picture in 1962, in addition to 9 other Academy Awards that year. Following the story of two rival gangs, the Jets and the Sharks, in a time where racial tension is high, the struggle to find stability in life as a teenager is excruciatingly difficult. Amidst all of the hatred and animosity, two young people from opposing sides, Tony and Maria, fall in love against all odds and  at the most inopportune time, defying the disapproval of their respective sides.  

Bernstein's score includes the cherished songs "Tonight," "America," "Maria," "I Feel Pretty," "Something's Coming," and more.

Two PHS faculty members will be part of the cast, with longtime math/science teacher Chuck White as Lt. Shrank, and music department chair and director of Pioneer Bands David Leach as Officer Krupke. PHS grad, and current U-M musical theater student, Ashley Park directs the show.