calendar of events
best bets :

Pianos 'Round Town returns this weekend; enjoy a Parisian Soiree

Posted on Thu, Sep 20, 2012 : 10:43 a.m.
MUSIC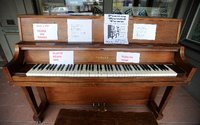 Pianos 'Round Town returns to Depot Town in Ypsilanti until Oct. 9. Business hours. Pull up the bench on any of the colorful pianos and tickle those ivories. Don't be shy! Pianos will be at Nelson Amos Studio (23 E. Cross Street); Cafe Racer (10 E. Cross Street); Ypsilanti Food Co-op (312 N. River Street); Mix (130 W. Michigan Ave.); Sidetrack (56 E. Cross Street); Depot Town Dispensary (35 E. Cross); Red Rock Downtown Barbecue (207 W. Michigan Ave.) Tower Inn Cafe (701 W. Cross). Free.

GARDENING

The Michigan State African Violet Society will put on its "Semi-Annual Display and Sale" at the Matthaei Botanical Gardens on Saturday. 10 a.m.-4 p.m. There will be a free seminar at 11:30 a.m. Experts will be on hand all day to provide growing tips. Please note that Matthaei has recently installed parking meters at a cost of $1.20 per hour with a $5 maximum per day, but that now includes free admission to the conservatory/greenhouse. 1800 N. Dixboro Road, Ann Arbor. 734-647-7600.

SPORTS

Have a blast and raise funds for the Neutral Zone Teen Center at the "#tweetea Charity Tigers Game and Party Bus" at the Four Points by Sheraton on Saturday. Departure time: 2 p.m. Game time: 4:05 p.m. There will be a bar stop at Hockeytown. Bring your drink of choice for the bus, but please no glass. $35. Buy tickets here: http://tweeteatigersgame.eventbrite.com/. 3200 Boardwalk Dr., Ann Arbor. 734-996-0600.

MUSIC

The Season Opening Gala at the Kerrytown Concert House will feature the return of the Parisian Soiree on Saturday at 8 p.m. This annual gala season opener is fun, full of surprises, and features a program that focuses on repertoire with a connection to all things Parisian. Complimentary champagne will be served. $35/ Assigned rows 1-2; $25/ Assigned rows 3-5; $20/ General admission; $15/ Student. 415 N. Fourth Ave., Ann Arbor. 734-769-2999. Read about it here.