Service Dog Celebration at 826michigan this Saturday
Posted on Thu, Mar 18, 2010 : 8 a.m.
Colby the Wonder Dog

It all started in December when Colby was wagging her tail, just minding her own business, dressed as a robot at 826 Michigan, caroling in a robot voice close to midnight. Really, an ordinary day. She met Joyce Gerber, a fourth grade teacher at Emerson School. Her students were looking for ways to give back to the community. And now it all happens on Saturday, March 20, from 10-11:30 a.m. at 826 Michigan (115 E. Liberty) at Colby's Service Dog Celebration!



In honor of Colby's fifth anniversary, Service Dog "activity stations" will be set up for children ages 5 to 10 and their parents at 826 Michigan. (Younger siblings are welcome.) Students from Joyce's class and volunteers from 826 and Canine Assistants will supervise activities to teach about service dogs such as: making a mini‐book, writing a poem, making a craft, eating cupcakes, watching a service dog demonstration and paw print face-painting.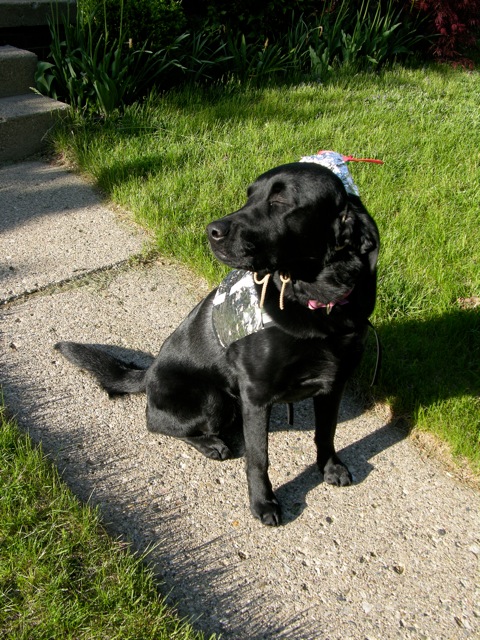 Colby the Service Dog in action. Look at her go!
This is a great opportunity for kids to meet (and pet!) a service dog and learn more how they help people with disabilities. One of the most surprising things might be that kids with disabilities can have service dogs! A Canine Assistants recipient once said, "My service dog makes my wheelchair disappear." Service dogs open doors for people - in more ways than one.
For more information about this event and to RSVP, please go to www.noahsteam.org. Also, be sure to check out more information about our sponsors: Michigan (www.826michigan.org) and Canine Assistants (www.canineassistants.org).
Note: Today's entry is brought to you by guest blogger Mary Roderique, who happens to be Colby's human companion. Mary volunteers for Canine Assistants and 826michigan.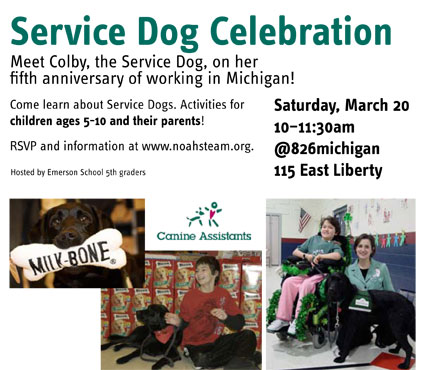 images courtesy of Mary Roderique, © 2010