Heather Heath Chapman
column:

Scattering Mom, one scoop at a time

Posted on Fri, Jan 21, 2011 : 6 a.m.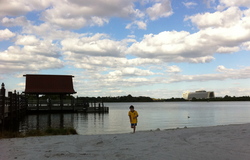 My mom said she was done with funerals.

When my dad died, we'd all switched to autopilot. Mourners at the house. A guest book in the foyer. Deli trays. Sheet cake. A casket. A grave. Not long after, my mom told my sister and me, "None of that when I die. Just have me cremated and scatter me all over."

To punctuate the sentiment, she cracked open a beer. We toasted to Dad and to scattering.

Ten years later, my sister and I sat in the cool, muted lobby of a funeral home. "They're just going to bring her out?" I whispered. But then a solemn man walked toward us, carrying my mother's remains in a box. He handed it to me gently, and I had to take it. It was small but heavy.

Later, in the parking lot, we encountered our first dilemma: Where would Mom ride?

The floor? That didn't seem appropriate. The trunk? Yeah — if we wanted her to come back and haunt us. I figured the back seat would be best, but I worried what might happen if I slammed on the brakes.

So, I put Mom on the seat and strapped her in.

When we got to the house, I carried the box inside, and we faced the emptiness of having Mom without actually having her. I stood in the kitchen, holding the box and mumbling. "Maybe the mantle?"

But, it turned out that if we put Mom on the mantle, we couldn't see the television. And, as my sister noted, Dancing with the Stars was on at 7 p.m.

"She loved that show," my sister said.

We put Mom on the table near her favorite chair, and the three of us watched Dancing with the Stars together.

As time went by, we grew used to and fond of the small, black box near the chair. Once or twice a day, we'd wonder what Mom meant by "scatter me all over." Then, on a warm afternoon, I found inspiration in a stack of receipts.

My mom had reservations for a Disney vacation, and the trip was just one month away.

I told my sister, "We're going to Florida, and we're taking Mom." We high-fived and felt pretty pleased. How right. How cool.

Wait. How would we manage?

Obviously, the box wasn't making the trip. Just some of the ashes would be making the trip. Someone was going to have to get some ashes out of the box.

We put it off as long as we could, but eventually the day came when we had to scoop up a little of Mom.

I waited until the car was packed, and then I opened the box. The ashes weren't what I'd expected. They were gritty, not uniform in color or size, but beautiful. Seeing them felt like a small victory — one threshold crossed.

Then I looked at my empty hands and realized I should have bought some sort of scooping device the last time I was at Wal-Mart.

My sister urged me to hurry. So, I opened a drawer and grabbed the one thing that looked right — a measuring cup. I scooped some ashes into a Ziploc, double-bagged my mom, and tucked the measuring cup into the box for future scooping.

(Another dilemma: How to pack her? Ultimately, I put the Ziploc in my checked bag. I didn't like the thought of my mother as potentially lost luggage, but I really didn't want to put her in my purse. Or explain her to airport security. Or have her confiscated by airport security.)

On our last night in Disney World, my sister and I worked up the courage to scatter. We took three beers — one for each of us — and we walked to the end of a long pier on Bay Lake. The moon was out, and the pier was lit from beneath. Everything around us had a faint glow.

"Mom, you would have loved this trip," my sister said, tipping her bottle toward the sky. We told my mother that we missed and loved her. Then, we poured her ashes into the water, and we poured a beer in, too.

Scattering Mom had turned out to be really fun.

As we walked back toward the beach, my sister said, "Where should we take her next?"

Epilogue

A few weeks later, the kids and I spent Thanksgiving with my sister at my mom's house. Mom had always visited Ann Arbor for Thanksgiving and made the pecan pie with my daughter. Now, my daughter soldiered on alone, placing ingredients on the counter and digging around for supplies.

She looked perplexed. "I need a cup of sugar," she said, and at first I didn't see the problem. But after a moment, I understood. She couldn't find a measuring cup.

There was exactly one measuring cup in the whole house, and it was in the box with my mom. For future scooping.

Another dilemma.