Column:

Planes and automobiles: Journey to LegoLand Denmark

Posted on Fri, Sep 3, 2010 : 11:12 a.m.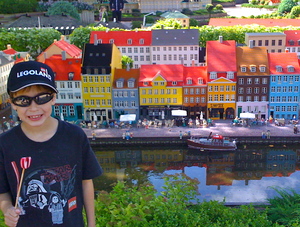 I've got a tip for you. It's kind of specific, but I think you'll find it helpful if: 1) you have a kid who adores Legos, and 2) your family is moving to Sweden. Here goes:



When the kid expresses ambivalence about the upcoming move, DO NOT say, "You know what's just one country away from Sweden? The world's biggest LegoLand!"

Because — trust me — the kid will not forget. He will think about it, and he will draw pictures of how wonderful it will be, and he'll plan what he's going to wear (the Lego Star Wars t-shirt with Darth Vader on it). He'll stare absently into space wearing a beatific smile, and he'll murmur to himself, "Ah. LegoLand."

And then you'll have to go to LegoLand.

Right? Won't you? Do you see any way around it?

I didn't.

My thinking was: We'll be in Sweden. And Denmark, the birthplace of Lego, is just underneath. So, we'll pop over to LegoLand.

But — here's the thing — there is no "popping" to LegoLand. No popping at all.

It turns out that Umeå, the town where we live, is FAR from LegoLand. Saying that you'll pop over to LegoLand from Umeå is like saying, "We're in St. Louis. We should pop over to Utah."

Even if we'd started in Copenhagen (Denmark's capital), there would have been only minimal popping. Because LegoLand is not in Copenhagen. LegoLand is in Billund. And Billund really isn't near anything. It is in the middle of a cow pasture on the left side of Denmark, and driving to it is like driving across Iowa (except with a few more windmills and a lot more Danish).

There's no popping to LegoLand.

Twenty hours in our VW Polo sounded like a stretch — for the kids and for the car. Also, gas is expensive in Europe. (Once I learn more about the metric system, I'll elaborate on that.)

So I cobbled together what I hoped was the most comfortable/economic journey. The cobbling took almost as long as the trip itself. I spent so much time on Priceline.com that I started speaking in Shatner. ("Hold it, young lady," I'd say at dinner. "Are you getting the best price for those carrots?")

The night before we left, my son was too excited to sleep. Next morning, we drove seven hours to Stockholm through sheets of rain. Then we parked in "långtid parkering" and caught a shuttle to the airport.

On the one-hour flight to Copenhagen, our pilot made announcements that were muffled by the engines and a significant language barrier. Still, I'm pretty sure I heard him say, "Heather Chapman is an enormous sucker."

The next day, we rented a Japanese car from a German rental company and hit the road with a printout of directions that were all in Danish. That was the part of the trip that had worried me — driving across unfamiliar terrain in a car that wasn't mine, with a kid who was hopped up on expectation.

But, it turned out to be lovely — a lot like Iowa, as I've mentioned, and of course Iowa isn't scary. I started to relax, and I congratulated myself for passing up the train-bus combo, which, I'd discovered after some pretty tricky math, would have been slightly more expensive than renting a car.

Yes, I thought. I am good at European travel.

And then we came to the sea.

Denmark is a cluster of islands connected by roadways. Eventually, we encountered the longest bridge I'd ever seen — it was, in fact, nothing like Iowa — and had to pay a toll. Again, a pat on the back. I'd remembered to exchange my Swedish money for Danish money. When it was our turn at the booth, the woman inside charged me 220 DKK.

Wait a minute. I whipped out my currency exchange app and punched in some numbers.

$37.50.

"Umm," I said, hoping to broadcast Polite Confusion and not Stupid American. "Is the actual LegoLand on the other side of this bridge?"

No, she said. Just more Denmark.

"Well, that seems awfully expensive," I told her. "For a bridge."

"Does it?" she asked kindly, and she handed me my change — a pitiful pile of coins.

So much for my big savings.

Like I said — longest bridge ever. And tall. We went up, up, up until all we could see was road and water, and the sea winds shook our rental car from side to side. The kids put their arms in the air and said, "Woo-hoo!" I gripped the steering wheel and sang "Staying Alive."

Two hours later: LegoLand, finally.

Danish schoolchildren had already started their semester, so crowds were light, and we experienced that rare gift: an amusement park with no lines. My son was so blissed out that he was nice to his sister. My daughter was so happy to be out of the car that she was nice back.

We spent two perfect days that way.

On the trip home, we drove through rain again. But, the sky was my favorite kind of sky — dark clouds with splashes of sunlight — and there were so many rainbows that we eventually gave up trying to count them all.