Fit Mommy: What do you do when you catch the Gingerbread Man?
Posted on Sun, Dec 19, 2010 : 3:54 p.m.
photo by flickr user Chiot's Run

How do you eat your gingerbread man?

Dunkin' Donuts recently conducted a poll (December, 2010) to see how people eat their favorite shaped ginger cookie. Their findings? "According to the results, nearly two-thirds (64 percent) of survey respondents start at the top by eating the head of the gingerbread cookie first. Twenty percent go straight for the gingerbread man's legs, while only 16% of cookie eaters begin with a farewell to the arms."


Dunkin' Donuts even found an expert to explain that, "If one chooses to bite the head first, it indicates an achievement-oriented individual, a natural leader, who won't take no for an answer. If the initial bite is the right hand, it reflects an individual who tends to be skeptical and pessimistic, while those who initially bite the left arm have a flare for creativity and are more extroverted. Those who first choose the legs tend to be more sensitive, reveling in the company of others."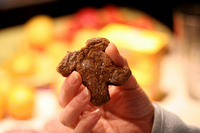 photo by flickr user Chiot's Run
Personally, I like to eat the head off first, but that is only because it seems wrong to have a ginger face smile at me while I eat its little limbs off, one by one. It just seems like the humane way to go! Does this mean that I won't take no for an answer? Well, when I put it that way, I guess I don't!
Regardless of how you choose to eat your gingerbread man, I would encourage you to not only eat one of these 76-calorie cookies (according to livestrong.org), but I would like you to try and incorporate ginger into your regular diet. Ginger has proven to help with nausea and muscle pain.
Since this is a harried and busy time in our lives, maybe a bit of ginger will help us soothe our aching tummies and tense muscles. Maybe biting off a gingerbread head will help soothe what aches you or at least exert some aggression! It can't hurt, in any case!
Run, run, as fast as you can, and catch that gingerbread man!
.