parenting:

Videogames: the common thread between Dennis Rodman, my boys and me

Posted on Wed, Apr 6, 2011 : 7:10 a.m.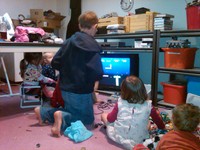 Paul Fredenberg | Community Contributor
The directive from Alison was as clear as a thunderbolt echoing down the basement stairs. "You guys have 30 minutes."
Growing up, my mom imposed few limits on our Nintendo games. In those days it was a well-documented fact that the television could turn your brain to mush, but videogames were an entirely new frontier.
Their impact was still largely unknown to our parents, but, despite mounting evidence that they were hopelessly addictive, like little tobacco executives we held tight to the company line. "Don't worry," we said, "they're good for you."
But now, as parents, Alison and I have our doubts, and despite occasional hints from the kids, we haven't given in to a new game system. But every so often, like on a recent, rainy Saturday, I pull out my old 90s-era Super Nintendo as a reward for when the kids have done well in school or kept the decibel level down long enough for us to steal a quick Saturday afternoon nap.
Taking a spin on the old console is a bit like watching season three of Alf: enormously entertaining and powerfully nostalgic for stretches, but not something to spend an entire afternoon on. Besides, the real fun is in watching the kids play. With the controller in their hands they jump and wiggle, wince and curl, as if they were Mario himself.
But there in the basement, sprawled out on the beanbag, I knew I couldn't afford to get too comfortable. With little notice I might well be called on to punch out Bald Bull, or engineer a game-winning Madden '94 touchdown drive. In those cases there is an enormous pressure to win.
Like so many overbearing Little League parents, the kids live their vicarious dreams through me, and, as I hammer away at the controller, the kids lustily cheering my every play, I think isn't it supposed to be the other way around?
As the boys indulged in Super Mario Kart, my mind wandered back to a time when I played Super Nintendo with Dennis Rodman. I was a fairly typical teenage boy — obsessed with basketball, video games, and girls — when a friend unexpectedly took me to Rodman's house to pay the superstar a visit.
We arrived to find him stretched out on his living room floor playing Nintendo Super Tennis. Before I could even make a proper introduction, he and I were locked several games deep into a match.
It turns out "Worm" played Nintendo like he did basketball — with reckless abandon. After whipping me in straight sets, he excused himself to go pack for his trip. The Pistons were set to play the deciding game of an NBA playoff series the next day in New York against the Knicks.
Rodman bounded upstairs and returned not 30 seconds later with but two things: his "suitcase" — a duffel bag the size of loaf of bread — and a fistful of underwear in wild tiger and zebra prints. He jammed his balled up delicates into the bag and walked back over to the Nintendo.
"Should be fun," he told us as he stuffed the balance of the tiny bag full of game cartridges. "There's some fine looking women in that town." My friend and I nodded knowingly, despite having never been to Manhattan, and certainly not as pampered millionaire groupie machines.
Seconds later, without so much as a word, he disappeared, hurtling down the driveway toward the airport armed with a weekend's supply of underwear and a year's supply of videogames. I hadn't expected him to pack a physics textbook or the Harvard Business Review, but a polo shirt and pair of jeans or even a toothbrush seemed appropriate for New York in May.
As I stood there in awe of what I had just beheld, I suddenly realized that, despite our apparent differences — our respective athletic abilities and tax brackets for starters — Rodman and the adolescent version of me had just about everything in common. Namely, a narrow dedication to three core principles: basketball, videogames and women.
Whether it was the women or the videogames I'll never know, but Rodman played a lackluster game of basketball that weekend in New York. The Pistons lost, and, soon after, Rodman left Detroit, dyed his hair and won several more championships with the Bulls.
Recently elected to the basketball Hall of Fame, he'll go down in history as one of the NBA's greatest rebounders and defenders — and one of its biggest characters — but to me he'll always be an all-timer of a Super Tennis player and a legendarily efficient trip packer.
My Dennis Rodman daydream promptly ended when a 7-year-old foot, executing a perfect roundhouse kick, suddenly grazed my head. Peter was playing Street Fighter.
I couldn't help but smile as I watched the boys yelping and congratulating him on his first round knockout. These little guys aren't anywhere near adolescence just yet, but much like the adult Rodman and the adolescent me, they can't get enough of these videogames. Or of our driveway basketball games.
Thankfully, though, women aren't yet part of the equation.

With one exception. Just like Rodman, no matter how important the contest, they are all highly susceptible to the siren song of a beautiful woman.
Just before Peter's critical round two was to begin, Alison's voice echoed down the stairs once again.
"Okay guys," she said enchantingly, "time to come up for tacos."
Seconds later, without so much as a word, they disappeared, hurtling up the basement steps toward the kitchen table.