concert preview
Summer Festival concert to showcase unique sounds of Nellie McKay
Posted on Fri, Jun 22, 2012 : 7 a.m.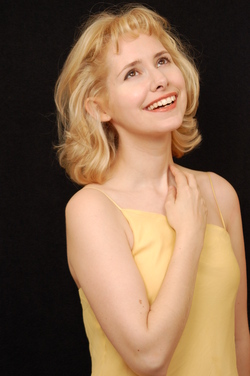 It would probably be an understatement to say that Nellie McKay is "multi-talented."

First, she's an acclaimed singer-songwriter-pianist—who is also adept on the ukulele—with five critically lauded albums to her credit, and a gift for writing clever, literate, often-amusing songs that frequently sparkle with witty wordplay.

She's also an actress whose stage credits include a stint in a high-profile production of "The Threepenny Opera" and the starring role in "I Want To Live!"—a musical biography of Barbra Graham, the third woman ever executed in a California gas chamber, in 1955.

Plus, she has the lead role in the film "Downtown Express," a favorite on the festival circuit that debuted in theaters in New York in April. And on top of that, she's fresh from a New York run of her one-woman show, "Silent Spring: It's Not Nice to Fool Mother Nature," about pioneering environmentalist Rachel Carson.

And, she plans to revive "Silent Spring" when she gets back to New York after the tour that brings her to the Power Center on Wednesday for an Ann Arbor Summer Festival show.

Although she wanted to take "Silent Spring" on the road, "I'm having to practice some austerity measures," she quips. So, her Ann Arbor show will be a mix of songs from her various albums and songs from "Silent Spring" and "I Want To Live!"

She was inspired to do the "Silent Spring" show because, she says, "so many of the things that Rachel believed in, and shared with the world, are even more important now than they ever were, because we're now even more removed from nature, and have even more of an attitude of dominating nature, instead of seeing ourselves as being part of nature."
PREVIEW
Nellie McKay
Who: Young, versatile, singer-songwriter-pianist who's also an actor. Sneakin' Out opens.
What: Much of McKay's music puts a modern, sometimes eccentric spin on vintage styles, while her lyrics are alternately witty, sarcastic, biting and satirical.
Where: Power Center, 121 Fletcher St.
When: Wednesday, June 27, 8 p.m.
How much: $25. Tickets can be purchased by calling the Michigan League Ticket Office at 734-764-2538 or (800) 221-1229; in person at the Michigan League Ticket Office, 911 N. University Ave, Ann Arbor or online.
As for her "Downtown Express" film project—in which she portrays a free-spirited New York musician, she says that "the film is a real rarity—it's got a lot of heart, and a light touch. So many movies today have so much vulgarity, or are done with such ham-fistedness - so, this one was a real breath of fresh air," says McKay by phone from her home in New York.
As a songwriter / composer, McKay creates music and scenarios that are often quirky and eccentric, and many of her lyrics can be biting, sarcastic or satirical, sometimes in a way that recalls Randy Newman.
"I do like Newman's approach to songwriting," she says. "Before I recorded my first album ("Get Away From Me," from 2004), I watched a special on him, and afterwards I went downstairs and wrote a song ("Really") very quickly that was definitely inspired by him.
"Writing lyrics can sometimes be difficult, because music is so wonderful, and you don't want to mess it up with the wrong lyrics, which can really undermine a song."
And when discussing her own approach to writing, McKay employs a metaphor that, for her, is typically amusing: "There are formulas you can use when writing songs, like mixing chemicals in beakers. So, you start mixing, and try to avoid an explosion. Or, sometimes, discover an explosion."
Musically, McKay's songs tend to be modern variations on vintage styles, particularly show tunes, movie music and cabaret music from the 1940s and '50s. "I do believe that there's nothing new under the sun, and often, I don't see how you can hope to improve on much of what has been done in the past," she stresses. "That's my benchmark, artistically."
Indeed, her fondness for vintage music inspired her to record "Normal as Blueberry Pie: A Tribute to Doris Day" (2009) that showed off McKay's skill as an interpreter (and arranger) on 12 songs that Day recorded during her heyday, plus one original composition.
"Occasionally, I get an idea for an older song done in a new style - like, I recorded a version of 'Moon River' in Portuguese, which I haven't released yet, but plan to. It was one of those ideas that just seemed to make sense, and it all came together pretty easily and quickly. It's not a good thing to have to try too hard when you're creating something. If it's too excrutiating an effort, even in conception, it can end up sounding very convoluted.
"The best songs of mine are the ones that have come to me pretty quickly, but sometimes I have also had to fall back on the actual drudgery of 'working' on a song," she says with a sly laugh.
McKay's affinity for vintage styles also extends to her fashion sense. Onstage, and in photo shoots, and even in everyday life, she favors vintage Hollywood fashions and styles.
"Part of that is that I just like to buy vintage clothing whenever possible, because new manufacturing is not good for the environment, and a lot of the stuff you buy today is just crappier. So, it's good to recycle older garments, which I find to be better made, and I think they look nicer," she says. "I like the draping, the high waists….
"And I grew up on old movies, which had such tremendous style and wit, and a lot of that slipped away after the '50s, and didn't come back."
McKay likes being involved in many different kinds of projects—albums, concerts, films, theater, etc.—as opposed to, say, just writing songs, making records and doing concerts.
"There are just so many different ways to work. Sometimes you need to hone in and focus and get something done, but if something isn't working, I like to be able to try something different," she effuses. "You know, in life, sometimes hair that started out straight ends up curly.
"But, creatively, I just like doing a lot of different things—I've always been more of an 'ideas person'—it's the execution that can be difficult. It's fun to think up all kinds of fanciful notions."
As for her next move, "I'm definitely going to do another run of 'Silent Spring,' and I'd like to record an album of that show, and also an album of 'I Want to Live!,' which I see as sort of a radio play on disc. I'm also thinking about filming them and releasing them on DVD, but that's an expensive proposition, so I'm trying to eat a lot of soup so I can save my pennies."