with audio:

Decades later, Ypsilanti soul band finds its single treasured as a Masterpiece

Posted on Thu, May 24, 2012 : 9:59 a.m.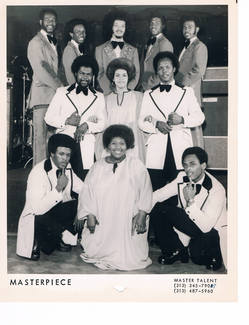 By Ben Solis

As Washtenaw Community College guitar instructor John E. Lawrence looks in a crate of old 45s, he says he never expected his own music would someday have the same appeal of classic Detroit artists such as Stevie Wonder or The Temptations. But decades after its 1974 recording, Lawrence's single with his former band Masterpiece has found modern fame in Europe and Mexico.

Recounting a correspondence with former Masterpiece keyboard player and organist Mark Williams, Lawrence, 55, had no idea the magnitude his music had overseas and over the border.

"Mark sent me an email about it, saying that the (record) is hot in Europe and in Mexico," said Lawrence, who also serves as the head of the college's music department. "They're playing it in dance clubs, on the radio and it's selling as a collector's item in England. I couldn't believe it."

The double-sided single contained the two songs "Love Affair" and "We're Gonna' Make It," and were written by auxiliary Masterpiece guitarist Michael Lewis.

Unbeknownst to Lewis, Williams, Lawrence and their bandmates, the two songs were gaining traction with listeners on YouTube as early as 2008.

The small vinyl record is even a considered a collectors item, a "gem out of Detroit, Michigan (and) a proven rarity of the highest quality. A superb dancer that very few claim to own," according to the London website northernsoul45s.co.uk.

The site, owned by English vinyl shop Pat Brady Records, auctioned off the single starting at £100. When the auction ended a year ago, the 45 sold for £300, about $475.

The price alone added to the band's disbelief.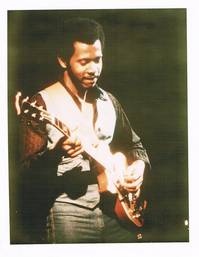 "We kind of let the (record) run its course and let it go," said Lawrence, who also serves as the head of the college's music department. "We made so many copies of it that didn't sell; we started using them as Frisbees, or melted them down into ashtrays."
The band didn't realize anyone owned a copy outside of those that were willfully abused or shoved onto shelves.
In the U.S., a slew of Los Angles-based Mexican DJs created compilations of classic soul tracks geared toward play in Latin American clubs and radio stations. On one list, "We're Gonna' Make It" is considered one of the top four rarities of the 1970s.
The songs also hit domestic airwaves earlier this year on "Mellow Madness," a program produced by Richmond, Va. station FM 97.3.
"At the time we put it out, it got some airplay around here, and it did OK for a while until the band kind of just let it go," Lawrence said.
While the single's appeal failed to break the band, Masterpiece was considered a hot local R&B act in the early '70s.
The group was formed in 1972 out of the breakup of two other acts, the Soulful Soul Mates, led by Lawrence, and The Emeralds. Combined, the juggernaut group included a total of 14 members on stage—not uncommon for a group blasting out funk-laden soul.
Masterpiece's members were born and raised in Washtenaw County and attended Ypsilanti High School. Paying homage to the town that nurtured them, the single was recorded on the now-defunct Ypsi label.
While music was their mission, friendship was their foundation, according to Williams, 55.
"We grew up together. Music was in our hearts and in our souls," said Williams, who now teaches political science as a professor at Middlebury College in Vermont. "Playing music for a living, that road is tough. Our friendship and camaraderie really helped things out."
Masterpiece singer Ray Ward, 60, enjoyed the tight production and consummate professionalism the band possessed on stage.
"Our show was great," Ward said. "We had people in our group that could pull off and sound like anybody who was big at the time. The Temps, the Blue Notes, Al Green, The O'Jays—we had it all."
The band's ability to emulate so many of the decade's top acts gave them a natural in when it came to signing up with promoters for tours, Williams explained.
"If you could perform covers of national acts well, you were it," he said. "When we got the chance to open for some of those acts, The O'Jays and Harold Melvin & the Blue Notes in particular, we had to take those songs out of our act."
Williams added that having the chance to play with "the upper echelons of that genre" was an exhilarating high.
However good they were, Masterpiece only went about as far as its single did, and after an unsuccessful audition for a Jerry Lewis Telethon in 1976, the band eventually decided to call it quits.
With a newfound popularity abroad, a small glimmer of hope now exists for the band's resurgence. Since learning of his band's modern appeal, Lawrence has been in the process of calling promoters in Europe and Mexico to set up a small tour.
A tour could also mean merchandising opportunities, in which case the band's handful of unflung 45s could finally fulfill their intended purpose.
"If I would have known that they were selling for upwards $500 a pop, I would have certainly held on to more of them," Williams said.