concert preview
Madeleine Peyroux bringing her latest original songs to The Ark
Posted on Fri, May 4, 2012 : 5:31 a.m.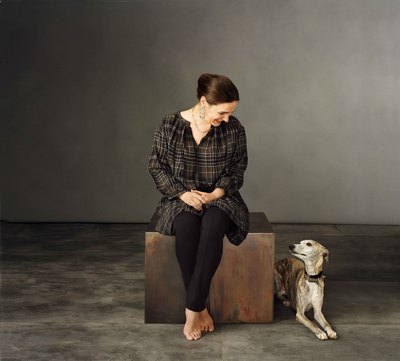 Over the last 17 years, Madeleine Peyroux has been on a musical journey that has led her down some surprising and sometimes adventurous paths.

Prior to "Dreamland," her 1996 debut album, she was mostly regarded as a jazz singer, due in no small measure to her work with the Lincoln Center Jazz Orchestra and her performance of a Billie Holiday tune in a concert of film music by Duke Ellington.

And her debut disc included her sultry, intimate interpretations of jazzy / bluesy songs associated with Holiday and Bessie Smith—but also featured other vintage songs, like Patsy Cline's "Walking After Midnight" and Edith Piaf's "La Vie en Rose." And her delivery, phrasing and vocal style were not those of a traditional jazz singer.

Ever since, Peyroux, who performs at The Ark on May 10, has continued to defy expectations of what a jazz singer "should" sound like—although she's been compared to Holiday so often that it's become a cliche that sometimes rankles her.

And, over the years, Peyroux has also covered many songs written by pop / rock / folk artists—like Bob Dylan's "You're Gonna Make Me Lonesome When You Go," Leonard Cohen's "Dance Me to the End of Love," Elliot Smith's "Between the Bars" and Serge Gainsbourg's "La Javanaise."

Which is to say, for most of her career, she's been an interpreter —a distinctive, sometimes eccentric, very talented one.

Then, in 2009, she released "Bare Bones," an album of original songs written or co-written by Peyroux.

And her latest recording, "Standing On the Rooftop," continues on that path. She co-wrote eight of the albums's 12 tracks, including the playful "Don't Pick a Fight with a Poet," the subtle and impressionistic "Fickle Dove," the minimalist-sounding title track, and the funkified "The Kind You Can't Afford," which she co-wrote with Bill Wyman, the former longtime bassist for the Rolling Stones

But at the same time, she also flexes her always-intriguing interpretive talents on seductive, re-worked versions of classics like Robert Johnson's "Love in Vain," the Beatles' "Martha My Dear," Dylan's "I Threw It All Away" and "Lay Your Sleeping Head, My Love," an adaptation of a W.H, Auden poem, with the music composed by Marc Ribot -- the always-in-demand guitarist best known for his eccentric, often-dissonant work with Tom Waits, and whose distinctive fretwork shines on this album.
PREVIEW
Madeleine Peyroux
Who: Acclaimed singer whose voice is frequently compared to Billie Holiday's.
What: Sultry and seductive interpretations of jazz, blues, country, rock and folk classics, as well as her own intriguing compositions.
Where: The Ark, 316 S. Main St.
When: Thursday, May 10, 8 p.m.
How much: $45. Tickets available from The Ark box office (with no service charge); Michigan Union Ticket Office, 530 S. State St; Herb David Guitar Studio, 302 E. Liberty St. or online from MUTO.
"Having the freedom and space to write the songs, that was a great feeling," Peyroux told the Baltimore Sun. "It's liberating, being able to look at a blank page. But I've been singing master songwriters' songs for a long time. I was stunned, or paralyzed, by the fact that they have done everything that can be done."
But Peyroux shows her own creativity on the album, exploring some new sounds, like on the title track, which is built on a foundation of repetitive chords that gradually morph into a structure that recalls the minimalism of Steve Reich and Phillip Glass.
"''Standing on the Roof' became a song that could go into a longer form, could take a while to unfold," she said. "I discovered Steve Reich a couple years ago and was fascinated by him. I have been aware of minimalism, in bits and pieces. Philip Glass, I heard a lot. But I feel the more I listen to this kind of music, the less I understand."
While Peyroux has continued to perform at jazz festivals, her music has been an always-evolving mix of pop, jazz, country, blues and folk idioms. And on several tracks from "Standing on the Rooftop," Peyroux pursues a rootsy sound as well. "Love in Vain" is spare and haunting, "Martha My Dear" prominently features a plucky banjo, and New Orleans legend Allen Toussaint drops in to add his classic-R&B piano stylings to the proceedings.
"I know there's various opinions about what a jazz vocalist should do," Peyroux told the Wall Street Journal. "But I think we've really lost the context of the original term, because it's been a long time. I don't know that it really matters any more."