Ann Arbor's annual quilt show to showcase work of local expert quilting sisters
Posted on Sun, Jul 22, 2012 : 5:20 a.m.
As quilters and fabric arts fans unite for the Greater Ann Arbor Quilt Guild's "2012 Quilt Show: Passing on the Legacy," a lot of eyes will be on the quilts of local sisters Pat Holly and Sue Nickels. Around 30 examples that they have either made together or on their own will have their own special exhibit.
The sisters have always played well together. As children, they both picked up sewing from their mother. Although not a quilter, their mother sewed clothes, curtains, and other things for use around the house. The sisters would lay out all their dolls, adorned in handmade outfits and furniture that they learned how to make at an early age. "The sewing machine was always right there," Holly says.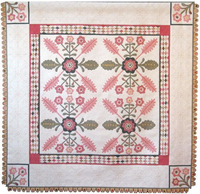 The sisters started getting serious about quilting around the time that Nickels' first daughter was born (they each have two grown daughters). When her sister was having the baby, Holly found it to be a fine time to try her hand at stitching a baby blanket by hand. Nickels had tried quilting before, but when she received the quilt at her baby shower she started to fall in love with the craft and decided to take a class at Saline now-closed Crossroads Quilt Shop.
And thus the sisters began their parallel paths toward becoming premier quilters. Now with a number of awards under their belts, examples of their shared interest in sewing are shared with the masses at exhibits and events, including two collaborative works at the National Quilt Museum in Kentucky.
Their first true collaboration, a quilt entitled "Blackbirds," was the first they ever entered into a competition, in 1996. Their most recent collaboration, "Tea at Tenby," from 2008, took home a first-place ribbon. Those two works, as well as a few more collaborations show how similar the sisters' sensibilities are and how well they can execute something as a team.
Each of the sisters has her own thing going on as well. Holly thinks her style "is tight and tiny," while "my sister's style is fuller, larger sometimes," she says. And while Holly loves silk these days, Nickels' material is cotton.
Regardless of any differences, both are inspired by antique quilts and love the historical significance of American quilting. "We are both inspired by the folk art applique quilts of the 1800's. Our roots are in the tradition of quilting. We love the early quilters who had a spontaneity about them that was not as structured as we tend to be now," Nickels says.
"I like to think about the women who made them. Quilting was one of the only acceptable forms of creativity that women had back then. Life required you to make blankets to keep your family warm, but you didn't really have to make them beautiful to survive. I think those women were out there on the prairie and saw their chance to express themselves," Holly says.
"I love the idea that we are continuing this tradition. We both look to old quilts for design ideas," Holly says.
The sisters also have a modern attitude towards sewing: They use a machine.
"There was a period of time when it wasn't a quilt unless it was stitched by hand. Now people use machines and don't even think twice about it," Holly explains. "When we collect antique quilts, we look for ones that have visible machine stitching. When women first got sewing machines in the 1850's, they were proud to use them and show off that they had them. I like to think that we are advocates for using sewing machines," she says.
"I started to machine quilt in the 1980's, and at the time it was really kind of frowned upon. Now I teach machine quilting all over the country and internationally, and it has really reversed. So many people love machine quilting now. In 20 to 25 years, it's really turned around," Nickels says.
One of Holly's solo contributions to the 2012 quilt show is a large, luxurious, highly-detailed, machine-stitched silk quilt, entitled "Imagining India." She made it before a trip to India by looking at images in books for inspiration. She also contributes around 9 miniature quilts to the show, a sign of her love of "tight and tiny."
Two of Nickel's favorite solo works in the show are "Ashley's Flower Basket" and "Jessica's Flower Basket," named for her two daughters. "Those are both patterns that I use a lot for my teaching. I travel two or three trips a month and I've taught in 48 of the 50 states and lots of different countries, where sometimes Pat has traveled with me. These patterns definitely travel with me," Nickels says.
Nickels has authored two books on machine sewing technique that include sewing patterns, "Machine Quilting: A Primer of Techniques," and another that she co-authored with Holly, "Stitched Raw Edge Applique." At the moment, Nickels is working on a new book on "Whole Cloth Feathers" motifs.
Both sisters teach workshops and classes on machine sewing. Locally, you can take a class with one of them on occasion at the Ann Arbor Sewing Center. When I spoke with the sisters, Nickels was teaching a quilters' retreat in New York.
The quilt show runs July 28, from 9 a.m. to 5 p.m., and July 29, 11 a.m. to 5 p.m. at the Morris J. Lawrence building on the campus of Washtenaw Community College. For more information, see the guild's website at www.gaaqg.com