concert preview
with video:

Local folk duo Nervous But Excited saying goodbye with a last show at The Ark

Posted on Mon, Oct 1, 2012 : 10:37 a.m.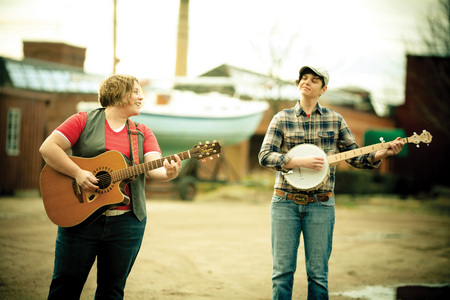 After eight years of near-constant touring, successful local folk duo Nervous But Excited—Kate Peterson and Sarah Cleaver—is going on indefinite hiatus, but not without a "finale" show at The Ark Thursday night.

"Sarah will be moving to the East Coast to pursue grad school in speech pathology," said Peterson. "I am sticking around here and will be seeing what comes next in both music and graphic design. … We are taking some time to do other things and see where it ends up."

Peterson—who said she also plans to tackle a new instrument, the piano—doesn't rule out solo shows or musical collaborations with others. "I'm just keeping the door open," she said.

Peterson and Cleaver switch up acoustic and electric guitars, mandolin, banjo, ukulele, glockenspiel, bass and harmonica for a kind of music they've dubbed "pleasantly aggressive." In addition to touring, they've kept busy in the studio, releasing three full-length studio records (including one that was billed as 100 percent carbon neutral), one live album and three EPs.

Besides The Ark, they have played many established rooms across the country and performed with artists such as Ani DiFranco, Catie Curtis, Lucy Kaplansky, Utah Phillips, Melissa Ferrick, Cheryl Wheeler, Ferron and Toshi Reagon. They were also the opening act on the first night of the 2010 Ann Arbor Folk Festival.

"Headlining The Ark, opening for Ani DiFranco and playing at the Michigan Womyn's Music Festival were my three goals," Peterson said. "We've done all those more than once. It's pretty crazy to look back on what we've done, and the amount of miles we've traveled, and the cities and the friends that we've made, all the people we've met."
PREVIEW
Nervous But Excited
Who: Local duo Kate Peterson and Sarah Cleaver. Women of the World Poetry Slam-winner Andrea Gibson opens the show.
What: "Pleasantly aggressive" folk act offers final show before going on indefinite hiatus.
Where: The Ark, 316 S. Main St.
When: 8 p.m. Thursday, Oct. 4.
How much: $15. Tickets available from The Ark box office (with no service charge); Michigan Union Ticket Office, 530 S. State St.; Herb David Guitar Studio, 302 E. Liberty St.; or online from the Michigan Union Ticket Office.
"I feel like touring has been the most exciting part of it," added Cleaver. "I feel like a great part of who we are is that we both love to travel, we don't mind being in a car for a long period of time, and we both like each other a lot. There were a lot of pluses that came together to make this work year after year.
"We've been touring for almost eight years nonstop. It's been amazing, but it also takes up the majority, if not all, of our lives. It doesn't really leave time to explore any other parts of ourselves," Cleaver added. #8220;Yearly, you get to the point where you have to reassess the situation and reassess how much more you have to dig in to keep going and to move to the next level. We're at a point of reinvestment."
For the Ark show, they plan to delve into their catalog (expect "Smaller Taller," "Ohio to Michigan" and maybe their killer cover of Adele's "Rolling in the Deep") and offer stories from their eight years together, plus some of their videos.
"We'll dig deep into the history of it all," Peterson promised. "We're going to strip it down to just Sarah and I and maybe a guest or two for a few songs, and just let it be the core of what we are."
Fans can also help compile the set list for the show by going on line to www.facebook.com/events/311712825581864/ and voting for their favorite songs.
Spoken-word performer Andrea Gibson, Women of the World Poetry Slam winner, will open the show.