event preview
Kerrytown's BookFest to offer activities, panel discussions and signings for book lovers
Posted on Tue, Sep 4, 2012 : 5:59 a.m.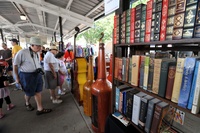 Though worms found in nature aren't generally known to gather in large numbers, the populous species of Ann Arbor area bookworms will soon come together at the Farmers Market for the 10th annual Kerrytown BookFest, happening Sept 9.

And as is often the case, the event will feature the talents of Michigan-based artists.

"They're not all from Michigan, but that's a big emphasis for sure," said Robin Agnew, who's been on the BookFest's board for nine years. "That's partly because one of our sponsors is the Michigan Humanities Council, but it's also because we've got some wonderful people working here in our area."

This year's free BookFest programs include panel discussions focusing on poetry; women who write fiction; publication; book arts; authors who've written about the Detroit Tigers, and those who've been mentored by local mystery and western author Loren Estleman; author signings; an interview with Pulitzer Prize winning journalist and novelist Julia Keller; a conversation with Benjamin Busch and Nicholas Delbanco; and bookbinding activities and crafts, as well as a storybook corner.
PREVIEW
Kerrytown BookFest
What: The 10th annual Kerrytown BookFest will celebrate both those who create books and those who read them with a lineup speakers, demonstrators and exhibitors (with a special emphasis this year on Michigan writers).
Where: Ann Arbor Farmers Market on North Fourth Avenue.
When: September 9, 11 a.m.-5 p.m.
How much: Free. For more information, visit www.kerrytownbookfest.org/ or call 734-669-0451. For a complete schedule of events, visit www.kerrytownbookfest.org/activities/event-schedule/.
"It's just grown every year," said Agnew, who is also co-owner of
Aunt Agatha's
mystery bookstore. "It's been fun to be involved and see it grow, and see people get so enthusiastic about it. People wait for this all year. And there's such a nice community feeling to it. It's really friendly, … and it's a fun way to get different kinds of writers together."
The fest won't be making a big deal of its 10th anniversary, but rather will focus on what it always has: celebrating those who write, create and read books.
"One thing we're doing that's really neat this year is, we've got a panel of poets, and we asked them ahead of time to send us some of their poetry," said Agnew. "So we're printing up their poems, and (attendees) can get a cover and bind (the poetry collection) themselves, and then, since the poets will be there, hear them read their poetry."
And while the BookFest has grown, in terms of attendance, over the years, organizers are still more than satisfied with the venue.
"We're so lucky to have the Farmers Market," said Agnew. "It's so ideal, because it's contained, so it's simple to find your way around the event."