Jeff Daniels' 'The Newsroom' already renewed for second season
Posted on Tue, Jul 3, 2012 : 12:55 p.m.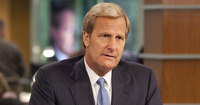 The new HBO drama starring Chelsea's Jeff Daniels, "The Newsroom," has already been picked up for a second season, despite some negative reviews (like this one in The New Yorker).

Daniels stars as Will McAvoy, a bland, detached news anchor who, after an unexpected public outburst, teams up with his ex to do a news show that aims to restore journalistic integrity.

Daniels' co-stars are Dev Patel, Alison Pill, Emily Mortimer, Sam Waterston, John Gallagher Jr., Olivia Munn, and Thomas Sadoski, and the show was written and created by Aaron Sorkin ("The West Wing," "The Social Network").