event preview
Jaycees' Easter Egg Scramble and Marshmallow Drop returning to Ypsilanti
Posted on Tue, Mar 19, 2013 : 1:08 p.m.
It might be THE Easter event of the area. It has a helicopter. A helicopter! It is of course the Jaycees' Easter Egg Scramble and Marshmallow Drop at Frog Island Park.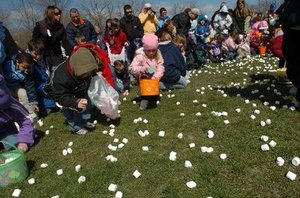 The event will feature plenty of games and activities for kids, highlighted by the helicopter that will fly overhead and drop hundreds of marshmallows for participants to trade in for prizes. There will be a bake sale with hot beverages available throughout the event and a raffle.
The Egg Scramble and Marshmallow Drop has been a tradition in Ypsilanti for over two decades. Perhaps they will consider a turkey drop in November.
Saturday, March 23, 2013. 11 a.m. Recommended donation of $1 per child. Frog Island Park is in Depot Town at 699 Rice St., Ypsilanti. For more information, email easter@ypsilantijaycees.com.