concert preview
with video:

Ingrid Michaelson bringing fierce new songs to the Power Center

Posted on Wed, Sep 26, 2012 : 5:38 a.m.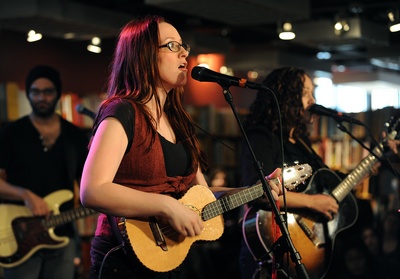 File photo | AnnArbor.com

MySpace may have, for all practical purposes, gone the way of the dodo, but for 32-year-old indie singer/songwriter Ingrid Michaelson—who's bringing her acoustic tour to the Power Center on Sept. 30—the site was, in its heyday, a launching pad for her fame.

For the social networking site was the place where a television music producer heard Michaelson's songs and asked to use one for a show—marking the first time (of many) she'd hear her music on television.

"It was my song 'Breakable' and it was used on 'Grey's Anatomy,' Michaelson told the AOL Music Blog last year. When the episode first aired in November 2006, "I was at my apartment in Brooklyn, which had cockroaches and mice, it was very unsavory. I had my TV in the living room on and a TV in the bedroom. And I was pacing back and forth, back and forth, just waiting for the moment when my song would come on. I was so anxious that I developed a huge hive on my cheek, so I had to walk around with ice on my cheek. Finally I hear the little piano part, 'That's me! That's me!' I was like, 'Oh my God!' I was just screaming the whole time."

Michaelson went on to have several songs featured on the hit medical drama, as well as other television series ("One Tree Hill," "Brothers and Sisters," etc.) and commercials (most notably Old Navy's use of "The Way I Am").
PREVIEW
Ingrid Michaelson
What: Folk/pop singer-songwriter returns to Ann Arbor, in the midst of an acoustic tour, to promote her new album "Human Again," along with special guests Sugar and the Hi Lows.
Where: Power Center, 121 Fletcher St. in Ann Arbor.
When: Sunday, Sept. 30 at 7:30 p.m.
How much: $42. Available from www.mutotix.com or by phone at 734-763-8587.
Despite the huge exposure and sudden attention, though, Michaelson—who'd been playing her music in cafes around New York City and working for a children's theater company—decided to remain an indie artist.
" … Suddenly, all these record labels approached me, saying: 'Sign up with us and we will help you do this and achieve that,' but we were kind of already doing that on our own," Michaelson told Marie Claire in 2010. "So I just created my own label (Cabin 24 Records). Everything comes and goes through me and my management. I can barely process the success that the songs have had. If you really think about it for too long, it's so bizarre, that it makes your brain hurt! Just hearing myself on the radio is still weird. It's such an overwhelming, strange feeling."
MIchaelson, the daughter of a composer and a sculptor, grew up in Staten Island, New York. And while she started studying piano at age 4, and had vocal training throughout much of her young life, her involvement in a children's musical theater troupe initially pointed her in the direction of becoming an actress.
"I didn't really live in an area where you could play around outside so I tended to stay inside a lot," Michaelson said in an interview with AllThingsNewEngland.com. "My best friend and I used to make up skits and videotape them. We'd record radio shows and did a lot of creative things like that."
In that same interview, Michaelson said, "I grew up watching a lot of old movies like 'Easter Parade' and 'Shall We Dance.' I was a big Judy Garland fan so I feel a very deep-seated sense for melody and a beautiful voice. … Not to say that I don't enjoy other kinds of music, but for me, personally, I feel that if I'm going to make something, it has to have a very beautiful melody with a nice voice. … That's very important when I'm writing."
Michaelson earned a degree in theater from Binghamton University—where she was part of an a capella group and an improv comedy troupe—and was in New York pursuing a career in that realm when her musical ventures started to exert a greater pull.
More recently, Michaelson found great success with the album (and the song) "Everybody" in 2009. But Michaelson isn't one to grow musically complacent, so with "Human Again," she's blazing a new path for herself.
"Well, I wanted to make a record that wasn't very much like my other records in that I felt like I had kind of had done the singer-songwriter, kind of the ukulele cutesy song thing," she told the Lehigh Valley Music blog. "Not to downplay all of my music, but I feel like the songs that people know the best of me are these kind of like little cutesy little ditties. I didn't want to do that again. I kind of felt like I wanted to just do something different and a little more—just bolder, maybe."
Producer David Kahne acted as a catalyst for this new direction when Michaelson came to him with about eight songs.
"And we recorded some of them and he said to me, 'Could I please ask you a question? I had some of your records and I came to see your live show when I was asked to producer your record. And I just don't understand why you don't sing the way you do when you sing live on your records,'" Michaelson said in the same Lehigh Valley Music blog interview. "And I said, 'I don't know what you mean.' And he says, 'I mean that you sing out and you really go for it and it sounds like you play it really safe on your recordings.' And I almost accepted that as a challenge, and it allowed me to really open up and to physically do what I wanted to do on the record. It was like the perfect motivation to help me understand. Because I knew that I wanted a different-sounding record, but I just didn't know how, exactly."
Here's a single from "Human Again," called "Blood Brothers."
During the course of her music career, Michaelson married songwriter Greg Laswell—which might lead you to wonder how the artist still regularly explores issues related to heartbreak.
"I wrote all the songs in a year in which I've been very happy, and not experiencing heartbreak," Michaelson told the Lehigh Valley Music blog in reference to "Human Again." "I think the way I describe it—people have asked me this many times before—is that sometimes it's easier to write about something when you're removed from it. You have a clearer eye, you know? So you can kind of peer in to your past life almost as if you're writing about somebody else. I think we're so great at giving advice to people when we're not in the middle of something. But the truth is, because you can see clearer and you can see all sides. And so I feel like that's the stance I had to take while writing about things that are on this record, because I wanted to tell the stories that I wasn't in the middle of it anymore. So I had to kind of look at it as if I was writing about someone else."