Head in the Cloud
Column:

This Week's Web Picks: infinite baseball; everybody's foreign accent; the protein game; and worldwide radio

Posted on Sat, May 5, 2012 : 5 a.m.
How many times did the Tigers strike out in 2003? Here is a site that offers tons of cold hard facts. Well, not all cold. Is there any sport other than baseball that is as elevated - some might even say defined - by statistics? Maybe it's due to the age of Major League Baseball (Happy 143!), or the pace of a game that lets you see and think too much, or simply the fact that so many measurable things can happen to make a play memorable.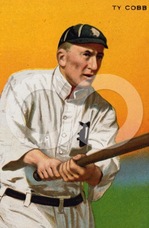 The American obsession with ranking, winning, and besting needs numbers that rule (and numbers are easier to earn than money). This site offers nearly every statistic imaginable to a non-sabermetrician, and lets you customize searches, though advanced searches from the incredible Play Index may charge a fee. Manager statistics, draft statistics, a batting streak finder, a pitching season finder, the Negro League Encyclopedia, the Minor League Directory, frivolous lists like non-pitchers who pitched or player birthplaces. It never ends. We all knew an obnoxious kid who memorized this stuff when he was 11, but those of us who didn't will gasp at what the baseball gods insist we learn. And to think, some guys already laid the groundwork. USA Today is behind this site. When you've done with it, there's always their companion sites for football, hockey, and basketball. Who has time to watch a game?
Hundreds of millions of people speak two languages. A few million speak 3 or 5. Many fewer speak 10, though some linguists speak over 20. The British savant Daniel Tammet learned Finnish from scratch in a week, and proved it on Finnish radio. Using this fascinating site, though, all English-speakers can learn to sound as if they had a different native language. And non-English speakers can learn what makes them sound to us, well, foreign. Would you like to know how a Dinka-speaking Sudanese male reads a short paragraph in English? Or a Burmese woman reading the same? This site provides hundreds of audio samples of non-English language speakers reading the same paragraph. Some sound like we might sound; most don't. Put together by George Mason University, the site is meant to help ethnologists, phonologists, linguists and others interested in the development of speech. A native phonetic inventory is given for many languages. A hyperlinked atlas lets you search geographically. How does a woman from Yunnan, China sound? The English-speaking history of all readers is given, so some distant linguistic relatives don't sound very "foreign" at all. In the not-too-distant future it will be possioble to go anywhere in the world and let an app talk for us to anyone. When that happens, foreign accents may be the last we know of foreign tongues.
This is almost as tough to explain as it is to do, but I have to try. Technically this is a game that helps scientists solve the mysteries of how proteins work. To function properly - or to be manipulated by scientists - proteins must fold (bent, or be shaped) in specific ways around other proteins and compounds. But there are so many proteins, and they're so large, and there are so many ways of folding that neither scientists nor computers can figure out all the ways they fold. So scientists created a mouse-manipulated visual game based on protein templates: users can bend or fold them however they choose, using various tools. A "correct" solution becomes obvious and wins points. It can be competitive. The solutions then become part of a huge database interested bioscientists consult, and are thus incorporated into the known world. This depiction of collagen is an example of what is involved in dealing with proteins. An app needs to be downloaded to use FoldIt, as well as lots of time, brainpower and faith. This reality game can change life at the molecular level.
When is the last time you watched television from Hungary, Egypt, or Japan? Delicast makes it possible. Now you can watch news, entertainment, drama, even ads from dozens of countries around the world, broadcast in native languages. Connecting to streams can be tricky at times, and not everything is in real time. But it's real. As with much of streaming video, your computer's software may be the key to connectivity. But don't despair: it may be time to learn new tricks. Delicast shows you a station's signal strength, its direct link, and the type of programming. It can be a great way to brush up on language skills, current events, politics, and rarely-seen cultural activity. Take a look at Frankfurt's Rhein-Main TV. Delicast offers even more in the way of worldwide radio broadcasts: the selection of available music alone will forever alter your idea of what radio, or a listening library, can be. Some of it - whether in Estonia, Haiti or South Korea - is the pop that has taken over the world, though Arabic rap can sound intriguing. But a lot of it isn't. Here's Turkey's Antalya FM.