theater preview
with video:

Basement Arts presents Joss Whedon's "Dr. Horrible's Sing-Along Blog" on stage this weekend

Posted on Wed, Feb 17, 2010 : 11:42 a.m.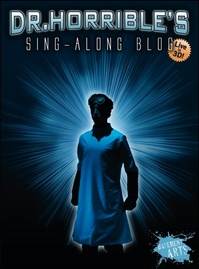 Basement Arts — a student-run theater group at the University of Michigan that offers free performances on most weekends — will present a stage adaptation of the Emmy Award-winning Internet musical mini-series, "Dr. Horrible's Sing-Along Blog," on Thursday, February 18 at 7 p.m.; Friday, February 19 at 7 and 11 p.m.; and Saturday, February 20 at 4 and 7 p.m., at the Studio I Theatre in U-M's Walgreen Drama Center, 1226 Murfin Avenue.
In Joss Whedon's cult-hit Web series — which appeared during the writers' strike — aspiring villain Dr. Horrible wants to join the Evil League of Evil, but his attempts at world domination always fall through. He also can't gather the courage to talk to his crush, and his arch-nemesis Captain Hammer thwarts him at every turn.
Basement Arts patrons are encouraged to arrive early to performances to get a seat. For more information about Basement Arts, visit the group's web site.
To get a taste of Whedon's online series, starring the always-fantastic Neil Patrick Harris, check out the first segment, which features one of the series' best songs, "My Freeze Ray" :