concert preview
with video:

Kalamazoo's Greensky Bluegrass bringing its progressive sound to the Blind Pig Saturday

Posted on Wed, Oct 10, 2012 : 5:39 a.m.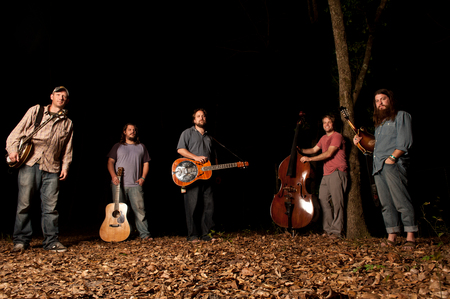 Greensky Bluegrass, headed to the Blind Pig for a show Saturday night, has found success on the more progressive edge of the genre.

As its name suggests, the Kalamazoo-based band employs traditional bluegrass instruments—dobro, banjo, guitar, upright bass and mandolin. But although bluegrass doesn't usually have distortion, or horns for that matter, Greensky does. The subject of their songs also seems a little darker than one might expect. Titles from their most recent album, "Handguns," include tracks such as "I'd Probably Kill You," "Bring Out Your Dead" and "Blood Sucking F(r)iends."

"We certainly don't write about what bluegrass is often about," upright bass player Mike Devol acknowledged. "Bluegrass is sort of famous for its lonesome quality. (But) we write about we know. Not to say that we are dark, but the things that are real in our lives are touring a ton, competing in this musical environment and struggling to make what we want to do with out lives something we can do with our jobs.

"We're not happy-go-lucky guys. I'd say in general we love Michigan and our lives and we're having fun, but that doesn't mean our music always has to be so happy," he said, adding that "in this part of the country, the economy can evoke a lot pretty real feelings about where we live. And winter—I'm sure that comes out in our songwriting just a little bit."

Besides Devol, Greensky Bluegrass is Anders Beck (dobro), Michael Arlen Bont (banjo), Dave Bruzza (guitar) and Paul Hoffman (mandolin).

Building off a 2011 that saw them performing at festivals such as Bonnaroo, Bumbershoot, and Hardly Strictly Bluegrass (where Rolling Stone proclaimed "they're representing the genre for a whole new generation"), the Ann Arbor show is part of a recent schedule that's seen the band play its first-ever performances at the South by Southwest music festival, as well as dates in Hawaii and Alaska.
PREVIEW
Greensky Bluegrass
Who: Kalamazoo band consisting of Anders Beck (dobro), Michael Arlen Bont (banjo), Dave Bruzza (guitar) and Paul Hoffman (mandolin) and Mike Devol (upright bass). Joshua Davis is the opening act.
What: Progressive bluegrass.
Where: Blind Pig, 208 S. First St.
When: 9 p.m. (doors), Saturday, Oct. 13.
How much: $15. Info: www.blindpigmusic.com, 734-996-8555.
"We kind of approach making albums a little differently than we approach our live show," Devol explained. "I think we try to capture our live energy on an album, but we also look at an album as an opportunity to do some things we can't do live, such as having some of our friends come in and play horn lines, recruiting some people to do background vocals, using some sort of mixing effects and old, cool microphones … As far as pushing the boundaries of bluegrass, I feel we continue to move in that direction. Mostly I think that Greensky is doing well because our songs are good.
"Handguns" was recorded in between tours last winter, with the band committing the songs straight-to-tape on the exact recording console that originally birthed Lynyrd Skynyrd's infamous track "Free Bird" decades earlier.
"We did discuss that while were at the studio and it is a cool, nostalgic thing," Devol said, allowing full well that audience knowledge of the "Freebird" connection might make even more people in audiences shout out the name of the rock chestnut.
"If you write anything in this article about 'Free Bird,' someone will be yelling it the whole time," he observed somewhat ruefully, adding that he and his roommate have been trying to master the song on the music video game Rock Band with little success.
"I'm glad I'm a good real bass player because I am not that good of a Rock Band bass player," he said.
Devol said he and his bandmates are delighted to be touring with opening act Joshua Davis, who spent many years leading the Michigan band Steppin' In It, which is going on hiatus.
"We love Josh, not only as a person but as a friend," said Devol. "He's written some of our favorite songs, he's got an awesome voice and he's a great guitar player. We take every opportunity we can get to bring him along."