calendar of events
Happening Today:

Get a taste and a tour of Ann Arbor today

Posted on Sun, Jun 3, 2012 : 5:58 a.m.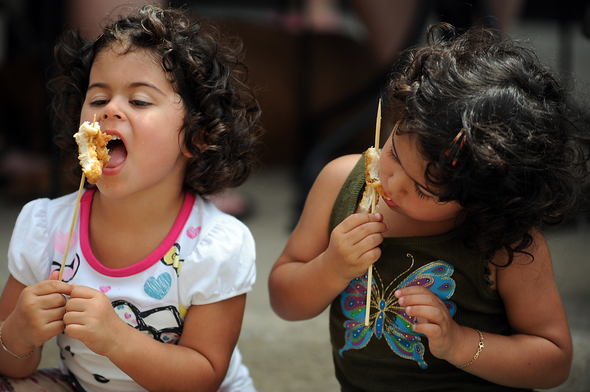 Melanie Maxwell I AnnArbor.com
FOOD
"Taste of Ann Arbor" returns to downtown Ann Arbor. 11 a.m.-5 p.m. This annual community event features local restaurants offering visitors bite size, and some not so bite size, tastes of what they do best. Tickets for food tastes can be purchased at the event for 50 cents each.
KIDS
Bring the kids to St. Mary's Catholic Parish in Pinckney for "Breakfast With Cinderella." 8:30-11 a.m. Cinderella invites all her little princess friends to come in costume and join her in song to create memories that will last a lifetime. Proceeds from the event will help support the upcoming Parish Festival. Be sure to bring a camera. By donation. 10601 Dexter Pinckney Road, Pinckney. 734-878-3161.
HOMES
Take a peek into some of the nicest abodes around during the "Ann Arbor City Club 60th Annual Home Tour." 10 a.m.-5 p.m. Get tickets at any of the homes on the tour: 2505 Geddes; 1052 Arlington; 2360 Londonderry; 2505 Londonderry; 1505 Sheridan. There are six homes on the tour. The club is also hosting a public brunch on tour day from 11:30 a.m to 1:30 p.m. for $12. Reservations appreciated for the brunch. $15. Get more information by calling 734-662-3279 or going to annarborcityclub.org. Ann Arbor.
FESTIVAL
Today is the last day of the "6th annual Ya'ssoo Greek Festival" at St. Nicholas Greek Orthodox Church is this weekend. Sunday: Noon-6 p.m. The festival features a Hellenic cultural exhibit, authentic cuisine, homemade pastries, the taverna, live Greek music, dancers and the Agora marketplace. Free admission. Visit www.annarborgreekfestival.org for additional details. The church is at 3109 Scio Church Road, Ann Arbor. 734-332-8200.
POTTERY
The Potters Guild of Ann Arbor will wrap up their "Spring Sale.". 10 a.m.-5 p.m. The sale includes both functional and decorative ceramics made by more than 40 Potters Guild artists, as well as a selection of specially-priced ceramics for kids under 12. Free admission. The Guild is at 201 Hill St., Ann Arbor. 734-663-4970.
MUSIC
Enjoy "Measure for Measure's 24th Annual Spring Concert" at Hill Auditorium. 3 p.m. This Men's Choral Society will delight you with their Annual Spring Concert featuring American folk songs, spirituals, sea chanteys, a bit of opera and some silliness. $15/ adults, $12/ seniors and students. Tickets will be available at the door. Hill is at 825 N. University Ave., Ann Arbor. 734-763-3333.
HOBBIES
The "34th Annual Ham Radio Swap 'n' Shop" will be held at the Chelsea Community Fairgrounds today. 8 a.m. This amateur radio club provides support for Chelsea activities, Red Cross and support for severe weather and disasters. There will be hourly prizes, coffee and donuts. Anyone interested in new or used radio or other types of electronic equipment will find what they're looking for here. $5. Kids under 12 get in free. The CCF is at 20501 Old US-12 Hwy., Chelsea.