with video:

Fun in A2: The Kin performs 'musical robbery' at Zingerman's, new song in graffiti alley

Posted on Mon, Jun 25, 2012 : 12:38 p.m.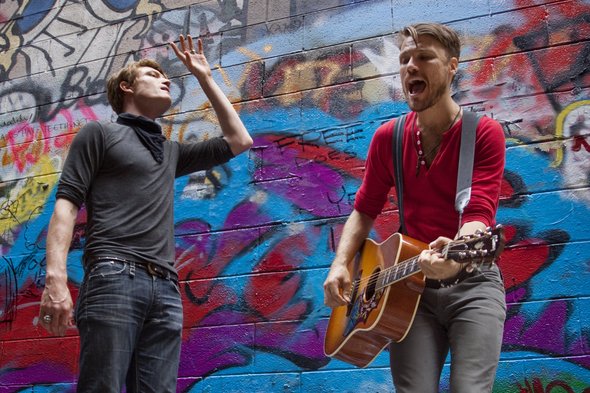 Jeffrey Smith | AnnArbor.com

Australian brothers Thorald and Isaac Koren, who make up the rock group The Kin, spent time Saturday taking in parts of Ann Arbor and having a little fun with the town folk.

The duo was here to play a special house concert for a recent Ann Arbor graduate, but stumbled upon "Graffiti Alley" downtown off Liberty Street and couldn't resist the opportunity.

They thought it would make the perfect, unique backdrop to debut their newest song "The Weekend" on YouTube, said Isaac Koren. The natural acoustics were what intrigued Thorald, he said. Watch the video below.

Also while in town, during the noon lunch hour, the brothers rolled up to Zingerman's Delicatessen in a red Hyundai and hopped out.

With a black bandana covering his face like an Old West bandit, Isaac shouted: "Ladies and gentleman this is a musical robbery!"

The brothers explained they find it exciting to engage in a little "tomfoolery" no and again and what they've dubbed a "musical robbery" as great way to connect with the communities they visit, Isaac said.

Almost as quickly as they arrived outside of Zingerman's, they left via the same get-away vehicle. Watch the video below and search "The Kin musical robbery" on YouTube for more "tomfoolery."

Isaac said the brothers really love coming to Ann Arbor. They've played a few shows at The Ark in the past. He said at Saturday's concert for William McGuckin, not only is it a "cool city" but its spirit is admirable.

"We have traveled the country and rarely do we see this much positive community coming together," Isaac said.

Staff reporter Danielle Arndt covers K-12 education for AnnArbor.com. Follow her on Twitter @DanielleArndt or email her at daniellearndt@annarbor.com.