You Should Only Be Happy
Imagining "no need for ... hunger"
Posted on Tue, Dec 8, 2009 : 7 a.m.

Today is the 29th anniversary of John Lennon's murder, which occurred 3 blocks north of where I grew up in New York City and took place on my 18th birthday. I could have been frivolous and self-indulgent today, writing about cake and ice cream; or I could have provided a recipe for something containing strawberries, in reference to the beautiful Strawberry Fields memorial to John.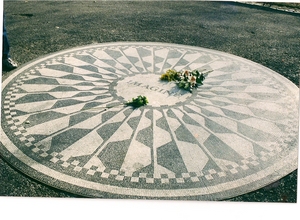 Jeremy Bilyeu, Contributor

I could also have ignored the day's significance and instead provided recipes for any of the dozen or so different varieties of cookies currently residing in my freezer (or the remaining dozen or so that I still have yet to bake) as I get ready for my annual cookie-giving bonanza to loved ones.

But all of these options seemed inappropriate to honor a man who wrote so eloquently about a Utopia that we seem so very, very far from reaching. "Imagine" is a song which speaks such simple truth to me (bleeding heart that I am), as I know it does for many people; and so I thought I would take the opportunity -- in the midst of this seemingly endless season of indulgence and gluttony -- to utilize my food column as a means of encouraging support for organizations that help to fight hunger. There is such heartbreakingly desperate need, with depleted food banks and increased food stamp demand and reductions in meal deliveries to the homebound ....

And so I offer a sampling of charities devoted to combating hunger -- whether you may be in need of their services or want to make a contribution to help them continue their work -- with hopes that there will someday be no need for them (and with apologies to those I've neglected). "You may say I'm a dreamer, but I'm not the only one ...."

Ann Arbor Community Center Emergency Food Pantry

Catholic Social Services Emergency Food Program

Community Action Network Food Program

St. Clare of Assisi Episcopal Church Back Door Food Pantry

WIC (Women, Infants and Children)

Mary Bilyeu has won or placed in more than 60 cooking contests and writes about her adventures as she tries to win prizes, feeds hungry teenagers and other loved ones, and generally just has fun in the kitchen. The phrase "You Should Only Be Happy" (written in Hebrew on the stone pictured next to the blog's title) comes from Deuteronomy 16:15, and is a wish for all her readers as they cook along with her ... may you always be happy here!

You can contact Mary at yentamary@gmail.com.