peggy lampman's dinnerfeed
recipe:

Watermelon Pomegranate Soup with Mint and Feta - recipe benefits from careful choice of melon

Posted on Fri, Aug 17, 2012 : 4:58 a.m.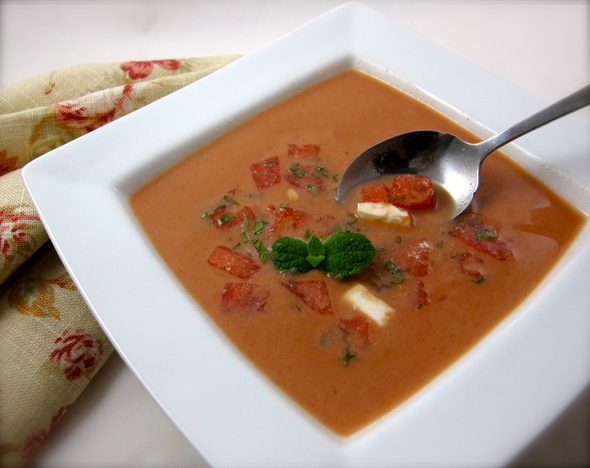 Peggy Lampman | Contributor

To receive my lastest dinnerFeed posts
by email, sign up here.
Watermelon is so sweet at this time of the year, I try to be as inventive as possible in utilizing it's swollen goodness in a variety of ways. The key is using a watermelon at its pinnacle of ripeness, and there are a couple of ways to determine this.
The best ways I know are two-fold: a brief inspection followed by a thump. Roll the melon over and check the bottom. If it's white, it's not ready for the knife. A yellowed or light brown color is a good indicator the melon is prime.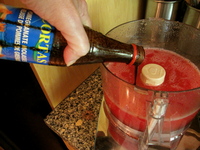 To double-check, with your forefinger, thump the melon sharply a few times or flick it with your fingertips. You should hear a reverberation — a hollow thwunk — within the melon, indicating it's ready for the plunge.
This soup is the essence of watermelon; the perfect prelude to a more substantial meal. Rich and tangy pomegranate molasses is the perfect counterpoint and is available in any store that stocks Middle Eastern staples. If not available at your grocers, substitute the pomegranate molasses with honey and lemon juice to taste.
Here's another great recipe for lamb kebobs using pomegranate molasses.
Time: 30 minutes
Yield: 8-9 cups
Ingredients
6 pounds red watermelon; seeds removed if not seedless, and cut into hunks (approx. 9 cups)
2 tablespoons chopped fresh mint
3 tablespoons pomegranate molasses
12 ounces plain yogurt (I prefer Fage)
1/2 cup crumbled feta (6 tablespoons)
Instructions
1. Dice a portion of the watermelon to yield one cup. In a small bowl, combine diced watermelon with mint and set aside.
2. In batches, blend remaining watermelon, pomegranate molasses and yogurt until smooth. Let sit 1/2 hour at room temperature. With a sieve, strain soup. (The soup may be refrigerated several hours before serving at this point.)
3. When ready to serve, divide among bowls. Garnish each bowl of soup with reserved watermelon-mint and feta. Serve.