peggy lampman's dinnerfeed
recipe:

Watermelon Mojito is the perfect summer cooler

Posted on Mon, Jul 23, 2012 : 11:18 a.m.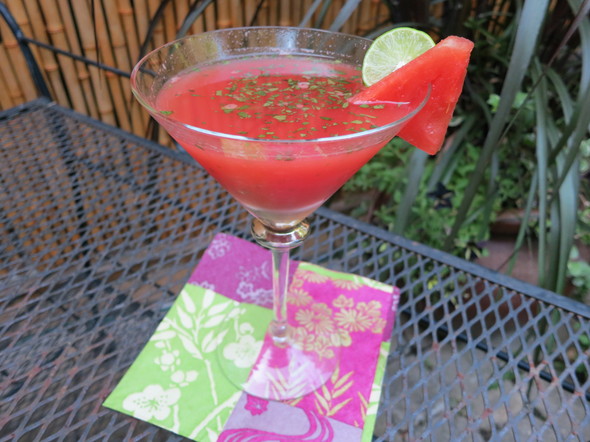 Peggy Lampman | Contributor

To receive my lastest dinnerFeed posts
by email, sign up here.
With mint flourishing in the garden, and produce bins groaning under the weight of the season's juicy watermelon, this summer cooler has become my latest favorite drink.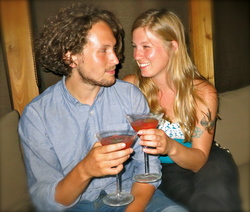 My son, Zan, and his girlfriend, Lucy, came to dinner, and I served these drinks with the appetizer. It's intimidating serving Lucy a cocktail. Fresh from attending the Manhattan Cocktail Classic convention, she explored the hottest boites and studied the latest bar-tending tricks in the city. Her resume includes bar tending at Zingerman's Roadhouse and Detroit's Sugar House.
This Watermelon Mojito is not as splashy as some of the more esoteric ones you'll find that could, for example, incorporate smoked fruits and bacon with bourbon, and it's certainly not as creative as the Pig's Punch Lucy concocted last winter, but she said it was delicious and "well-balanced."
This recipe is an off-shoot of Watermelon Agua Frescas, a non-alcoholic cooler I made last year. Wake up to a Watermelon Agua Frescas, then end your day with a Watermelon Mojito; could a summer day be sweeter?
Active Time: 15 minutes
Chill Time (for simple syrup and drink): at least 3-4 hours
Yield: 4 cups, without the addition of ice or rum
Ingredients
3/4 cups white sugar
4 (packed) cups seedless watermelon chunks, plus triangles for garnish, if desired
3-4 tablespoons fresh squeezed lime juice, plus lime slices for garnish, if desired
1 tablespoon cup chopped mint, plus extra leaves for muddling, if desired
1 cup soda water
White rum, as desired
Directions
1. Make a simple syrup by dissolving sugar in 1 1/4 cup hot water. Stir until the sugar has completely incorporated into the water. Refrigerate until cold.
2. In a blender or food processor, working in batches if necessary, combine 1 cup simple syrup with watermelon, 3 tablespoons lime juice and blend until smooth.
3. Pour mixture through a strainer into a container or pitcher, pressing on the pulp with a spatula to extract all juice. Discard pulp and add soda water to remaining juice. Taste and add additional simple syrup and lime juice to taste. Refrigerate until chilled. (At this point, recipe may be made up to 48 hours in advance.)
4. Prior to serving, stir in chopped mint*. Serve with crushed ice, ice cubes, or strained into martini glasses (pictured) Garnish glasses with watermelon chunk and lime, if desired.
* Mint may also be lightly muddled in a shaker to extract oils. Muddle, add drink, shake with ice then strain into glasses.