inside Washtenaw County Public Health
health:

Restaurant inspections in Washtenaw County for January 2012

Posted on Wed, Feb 29, 2012 : 3 p.m.
Washtenaw County Public Health's Environmental Health Division inspects all food service establishments in the county, including bars, restaurants, schools and seasonal vendors — about 1,110 facilities in total! Inspection results are now published monthly on AnnArbor.com.
Why do we inspect?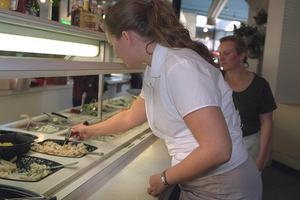 Inspections help to ensure that safe food is served to the public. Sanitarians (otherwise known as health inspectors) use the Michigan Food Law of 2000 and the 2005 FDA Food Code when doing the inspections and are looking for critical and non-critical food safety violations.

How frequent are inspections?

Routine inspections take place twice per year, or once per year if the business is only open seasonally. Routine inspections are unannounced. Environmental Health will initiate additional inspections if a foodborne illness or other substantial complaint is reported.

Each inspection is a snapshot in time, and conditions found at the restaurant are not necessarily the conditions that could be found in the restaurant at other times. Sanitarians ask many questions about the menu, operations and procedures to get the best possible idea of the day-to-day conditions of the restaurant.

Critical vs. non-critical violations

Sanitarians are looking for critical and non-critical violations during inspections. Critical violations can lead directly to food-borne illness and must be corrected immediately. Examples of critical violations include an employee not washing hands before preparing food, storing food at improper temperatures and a dish machine not properly sanitizing dishes.

Non-critical violations may not directly lead to food-borne illness but are important to the overall safety and sanitation of the facility. Non-critical violations must be corrected within 90 days of the routine inspection and include items such as employees not wearing hats or hairnets, not covering food during storage and dirty floors.

What if I have a complaint?

Environmental Health responds to general restaurant complaints as well as food-borne illness complaints. Please call our office at 734-222-3800 to file a complaint or to report a suspected food-borne illness.


January Inspections:
| Inspection Summary Report | | | | | | | |
| --- | --- | --- | --- | --- | --- | --- | --- |
| Establishment | Address | | | City | Inspection Date | Critical | Non Crit. |
| AFC SUSHI @ ST. JOSEPH MECRY HOSPITAL | 5301 E. HURON RIVER DR. | | | YPSILANTI | 01/18/2012 | 0 | 0 |
| AHMO'S GYROS & DELI | 341 E. HURON | | | ANN ARBOR | 01/31/2012 | 1 | 5 |
| AMERICAN HOUSE - CARPENTER | 3470 CARPENTER ROAD | | | YPSILANTI | 01/17/2012 | 3 | 6 |
| AMVETS POST 269 - ROBERT L. CARVER | 2839 E. MICHIGAN AVE | | | YPSILANTI | 01/26/2012 | 0 | 0 |
| ANN ARBOR COMEDY SHOWCASE | 314 E. LIBERTY | | | ANN ARBOR | 01/05/2012 | 1 | 4 |
| ANN ARBOR PIZZA COMPANY & BURRITO JOINT | 1200 PACKARD | | | ANN ARBOR | 01/20/2012 | 6 | 5 |
| ANTHONY'S GOURMET PIZZA | 1508 N. MAPLE RD | | | ANN ARBOR | 01/31/2012 | 0 | 2 |
| ARENA | 203 E. WASHINGTON | | | ANN ARBOR | 01/25/2012 | 0 | 7 |
| AUBREE'S SALOON | 39 E. CROSS STREET | | | YPSILANTI | 01/23/2012 | 0 | 4 |
| BACK ALLEY GOURMET | 611 S. MAIN STREET | | | ANN ARBOR | 01/26/2012 | 0 | 7 |
| BACK TO THE ROOTS | 115 S. MAIN ST. | | | CHELSEA | 01/30/2012 | 1 | 4 |
| BAR LOUIE | 401 E. LIBERTY, STE 200 | | | ANN ARBOR | 01/09/2012 | 1 | 12 |
| BASIL BOYS | 527 W. MAIN STREET | | | MILAN | 01/10/2012 | 1 | 4 |
| BASKIN ROBBINS | 1952 W. STADIUM BLVD | | | ANN ARBOR | 01/12/2012 | 1 | 4 |
| BEACH MIDDLE SCHOOL POOL | 445 AD MAYER DRIVE | | | CHELSEA | 01/26/2012 | 0 | 3 |
| BEARCLAW COFFEE | 2232 ELLSWORTH RD | | | ANN ARBOR | 01/23/2012 | 0 | 1 |
| BEEZY'S LLC | 20 N. WASHINGTON ST. | | | YPSILANTI | 01/04/2012 | 1 | 2 |
| BETH ISRAEL CONGREGATION | 2000 WASHTENAW | | | ANN ARBOR | 01/05/2012 | 0 | 2 |
| BEWON JIN INC. | 3574 PLYMOUTH RD | | | ANN ARBOR | 01/05/2012 | 1 | 6 |
| BIG BOY OF CHELSEA | 1610 S. MAIN STREET | | | CHELSEA | 01/19/2012 | 1 | 7 |
| BIG BOY OF MILAN | 1000 DEXTER STREET | | | MILAN | 01/12/2012 | 1 | 5 |
| BIG BOY WESTSIDE | 2800 WASHTENAW | | | YPSILANTI | 01/23/2012 | 1 | 4 |
| BLACK SWOLLOW EXPRESSO & COFFEE STFU | 210 FERRIS ST., APT. 2 | | | YPSILANTI | 01/07/2012 | 0 | 1 |
| BREAD BASKET DELI | 4003 CARPENTER ROAD | | | YPSILANTI | 01/20/2012 | 0 | 4 |
| BURGER KING | 2387 ELLSWORTH ROAD | | | YPSILANTI | 01/12/2012 | 0 | 2 |
| BURGER KING #889 | 2170 RAWSONVILLE ROAD | | | BELLEVILLE | 01/10/2012 | 2 | 3 |
| CAMPUS INN | 615 E. HURON | | | ANN ARBOR | 01/18/2012 | 1 | 2 |
| CARSON'S AMERICAN BISTRO | 2000 COMMOMWEALTH BLVD | | | ANN ARBOR | 01/19/2012 | 1 | 6 |
| CHELSEA WELLNESS CENTER | 14800 OLD U.S. 12 | | | CHELSEA | 01/30/2012 | 0 | 0 |
| CHINA GATE RESTAURANT | 1201 S. UNIVERSITY | | | ANN ARBOR | 01/26/2012 | 1 | 2 |
| CL'S CARRY-OUT | 1070 SOUTH MAIN ST. | | | CHELSEA | 01/20/2012 | 0 | 4 |
| COFFEE MILL CAFE LLC. | 115 E. MAIN STREET | | | MANCHESTER | 01/17/2012 | 4 | 1 |
| COLD STONE CREAMERY | 3597-B WASHTENAW | | | ANN ARBOR | 01/03/2012 | 2 | 4 |
| COMFORT INN CONFERENCE CENTER | 1645 COMMERCE PARK DR | | | CHELSEA | 01/27/2012 | 1 | 4 |
| COMMON GRILL | 112 S. MAIN STREET | | | CHELSEA | 01/31/2012 | 0 | 3 |
| CONOR O'NEILLS | 318 S. MAIN STREET | | | ANN ARBOR | 01/10/2012 | 0 | 3 |
| COTTAGE INN PIZZA | 546 PACKARD | | | ANN ARBOR | 01/26/2012 | 0 | 5 |
| CROSSROAD'S BAR & GRILL (THE) | 517 W. CROSS | | | YPSILANTI | 01/31/2012 | 0 | 5 |
| DAMON'S | 3150 BOARDWALK | | | ANN ARBOR | 01/30/2012 | 0 | 6 |
| DAN'S DOWNTOWN TAVERN | 103 E. MICHIGAN AVENUE | | | SALINE | 01/17/2012 | 2 | 16 |
| DENNY'S RESTAURANT # 864 | 3310 WASHTENAW | | | ANN ARBOR | 01/25/2012 | 2 | 6 |
| DEXTER HIGH SCHOOL(Concession Stand) | 2200 PARKER RD | | | DEXTER | 01/10/2012 | 0 | 1 |
| Inspection Summary Report | | | | | | | |
| Establishment | Address | | | City | Inspection Date | Critical | Non Crit. |
| DOMINO'S PIZZA #1100 | 2715 PLYMOUTH ROAD | | | ANN ARBOR | 01/18/2012 | 3 | 3 |
| DOMINO'S PIZZA #1108 | 2121 S. GROVE ROAD | | | YPSILANTI | 01/10/2012 | 1 | 0 |
| EBA (CAFETERIA) C/O DOMINO'S | 30 FRANK LLOYD WRIGHT | | | ANN ARBOR | 01/24/2012 | 0 | 4 |
| EMU SATELLITE OPERATIONS | ST. JOHN STDC1 | | | YPSILANTI | 01/12/2012 | 1 | 4 |
| ESPRESSO ROYALE | 2603 PLYMOUTH ROAD | | | ANN ARBOR | 01/06/2012 | 0 | 3 |
| ETCS SENIOR NUTRITION PROGRAM | 8970 WHITTAKER ROAD | | | YPSILANTI | 01/10/2012 | 0 | 0 |
| ETCS SENIOR NUTRITION PROGRAM | 701 W. ELLSWORTH ROAD | | | ANN ARBOR | 01/12/2012 | 2 | 2 |
| ETCS SENIOR NUTRITION PROGRAM | 2801 BAKER ROAD | | | DEXTER | 01/25/2012 | 0 | 0 |
| ETCS SENIOR NUTRITION PROGRAM | 9318 MAIN STREET | | | WHITMORE LAKE | 01/18/2012 | 0 | 0 |
| EXPRESS SEAFOOD | 2653 ELLSWORTH RD | | | YPSILANTI | 01/23/2012 | 0 | 2 |
| FIRST PRESBYTERIAN CHURCH | 1432 WASHTENAW | | | ANN ARBOR | 01/11/2012 | 0 | 2 |
| FOGGY BOTTOM COFFEEHOUSE | 7065 DEXTER-ANN ARBOR ROAD | | | DEXTER | 01/03/2012 | 2 | 5 |
| FOOD ART CATERED AFFAIRS | 331 METTY DR | | | DEXTER | 01/23/2012 | 0 | 1 |
| FOOD GATHERERS / ROBERT J DELONIS CENTER | 312 W. HURON | | | ANN ARBOR | 01/03/2012 | 0 | 2 |
| FRITA BATIDOS | 117 WEST WASHINGTON | | | ANN ARBOR | 01/10/2012 | 3 | 7 |
| GABRIEL'S HOAGIE SHOP | 2585 E. MICHIGAN AVENUE | | | YPSILANTI | 01/04/2012 | 0 | 1 |
| GENESIS OF ANN ARBOR | 2309 PACKARD | | | ANN ARBOR | 01/31/2012 | 1 | 5 |
| GREAT LAKE CHINESE SEAFOOD RES | 2910 CARPENTER ROAD | | | ANN ARBOR | 01/26/2012 | 3 | 5 |
| GREAT LAKES CHOCOLATE & COFFEE | 2891 JACKSON AVE | | | ANN ARBOR | 01/26/2012 | 2 | 3 |
| HAPPY'S PIZZA | 612 E. MICHIGAN AVE | | | YPSILANTI | 01/18/2012 | 3 | 7 |
| HUNGRY HOWIE'S / MILAN PIZZA | 901 W. MICHIGAN AVENUE | | | SALINE | 01/24/2012 | 0 | 3 |
| HUNGRY WOLF | 20400 AUSTIN ROAD | | | MANCHESTER | 01/26/2012 | 0 | 4 |
| HURON PIZZA HOUSE | 530 N. HURON | | | YPSILANTI | 01/27/2012 | 3 | 5 |
| IMMACULATE CONCEPTION CHURCH | 410 NORTH STREET | | | MILAN | 01/10/2012 | 0 | 1 |
| JET'S PIZZA | 1749 PLYMOUTH RD | | | ANN ARBOR | 01/23/2012 | 0 | 3 |
| JET'S PIZZA | 7200 DAN HOEY RD., SUITE D. | | | DEXTER | 01/19/2012 | 0 | 3 |
| JEWISH COMMUNITY CENTER | 2935 BIRCH HOLLOW DRIVE | | | ANN ARBOR | 01/03/2012 | 1 | 5 |
| JIMMY JOHN'S | 600 PACKARD | | | ANN ARBOR | 01/09/2012 | 2 | 2 |
| JIMMY JOHN'S | 3365 WASHTENAW AVE STE D | | | ANN ARBOR | 01/17/2012 | 1 | 3 |
| JINAN'S EXOTIC BAKERY | 1721 PLYMOUTH ROAD | | | ANN ARBOR | 01/17/2012 | 0 | 3 |
| JOE AND ROSIE | 8074 MAIN STREET | | | DEXTER | 01/03/2012 | 2 | 1 |
| JOE'S CRAB SHACK | 3020 LOHR RD. | | | ANN ARBOR | 01/10/2012 | 2 | 8 |
| JOYFUL HOUSE | 515 E. MICHIGAN AVENUE | | | SALINE | 01/31/2012 | 0 | 6 |
| KOREY'S KRISPY KRUNCHY CHICKEN | 124 PEARL ST., STE 100 | | | YPSILANTI | 01/12/2012 | 2 | 0 |
| LA FIESTA MEXICANA, INC | 529 W. CROSS STREET | | | YPSILANTI | 01/04/2012 | 1 | 2 |
| LITTLE PORKY'S - ADK INC. | 2529 DEXTER ROAD | | | ANN ARBOR | 01/30/2012 | 0 | 5 |
| LUCKY 7 CHINESE | 1777 WASHTENAW | | | YPSILANTI | 01/12/2012 | 0 | 4 |
| M D BAGEL FRAGEL LLC | 1760 PLYMOUTH RD. | | | ANN ARBOR | 01/04/2012 | 2 | 5 |
| MACY'S | 700 BRIARWOOD CIRCLE | | | ANN ARBOR | 01/30/2012 | 0 | 2 |
| MAIN STREET CONEY ISLAND | 1555 S. MAIN STREET | | | CHELSEA | 01/06/2012 | 2 | 5 |
| MAIZE & BLUE DELI | 1329 S. UNIVERSITY | | | ANN ARBOR | 01/26/2012 | 0 | 3 |
| MAKKARA SUSHI | 3014 PACKARD RD. | | | ANN ARBOR | 01/20/2012 | 4 | 6 |
| Inspection Summary Report | | | | | | | |
| Establishment | Address | | | City | Inspection Date | Critical | Non Crit. |
| MANCINO'S PIZZA & GRINDERS | 2883 CARPENTER ROAD | | | ANN ARBOR | 01/12/2012 | 1 | 2 |
| MANI OSTERIA & BAR | 341 EAST LIBERTY | | | ANN ARBOR | 01/03/2012 | 2 | 6 |
| MAPLE GARDENS | 1506 N. MAPLE ROAD | | | ANN ARBOR | 01/24/2012 | 3 | 7 |
| MAPLEWOOD LANES, INC. | 830 E. WOODLAWN DRIVE | | | SALINE | 01/06/2012 | 2 | 5 |
| MARCO'S PIZZA | 148 BARKER ROAD | | | WHITMORE LAKE | 01/10/2012 | 1 | 4 |
| MARCO'S PIZZA #43 | 1154 DEXTER STREET | | | MILAN | 01/17/2012 | 1 | 6 |
| MARK'S MIDTOWN CONEY | 529 E. MICHIGAN AVENUE | | | SALINE | 01/20/2012 | 3 | 4 |
| MARK'S MIDTOWN CONEY ISLAND IN | 3672 S. STATE STREET | | | ANN ARBOR | 01/26/2012 | 3 | 0 |
| MARNEE THAI | 414 S. MAIN ST. SUITE 130 | | | ANN ARBOR | 01/11/2012 | 3 | 5 |
| MAX & ERMA'S RESTAURANTS, INC. | 445 E. EISENHOWER PKWY | | | ANN ARBOR | 01/20/2012 | 0 | 3 |
| McDONALD'S | 1177 DEXTER STREET | | | MILAN | 01/17/2012 | 1 | 5 |
| MCDONALD'S | 16 ECORSE ROAD | | | YPSILANTI | 01/12/2012 | 1 | 2 |
| MCDONALD'S # 33298 | 3325 WASHTENAW AVE | | | ANN ARBOR | 01/27/2012 | 0 | 4 |
| MCDONALDS #18650 | 5550 W. MICHIGAN AVE | | | YPSILANTI | 01/26/2012 | 0 | 9 |
| MCDONALD'S #7010 | 3752 S. STATE ST. | | | ANN ARBOR | 01/20/2012 | 0 | 3 |
| MEDITERRANO | 2900 S. STATE STREET #7 | | | ANN ARBOR | 01/12/2012 | 1 | 2 |
| MELANGE BISTRO WINE BAR | 314 1/2 S. MAIN ST. | | | ANN ARBOR | 01/10/2012 | 1 | 7 |
| MIKI JAPANESE RESTAURANT | 106 S. FIRST STREET | | | ANN ARBOR | 01/31/2012 | 2 | 8 |
| MILAN FREE METHODIST CHURCH | 950 ARKONA ROAD | | | MILAN | 01/17/2012 | 0 | 3 |
| MR. PIZZA #3 | 6054 RAWSONVILLE ROAD | | | BELLEVILLE | 01/10/2012 | 0 | 3 |
| MR. SPOTS | 808 S. STATE STREET | | | ANN ARBOR | 01/25/2012 | 1 | 3 |
| NAGOMI SUSHI & NOODLE | 1754 PLYMOUTH RD. | | | ANN ARBOR | 01/04/2012 | 2 | 10 |
| NECTO | 516 E. LIBERTY | | | ANN ARBOR | 01/05/2012 | 0 | 3 |
| NO THAI! | 1317 S. UNIVERSITY | | | ANN ARBOR | 01/11/2012 | 1 | 4 |
| NYPD YPSILANTI PIZZA DEPOT | 308 PERRIN ST | | | YPSILANTI | 01/27/2012 | 0 | 8 |
| OASIS CAFE/RENDEZVOUS CAFE/SOUTH U PIZZA | 1104 - 1110 S. UNIVERSITY | | | ANN ARBOR | 01/03/2012 | 0 | 4 |
| OLLIES PIZZA | 138 E. MAIN STREET | | | MANCHESTER | 01/17/2012 | 1 | 1 |
| PASSPORT | 3776 S. STATE ST. | | | ANN ARBOR | 01/09/2012 | 3 | 3 |
| PASTRY PEDDLER BAKERY & CAFE | 619 PACKARD | | | ANN ARBOR | 01/09/2012 | 0 | 1 |
| PILARS TAMALES | 2261 W. LIBERTY | | | ANN ARBOR | 01/26/2012 | 1 | 7 |
| POLO FIELDS COUNTRY CLUB | 5200 POLO FIELDS DRIVE | | | ANN ARBOR | 01/26/2012 | 2 | 7 |
| PORTAGE YACHT CLUB | 8930 DEXTER-PINCKNEY ROAD | | | PINCKNEY | 01/12/2012 | 4 | 1 |
| PRIMO COFFEE HOUSE | 1816 WHITTAKER ROAD | | | YPSILANTI | 01/09/2012 | 1 | 2 |
| QDOBA MEXICAN GRILL | 1771 PLYMOUTH RD STE 103 | | | ANN ARBOR | 01/30/2012 | 0 | 4 |
| RAVENS CLUB (THE) | 207 S. MAIN STREET | | | ANN ARBOR | 01/06/2012 | 4 | 7 |
| RED ROBIN GOURMET BURGERS - ANN ARBOR | 575 BRIARWOOD CR. | | | ANN ARBOR | 01/11/2012 | 3 | 3 |
| RIVERSIDE PIZZA COMPANY | 9310 MCGREGOR ROAD | | | PINCKNEY | 01/11/2012 | 0 | 4 |
| ROUNDTREE TERRACE CAFE LLC | 2203 ELLSWORTH ROAD | | | YPSILANTI | 01/06/2012 | 1 | 4 |
| ROY'S SQUEEZE INN | 1315 E. MICHIGAN AVENUE | | | YPSILANTI | 01/06/2012 | 0 | 6 |
| RUBY TUESDAY #7613 | 1375 E. MICHIGAN AVENUE | | | SALINE | 01/31/2012 | 4 | 7 |
| SEOUL STREET | 1771 PLYMOUTH STE #101 | | | ANN ARBOR | 01/05/2012 | 1 | 4 |
| SERRA'S D.Q. L.LC. | 1801 WASHTENAW | | | YPSILANTI | 01/18/2012 | 1 | 3 |
| Inspection Summary Report | | | | | | | |
| Establishment | Address | | | City | Inspection Date | Critical | Non Crit. |
| SEVA | 314 E. LIBERTY | | | ANN ARBOR | 01/04/2012 | 2 | 6 |
| SHALIMAR RESTAURANT | 307 S. MAIN STREET | | | ANN ARBOR | 01/18/2012 | 2 | 10 |
| SIAM CUISINE | 313 BRAUN COURT | | | ANN ARBOR | 01/03/2012 | 0 | 4 |
| SILVER MAPLES OF CHELSEA | 100 SILVER MAPLES DR | | | CHELSEA | 01/23/2012 | 1 | 4 |
| ST. JOSEPH MERCY HOSPITAL | 5301 E. HURON RIVER DRIVE | | | YPSILANTI | 01/18/2012 | 2 | 5 |
| ST. MARY'S PARISH CENTER | 110 E. MADISON | | | MANCHESTER | 01/30/2012 | 0 | 0 |
| STATE THEATRE | 233 S. STATE STREET | | | ANN ARBOR | 01/10/2012 | 1 | 4 |
| STUCCHI'S | 1121 S. UNIVERSITY | | | ANN ARBOR | 01/05/2012 | 0 | 4 |
| STUCCHI'S OF DEXTER | 7050 DEXTER- ANN ARBOR RD | | | DEXTER | 01/24/2012 | 2 | 2 |
| SUBWAY | 3098 PLATT RD | | | ANN ARBOR | 01/10/2012 | 0 | 5 |
| SUBWAY | 25 JACKSON INDUSTRIAL, STE.100 | | | ANN ARBOR | 01/19/2012 | 0 | 2 |
| SUBWAY | 1701 PLYMOUTH ROAD | | | ANN ARBOR | 01/23/2012 | 1 | 3 |
| SUBWAY | 4009 CARPENTER ROAD | | | YPSILANTI | 01/09/2012 | 1 | 4 |
| SUBWAY | 6060 RAWSONVILLE RD | | | BELLEVILLE | 01/04/2012 | 0 | 1 |
| SURF CITY SQUEEZE, BRIARWOOD | 334 BRIARWOOD CIRCLE #F-152 | | | ANN ARBOR | 01/24/2012 | 0 | 1 |
| SUSHI TOWN | 740 PACKARD | | | ANN ARBOR | 01/27/2012 | 4 | 11 |
| SWEETWATERS COFFEE & TEA | 407 N. FIFTH AVE. | | | ANN ARBOR | 01/04/2012 | 0 | 6 |
| TACO BELL # 5228 | 5650 JACKSON AVENUE | | | ANN ARBOR | 01/05/2012 | 0 | 3 |
| TACO BELL #2837/KFC | 1590 S. MAIN STREET | | | CHELSEA | 01/25/2012 | 0 | 2 |
| TASTE OF INDIA | 217 B SOUTH STATE ST. | | | ANN ARBOR | 01/10/2012 | 2 | 11 |
| TERRY B'S RESTAURANT | 7954 ANN ARBOR STREET | | | DEXTER | 01/05/2012 | 2 | 6 |
| THOMPSON'S PIZZA | 20700 OLD U.S. 12 | | | CHELSEA | 01/24/2012 | 0 | 4 |
| TIAN CHU | 613 E. WILLIAMS | | | ANN ARBOR | 01/10/2012 | 0 | 3 |
| TIO'S ON LIBERTY | 401 E. LIBERTY | | | ANN ARBOR | 01/04/2012 | 2 | 3 |
| TOMUKUN NOODLE BAR | 505 E. LIBERTY ST. STE 200 | | | ANN ARBOR | 01/10/2012 | 2 | 5 |
| TOUCHDOWN CAFE (Blue Leprechaun) | 1220 S. UNIVERSITY, SUITE 109 | | | ANN ARBOR | 01/31/2012 | 0 | 3 |
| TRAVIS POINTE COUNTRY CLUB | 2829 TRAVIS POINTE ROAD | | | ANN ARBOR | 01/25/2012 | 2 | 3 |
| TREEHOUSE | 1101 S. MAIN ST. | | | CHELSEA | 01/24/2012 | 0 | 0 |
| TUPTIM THAI CUISINE | 4896 WASHTENAW | | | ANN ARBOR | 01/23/2012 | 1 | 3 |
| UA 190 - IBEW 252 | 7920 JACKSON ROAD | | | ANN ARBOR | 01/24/2012 | 0 | 1 |
| UAW LOCAL | 601 WOODLAND DRIVE | | | SALINE | 01/12/2012 | 0 | 0 |
| UNIMERCO | 6620 STATE RD. | | | SALINE | 01/12/2012 | 1 | 11 |
| UNION HALL KITCHEN | 208 W. LIBERTY | | | ANN ARBOR | 01/18/2012 | 0 | 6 |
| UNIVERSITY CAFE | 621 CHURCH STREET | | | ANN ARBOR | 01/23/2012 | 0 | 3 |
| VILLAGE PUB | 3452 WASHTENAW AVE | | | ANN ARBOR | 01/04/2012 | 3 | 5 |
| VINOLOGY | 110 S. MAIN ST | | | ANN ARBOR | 01/05/2012 | 3 | 6 |
| WASHTENAW COUNTY YOUTH CENTER | 4125 WASHTENAW AVE | | | ANN ARBOR | 01/06/2012 | 1 | 3 |
| WENDY'S | 2735 WASHTENAW | | | YPSILANTI | 01/23/2012 | 0 | 3 |
| WESTMINISTER PRESBYTERIAN CHUR | 1500 SCIO CHURCH ROAD | | | ANN ARBOR | 01/19/2012 | 2 | 4 |
| WHITMORE LAKE H.S. INDOOR CONCESSION | 7430 WHITMORE LAKE RD | | | WHITMORE LAKE | 01/12/2012 | 0 | 0 |
| WINGS 'N THINGS | 3220 BROAD STREET | | | DEXTER | 01/10/2012 | 1 | 5 |
| WINGS PIZZA & THINGS | 6877 STATE RD SUITE D | | | SALINE | 01/06/2012 | 1 | 5 |
| Inspection Summary Report | | | | | | | |
| Establishment | Address | | | City | Inspection Date | Critical | Non Crit. |
| YAMATO | 403 N. FIFTH AVENUE | | | ANN ARBOR | 01/11/2012 | 2 | 2 |
| YPSILANTI ART DEJAVU | 31 N. WASHINGTON | | | YPSILANTI | 01/04/2012 | 0 | 1 |
| ZA'S ITALIAN CAFE | 615 E. UNIVERSITY | | | ANN ARBOR | 01/20/2012 | 1 | 4 |
| ZINGERMAN'S "NEXT DOOR" | 418 DETROIT STREET | | | ANN ARBOR | 01/24/2012 | 0 | 4 |
| ZINGERMAN'S DELI | 422 DETROIT STREET | | | ANN ARBOR | 01/24/2012 | 0 | 6 |
| ZOUP ANN ARBOR | 2619 PLYMOUTH ROAD | | | ANN ARBOR | 01/11/2012 | 0 | 5 |