Recipe:

Making a French dip sandwich from a French-influenced Vietnamese soup

Posted on Wed, Jun 6, 2012 : 1:22 p.m.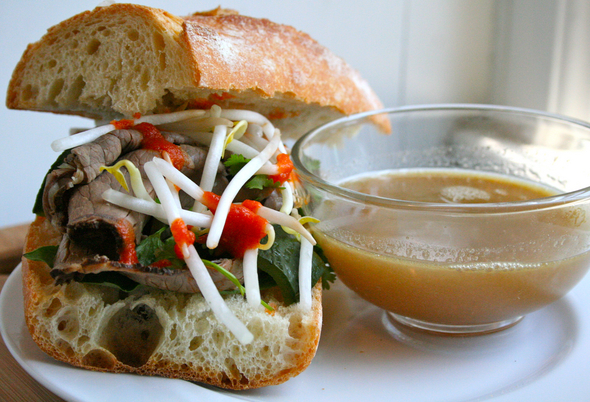 Jessica Webster | AnnArbor.com

I guess you could say I'm in a rut. After experimenting with bouillabaisse and French onion soup sandwiches, all I have wanted to do is turn more soups into delicious sandwiches. And it's not just me. Friends will call me up with ideas, or shout them across the newsroom to me.

"What about a matzo ball sandwich?" (I suppose you could put chicken and schmaltz between a couple of pieces of matzah, but that seems kind of messy, and not very rewarding.)

"Broccoli soup?" (Nah. Really? Nah.)

"Have you thought about an Italian wedding soup sandwich?" (Hmm. I might just file this one away for later.)

Then, last week as I was pondering lunch options and desperately wishing that I could get my hands on a good banh mi sandwich somewhere in downtown Ann Arbor, it hit me like a ton of bricks. Yes, I could make my own banh mi. Or… I could make a pho sandwich.

Pho is a delicious beef noodle dish, served in fragrant beef broth and topped with herbs and bean sprouts. Like the banh mi, it comes to us from Vietnam, and may have its roots in the melding of French and Vietnamese culinary cultures during French colonial rule in the late 19th century.

There are theories that the name for the Vietnamese noodle dish came from the French "pot au feu," but whether the idea for the iconic noodle dish came from the classic French soup, or whether the French just donated the word for the dish is still somewhat unclear.

To me it seemed fitting to pair a faux rendition of a French-influenced Vietnamese soup with a faux-French sandwich. French dip sandwiches are only as French as the bread on which they are served. This classic American roast beef sandwich has been served on a French roll with side of gravy or pan drippings for just over a hundred years.

For this recipe, you prepare a (shortcut) pho broth with onions, star anise and cinnamon. Build a sandwich on a baguette with sliced roast beef, herbs, poblano or jalapeno pepper slices and bean sprouts. Serve the sandwich with a dish of the pho broth for dipping. Quick, easy and delicious. Plus, if I did my math right, this recipe clocks in at just over 300 calories and six grams of fat per serving. Not bad!

Pho French Dip Sandwich

Ingredients
1 teaspoon olive oil
1/2 cup onions chopped
1 clove of garlic, minced
1/2 pound sliced lean roast beef
4 cups beef broth
1 cinnamon stick
2 star anise pods
4-5 black peppercorns
1/2 teaspoon sea salt
1 poblano pepper, roasted, seeded and sliced (or fresh sliced jalapeno if you prefer a spicier sandwich)
1 fresh French baguette
1 cup bean sprouts
chopped fresh cilantro
8 large basil leaves
Sriracha sauce
Directions
Heat 1 teaspoon olive oil in a large saucepan over medium high heat. Add onion and saute until softened and translucent, about 3 minutes. Add minced garlic and cook another minute. Add the beef broth, cinnamon stick, star anise, peppercorns, and salt. Bring to a boil. Reduce heat, add the sliced roast beef and simmer 10 minutes.
Meanwhile, cut your favorite fresh baguette into four equal sections and slice each section in half, lengthwise. Divide among four plates.
When the broth is finished simmering, remove the star anise pods, cinnamon sticks and peppercorns. Drizzle a few teaspoons of broth over the open face of each section of baguette.
For each sandwich, layer one fourth of the basil, roast beef, roasted poblano (or fresh jalapeno) pepper, cilantro and bean sprouts. Top with Sriracha sauce.
Divide the remaining broth equally into four small bowls. Dip the sandwich into the pho broth for each bite and enjoy!
Serves 4.
Jessica Webster leads the Food & Grocery section for AnnArbor.com. You can reach her at JessicaWebster@AnnArbor.com.