Recipe:

Fresh tomato soup that makes the most of your garden harvest

Posted on Wed, Sep 19, 2012 : 1:45 p.m.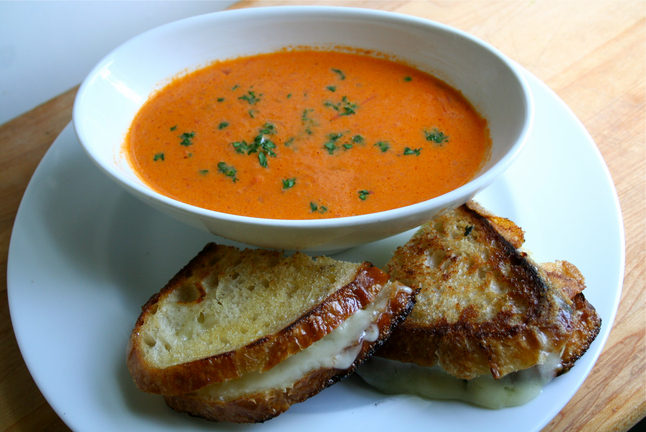 Jessica Webster | AnnArbor.com
Living just a few blocks from Michigan Stadium can present us with some interesting situations. There are definite pluses (people watching!) and minuses (drunken tailgating) to living this close to the largest football stadium in the country.
One of the great benefits is that we can offer up our driveway to my parents-in-law on football Saturdays. Last week, they came bearing gifts when they parked for the UMass game — a big bag full of beautiful tomatoes from their garden.
This unexpected bounty presented me with a happy dilemma. How should I best enjoy these beefy beauties? Sliced up simply with a little salt and pepper? Would they make a good arrabbiata sauce? Or would I finally get my mom's fresh tomato soup recipe?
I've always loved Mom's fresh tomato soup. I suppose any tomato soup that uses fresh garden tomatoes can't help but taste delicious, but this recipe has always struck me as the perfect marriage of simplicity and flavor.
Mom can't remember much about the cookbook this recipe came from — she says she got rid of it once she copied this recipe into her files. She credits it to "Town Hill School Friends Cookbook," but I can't find any reference to that online.
The soup was delicious in its original form, but I made a few adjustments to it to suit it to my taste. First, I threw in a handful of cherry tomatoes about halfway through the cooking time. My thought was that it would result in a few nice bites of more solid tomato flesh in each bowl … and it worked. I might do that more often.
I also added a couple of teaspoons of umami paste when adding tomato paste to the saucepan. Umami is that earthy, savory "fifth flavor" that foods like mushrooms, meats and cheeses possess. Umami paste is a relatively recent invention, and I've been looking for a recipe to test it out in. It may or may not have added an extra depth to the flavor of the soup. Try it if you're curious, or skip it if you're not. You're fine either way.
This recipe easily serves six with a fair amount left over. I took advantage of the beautiful grilling weather and the still bountiful local produce and served it with a steak salad to my parents and grandmother over the weekend.
Of course there's nothing better to pair with tomato soup than a grilled cheese sandwich — which is exactly where the leftover soup ended up the next day.
Fresh Tomato Soup
Adapted slightly from the "Town Hill School Friends Cookbook""
Ingredients:
6 large tomatoes, seeded and chopped
4 ounces butter (or less if desired)
1/2 cup minced onion
1/2 cup minced celery
1 tablespoon sugar
1 tablespoon cider vinegar
2 whole cloves
1/2 teaspoon sage
4 cups chicken stock
1/4 cup tomato paste
2 teaspoons umami paste (optional)
pinch baking soda
salt and pepper
1/2 cup light cream
minced parsley
Instructions:
In saucepan, combine tomatoes, butter, onion, celery, sugar, vinegar, cloves and sage and simmer for 35 minutes.
Puree mixture through food mill or pulse it in a blender for just a few seconds, then pour into saucepan. Add stock, tomato paste, baking soda, salt and pepper and bring mixture to a boil. Simmer for 15 minutes.
Remove from heat and stir in cream, Serve garnished with parsley.
Servings: 6
Preparation Time: 1 hour