peggy lampman's dinnerfeed
recipe:

Katherine's Tailgate Torta - hearty dish will feed a crowd

Posted on Thu, Oct 18, 2012 : 4:44 a.m.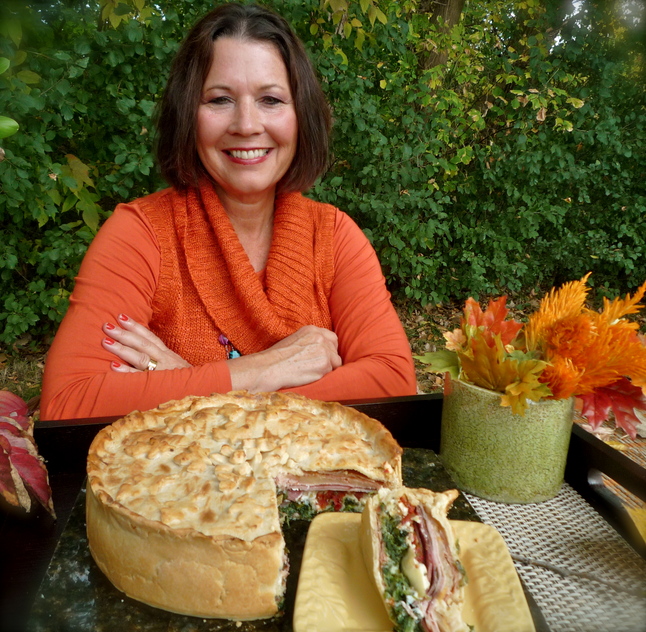 Peggy Lampman | Contributor

My dinnerFeed web site is a lean, mean fighting machine! To receive my lastest dinnerFeed posts by email, sign up here.
Why did I seek out Katherine Farrell's advice on creating the ultimate, make-ahead tailgate dish, and sharing her recipe, plus tips for scoring a touchdown at your next tailgate party?
Because her company, Katherine's Catering, has catered scores of the University of Michigan president's tailgates since the 80s; has a devoted group of regular tailgaters who use her services every year; and on football weekends, Katherine's Catering has catered as many as 4,500 people between various events. "That's a lot of chili," Katherine tells me.

No doubt, and I was glad she brought that up, as Katherine's signature chili is a savory vegetarian concoction as nourishing for your body as it is your soul. I can taste the assortment of beans, jalapeno, cheese, and onion — got that. But there's something else I can't put my finger on; I asked if she'd share the secret ingredient. "No problem." she replied. "Cinnamon apple sauce!" The unique spin Katherine puts on traditional favorites is just one reason her catering company has been a local favorite since 1985.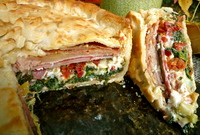 Katherine tells me for an Autumn tailgate, soups such as Chili or Tuscan Bean and Kale Soup, are ideal warm-ups for her
Tailgate Torta
, the ultimate show-stopper, especially at this time of year. "It's a hearty dish encompassing all of the flavors and colors of fall," she said. "I love serving this torta alongside clear jars of veggies—fresh fennel, red, green and yellow peppers, baby carrots and cucumber sticks—with a zesty lemon aioli dipping sauce."
Katherine is married to Damian Farrell, a local architect, and they have three children, and three grandchildren. I spoke with her after she'd spent the weekend at Kalamazoo College, creating her "very own" tailgate feast; her son, Brian, just entered his freshman year and plays offensive line on their football team. Katherine was so kind as to share her top 10 tips for insuring your tailgate will also be a success.
1. Plan to cook and prep a day ahead - that way you can enjoy!
2. Too much food? Invite your neighbors to partake and make some new friends.
3. Bring a roll up rug for comfort and to create your own space.
4. Keep hot food hot, and cold food chilled.
5. Keep your food in easy to seal jars and packages that fit into the cooler during the game.
6. Extend your tailgate space with fold up tray jacks and trays, a portable table, and folding chairs.
7. Coolers fit perfectly under your back tailgate. Fill them with frozen water bottles on hot days.
8. Make a list and double check - trash can, matches, disposable products, serving utensils, wet wipes and plenty of ice and beverages.
9.Condiments and snacks can be assembled, transported and served in attractive baskets. Easy setup!
10. For entertainment, bring a ball to pass and a bag of sidewalk chalk for the kids.
Yield:
1 torta, 12 hefty slices
Time Saving Tip
: Order from
Katherine's Catering
Torta Pastry (dough) Ingredients:
3 cups all purpose flour
8 tablespoons unsalted butter
6 tablespoons creme fraiche or sour cream
Torta Pastry Directions:
Blend flour and butter (may be done in food processor), then add creme fraiche, processing briefly until blended. Chill pastry 30 minutes.
Roll pastry on floured surface, and line bottom and sides of a 10-inch spring form pan with 2/3 of the pastry, allowing the pastry to hang over the edge about a half-inch. (The remaining pastry will be used for the top of torta.)
Filling Ingredients:
1/4 pound prosciutto, sliced thin
Spinach-Breadcrumb Mixture (recipe below):
1 cup marinated artichoke hearts, drained and coarsely chopped
1 pound ricotta cheese
1 cup fresh basil leaves, chopped
6 ounces sun- dried tomatoes packed in oil, coarsely chopped
1/2 pound salami, sliced thin
1/2 pound ham, sliced thin
1/2 pound Provolone cheese, sliced
1/4 pound prosciutto, sliced thin
2 tablespoons creme fraiche or sour cream
Ingredients for Spinach-Breadcrumb Mixture:
1 pound chopped frozen spinach, thawed and well-drained
2 bunches scallion, chopped
2 cloves garlic, minced
1 egg, beaten
1/2 cup panko (Japanese bread crumbs)
1 teaspoon salt
1/2 teaspoon ground pepper
Directions for Spinach-Breadcrumb Mixture:
Combine spinach, scallion, garlic, egg, bread crumbs, salt and pepper.
Assembly and Directions for Torta:
1. Preheat oven to 425 degrees.
In the pastry-lined pan, assemble layers in order of recipe ingredients, starting with the prosciutto, and ending with the prosciutto.
Roll remaining pastry, and place on top of the prosciutto. Seal the edges and decorate with extra pastry, if desired. With a sharp knife, poke holes in the top of the pastry, and brush with creme fraiche before baking.
4. Bake on middle rack of oven 10 minutes, then lower oven temperature to 375 degrees. Bake and additional 45 minutes, or until pastry is nicely browned.
Allow Torta to cool about 30 minutes, then remove from pan. (At this point it may be made up to 24 hours and advance.) Bring to room temperature, cut into slices and serve.