peggy lampman's dinnerfeed
recipe:

Tomatoes stuffed with Walnut-Tarragon Chicken Salad - using homemade mayo is optional but easy

Posted on Thu, Jul 12, 2012 : 8:21 a.m.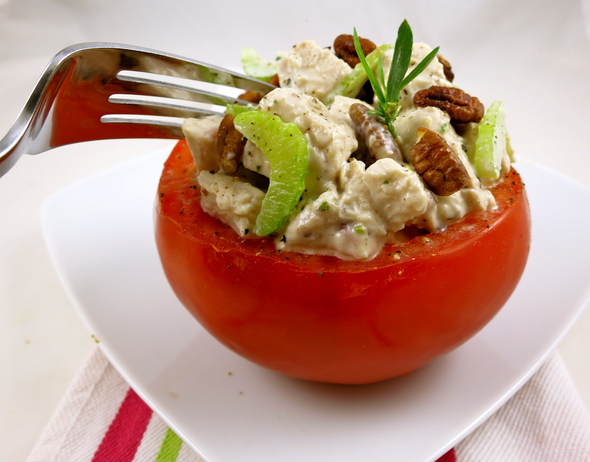 Peggy Lampman | Contributor

To receive my lastest dinnerFeed posts
by email, sign up here.
Summer's hit a rhythm, marching in sync to John Philip Sousa, swaying to the beat of bad-boy blues at Top of the Park. We bemoan the heat, but treasure the endless July sky, especially at dusk when the air cools, darkness descends, and fireflies dance to their own music.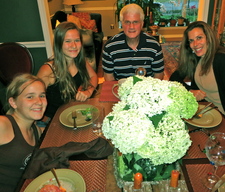 Summer, at least for me, also brings house guests, who prefer visiting Ann Arbor when they don't have to pack a parka and boots. I had one such out-of-town friend visiting last weekend with her daughters. Mara, an Ann Arborite by birth, and I were college roommates, the date of which I don't care to confess.
Back then our favorite subject was guys.Today it's food, and we share recipes as we once shared dating tips. This visit she asked if I would make Walnut Tarragon Chicken Salad, a recipe she relished when I owned the Back Alley Gourmet.
I was tempted to call Guerda Harris, who has owned the store since 1999, and order a batch — it's as yummy as ever — then remembered I had a column to write, another recipe to pen. So here's the recipe for Walnut Tarragon Chicken Salad that I regularly made at The Back Alley Gourmet, which you can purchase today.
Guerda tells me these days the store's Walnut Spinach Chicken Salad is the best-seller, and rumor has it the Old-Fashioned Chicken Salad and Chicken Rotini are just as tempting today as they were back in 1981. Those salads, too, would be delicious shoe-horned into a tomato shell.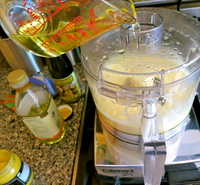 Perhaps you've scanned the recipe. Uh-oh, you may be thinking, this calls for making homemade mayonnaise. You could substitute store-bought mayo for homemade, but it's so easy to make it in a food processor or blender. And yes, on occasion, your mayonnaise may not thicken; it "breaks". That doesn't happen often, but if it does here's what you do: Remove the egg and oil mixture and reserve. Crack another egg into the processor, then very slowly pour in the egg and oil mixture with the machine running until it emulsifies properly.
There is much debate about the pros and cons of using raw egg in mayonnaise, but this article is not the forum. I've always used fresh raw eggs in mayonnaise with no ill effect. However, if you're concerned about health risks, I've heard one may "coddle" the egg by pricking then immersing it in boiling water a minute prior to using in recipe.
Note that the mayonnaise may be made up to 4 days in advance. Do not, however, add shallot until the last minute, as the flavor will "bloom," obliterating the essence of tarragon and walnut, the salad's signature.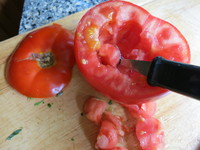 If stuffing the salad into tomatoes, look for ripe, just-off-the-vine, grown-in-Michigan-soil tomatoes. I purchased my tomatoes from Carpenter's Greenhouse at the Kerrytown Farmers Market. I asked for the fattest tomatoes they had, and the gentleman pulled out a couple of boxes so picky me could make my selection.
This recipe makes a large batch; I almost cut it in half, but was glad I decided against it. On Friday I served half of it stuffed in tomatoes. I wasn't planning to serve leftovers on Saturday, but the power went out and I couldn't cook. We enjoyed the salad with a sliced baguette and other nibbles from the fridge that had to be consumed. It tasted just as good, if not better, on Day Two.
Art Fair's next week and the heat's cranked to high; this recipe may be your answer for a make-ahead that can keep you out of the kitchen to enjoy the festivities. And if you don't have time for advance cooking, there's always the Back Alley and a box of tomatoes.
Yield: Approx. 10 cups chicken salad (enough to stuff 10 large tomatoes)
Time: 45 minutes
Equipment needed: Food processor or blender
Ingredients
1 large egg
1 cup walnut or hazlenut oil
1 tablespoon lemon juice
1/2 tablespoon Dijon mustard
2 tablespoons fresh finely chopped tarragon
1/2 teaspoon minced shallot, optional
5-6 pounds boneless skinless chicken breasts, poached
1 1/2 cups walnuts or pecans pieces, toasted
1 1/2 cups thinly sliced celery
Large, ripe tomatoes; optional
Directions
1. Crack egg into food processor or blender; pour in 1/4 cup of oil. Turn on processor and after a few seconds, when the egg and oil have just combined, very slowly pour remaining oil into processor. Immediately after mayonnaise thickens, turn off processor; mayonnaise should be thick and rich.
2. Add lemon juice, Dijon, tarragon and shallot, if using. Pulse processor to combine ingredients. Season to taste with kosher salt and freshly ground pepper. Refrigerate until ready to use.
3. Cut poached chicken breast into 1/2-inch diced pieces if stuffing into tomatoes. Otherwise, you may diagonally slice the chicken into strips, if desired. Toss chicken with tarragon mayonnaise, walnuts and celery. Season to taste with kosher salt and freshly ground pepper.
If stuffing into tomato:
Slice off top (stem end) of tomato, about 1/4 inch down. With a melon baller, scoop out about two-thirds of the tomato pulp and reserve for another use. Sprinkle cavity with kosher salt and freshly ground pepper and pack cavity with chicken salad; serve.