All the Brews Fit to Pint
The Week in Beer: Celebrate local brewers during American Craft Beer Week
Posted on Thu, May 13, 2010 : 12:30 p.m.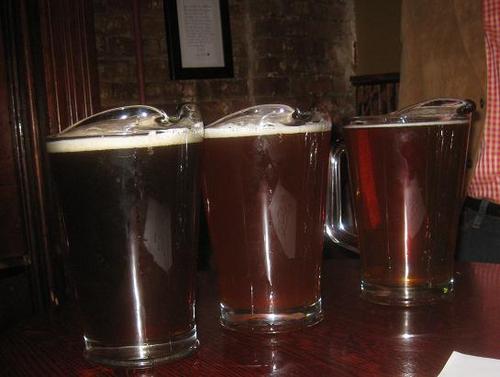 David Bardallis | Contributor

Mid-May is a special time for lovers of great beer produced by local, independent breweries. American Craft Beer Week, which runs from May 17-23, recognizes the heroic work of the men and women who make, distribute and sell our favorite beverage. It was started in 2006 by the Brewers Association, a trade group for small craft breweries, and it's marked by various events in hundreds of breweries around the country.



Of course, the easiest (and best) way to celebrate is to get a group of friends together at your favorite local brewery and raise a pint or two in salute to great beer and the great people behind it. Your Week in Beer has a few ideas for you, below.


Thursday, May 13
How about some local food to go with your local beer? Announcing the Farmers Market at Original Gravity Brewing, 440 County, Milan, today and every Thursday throughout the growing season. Wander into the OG Beer Garden between 4-7 p.m. for fresh local fruits, vegetables, flowers, and more, not to mention fresh local beer!

A reminder that the Bocks and Trappists Beer Tasting at Arbor Brewing, 114 E. Washington, is tonight from 7-9 p.m. Tickets are $30 and get you tastes from two dozen beers from around Michigan and the world, yummy appetizers, and a chance to win some sweet swag. Call 734-213-1393 for availability.

Sunday, May 16
More evidence that you can do good while drinking beer comes in the form of the Wolverine Beer station at the Circle of Art auction to benefit Food Gatherers, a local group that distributes food to the hungry in Washtenaw communities. Local artists donate works for the public to bid on, and the proceeds go to Food Gatherers. The annual event, which takes place at the Saline Picture Frame Company, 7641 N. Ann Arbor St., Saline, has raised more than $70,000 since 2005. Visit salinepictureframe.com or call 734-429-3352 for more information on donating or bidding. And don't forget to try a Wolverine Beer or two.

Monday, May 17
At Grizzly Peak, 120 W. Washington, don't miss the 4th Annual Grizzly Peak Mug Club Brew-Off, where homebrewing members of Grizzly's Mug Club vie to see who has the best brew. The first-place winner works with Grizzly Peak head brewer Duncan Williams to create a special batch to be served on the pub's rotating tap and takes home a keggie of the brew. Second place receives a free keggie of his or her choice. Judging takes place in the Den from 4-8 p.m. and is best observed with a pint or three of GP beer.

Tuesday
From 5-7 p.m. Arbor Brewing is offering a party for patrons as a "thank you" for recently being voted "Best Brewpub in Washtenaw County" for Current's Readers' Choice and "Best Microbrewery" in the Metro Times' Readers' Pick. Enjoy happy hour prices all day and a "Meet the Brewer" session in the Tap Room with brewer Bill Gerds, who is tapping a cask of special brew and conducting tours at 5:30 p.m. and 6:30 p.m. Feel the love!

Wednesday
Come back to Arbor from 6-9 p.m. for a class taught by owner Rene Greff on Michigan's many microbrews. Sample the wares from 10 of our state's more than 80 breweries, learn about flavors and lingo, and get up to speed on how the Great Lakes State became the Great Beer State. Must preregister through Washtenaw Community College's Lifelong Learning Program and, needless to say, you have to be of government-approved drinking age. College-type larnin' was never so fun!

Notes on the Napkin

Homebrewers: Not a Mug Club member or missed the deadline for Grizzly Peak's competition? Entries are still being accepted (until Saturday) in the Ann Arbor Brewers Guild and Arbor Brewing Brews Crews Homebrew Competition. Judging takes place May 22, at Corner Brewery, 720 Norris St., Ypsilanti, with first-place winners in each category receiving engraved mugs and second- and third-place winners receiving medals. The Best of Show winner gets the chance to brew a batch of the winning beer on the Arbor Brewing system and have it served at the pub. Visit brewscrews.aabg.org for more info and to register.
Ever wonder who sorts through and puts together all those thousands of nice little packets of tasting glasses and beer tokens for the Michigan Brewers Guild Summer Beer Festival? Well, you can find out Sunday at Corner Brewery around 3 p.m., when volunteers will gather to count out approximately 75,000 tokens for the July beer-a-palooza. These civic-minded folks are in turn rewarded by the Brewers Guild picking up the tab for beers and appetizers consumed that evening. Want to help? Just show up ready to count!
Coming soon: A movie about eight friends on a timeless journey of discovery. It looks poignant, touching and heartwarming, and it's sure to be a major Oscar contender next year. It's called "Locally Buzzed," and it's all about the joy to be found in Michigan beer and breweries. Estimated release: summer or fall. For now, check out the trailer.


Feel like a road trip? Tickets are available for the May 21-22 World Expo of Beer in Frankenmuth, with locally produced favorites joining approximately 250 other beers for a two-day beer tasting extravaganza. It's a great way to cap off your American Craft Beer Week celebrations! For more info and to order your tickets, visit worldexpoofbeer.com.

That's your American Craft Beer Week in Beer; be sure to celebrate early and often with a mug of your favorite local craft brew. Until next time, cheers!