Petosky News:

Tainted eggs may have been distributed in Michigan

Posted on Fri, Aug 20, 2010 : 1 p.m.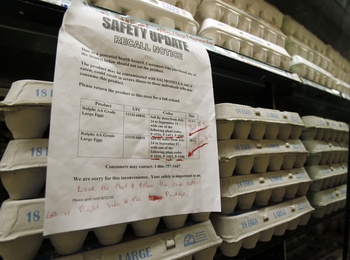 Reed Saxon | AP Photo

As the scope and size of the salmonella-tainted egg recall continues to grow, Petoskey News reports that some of the contaminated eggs may have made their way into Michigan.

"The eggs impacted by the recall are distributed nationwide, including Michigan," said Jennifer Holton, public information officer for the Michigan Department of Agriculture. "The Michigan Department of Agriculture is working with our state and federal partners to conduct tracebacks."

The recall involves 380 million eggs, all originating from a farm in Iowa. The eggs were packaged under the names Lucerne, Albertson, Mountain Dairy, Ralph's, Boomsma's, Sunshine, Hillandale, Trafficanda, Farm Fresh, Shoreland, Lund, Dutch Farms and Kemp.

You can read the full story here.