Recipe:

Tagliatelle with prosciutto and orange

Posted on Wed, Apr 20, 2011 : 5:57 a.m.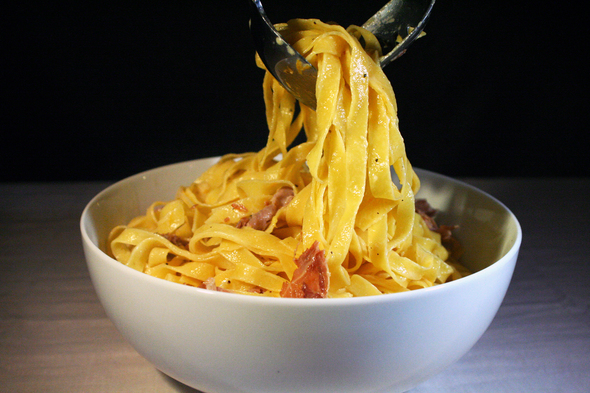 Jessica Webster | AnnArbor.com

Italy's Emilia-Romagna district is the culinary center of my universe. The area famously produces Parmigiano-Reggiano cheese, balsamic vinegar, truffles, egg pastas such as tagliatelle and tortellini, and meats like bologna, mortadella and the beloved prosciutto di Parma. In other words, there's magic in them thar hills.

This month's issue of Bon Appetit has a feature on the cuisine of Emilia-Romagna, and one of the recipes immediately brought me back to one of my very favorite gustatory memories — a meal at a little restaurant down a tiny alley in Rome that was extremely basic and yet bursting with flavor. A simple egg pasta, scented with orange. Not to go overboard with the adjectives, but it was revelatory.

So of course, when I stumbled across this recipe for tagliatelle with prosciutto and orange, I wasted no time gathering my ingredients.

Speaking of ingredients, this is one situation when you definitely want to seek out organic oranges. (You don't want insecticide in your orange zest.) Prosciutto is widely available. I bought mine at Trader Joe's. And please please please don't use pre-grated cheese. Not only is it cheaper to grate it yourself, it also tastes and melts better.

My final tip: Make sure you salt your pasta water generously. Bon Appetit suggests using a small handful of kosher salt in a pot of boiling water. It should taste almost as salty as seawater.

Tagliatelle With Prosciutto And Orange
from Bon Appetit

Ingredients
Kosher salt
12 ounces egg tagliatelle or fettuccine
2 tablespoons unsalted butter
2 ounces thinly sliced prosciutto, torn into 1-inch pieces
Zest from half an orange
Juice from one orange
1/2 cup heavy whipping cream
Freshly ground black pepper
1/4 cup finely grated Parmigiano-Reggiano

Directions
Bring a large pot of water to a boil. Season with salt; add pasta and cook, stirring occasionally, until 1 minute before it's al dente. Drain, reserving 1/4 cup pasta water.

Meanwhile, melt butter in a large heavy nonstick skillet over medium-high heat. Add prosciutto; sauté until browned, about 3 minutes.

Add reserved pasta water, orange juice, zest, and cream; bring to a boil. Add pasta; cook, stirring, until sauce coats pasta and pasta is al dente, about 1 minute. Season with salt and pepper. Stir in cheese and divide among warm bowls.

Serves 4-6

It's always more fun to cook when listening to music. Enjoy this version of "Mambo Italiano" from the legendary Rosemary Clooney while your pasta cooks!