YOU SHOULD ONLY BE HAPPY ....
recipe:

Strawberry orange daiquiri - cool off from summer's heat with one of these

Posted on Thu, Jun 14, 2012 : 8 a.m.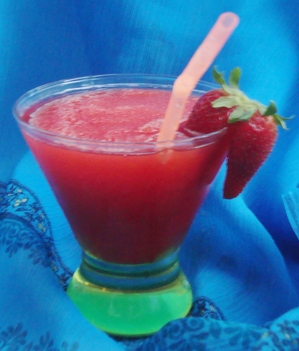 Mary Bilyeu | Contributor
Anyone who knows me — frankly, anyone who spends four seconds with me! — knows that I'm a prissy girly-girl. I don't drink beer; I don't like it, although it's fabulous to cook with. I don't drink hard liquor like bourbon or whiskey or tequila, and I loathe gin. I don't even drink very much at all, although I do like to go to wine tastings and try to learn a bit while having fun.
But if I'm going to drink, I like the froofy drinks that usually come with paper umbrellas or fruit skewers or whipped cream. What can I say? They're light, they're festive, they're sweet, they're perky... they're me!
This is an ideal cooling drink for summery weather, and it offers a flavor as vibrant as its color. It's easy to make and easy to drink — not very strong at all.
And it's perfect for when you're just relaxing in the backyard, enjoying a beautiful evening with friends.
Strawberry Orange Daiquiri
1 10-ounce package Daily's Strawberry Daiquri, frozen
1 pint blood orange sorbet
6 ice cubes, crushed
Combine all ingredients in a blender and whip into a frenzy until well combined. Serves 4.

writes about her adventures in the kitchen - making dinner, celebrating holidays, entering cooking contests ... whatever strikes her fancy. She is also on a mission to find great deals for her Frugal Floozie Friday posts, seeking fabulous food at restaurants on the limited budget of only $5 per person. Feel free to email her with questions or comments or suggestions:
yentamary@gmail.com
.
You should visit Mary's blog — Food Floozie — on which she enthuses and effuses over all things food-related. And be sure to look for her monthly articles about holiday foods and traditions in the Washtenaw Jewish News.
The phrase "You Should Only Be Happy" (written in Hebrew on the stone pictured in this post) comes from Deuteronomy 16:15 and is a wish for all her readers - when you come to visit here, may you always be happy.