YOU SHOULD ONLY BE HAPPY ....
recipe:

Spring leek and dill soup - a quick and light meal to take the chill off

Posted on Wed, May 23, 2012 : 5 p.m.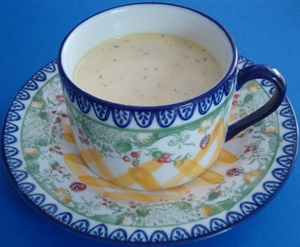 Mary Bilyeu | Contributor
This is a perfect soup to enjoy for spring, when the better weather encourages us to eat lighter foods but there's still a hint of chill sometimes that calls for a bit of warmth. This is particularly lovely for those rainy days that need a bit of brightening.
Because it's so easy, you can prepare this soup at the end of the day for a quick supper, or even make it during the morning rush so that it can be brought along to work for lunch.
With subtle flavoring, this is an ideal accompaniment to a sandwich or a salad. Really, there's no meal that wouldn't be enhanced by this soup!
Spring Leek and Dill Soup
6-inch length leek
1 tablespoon butter
1/2 cup dry white wine
1-1/2 cups chicken stock
1 teaspoon kosher salt
1/2 teaspoon dry dill (or 1 tablespoon fresh)
1/4 cup half-and-half
Trim ends from leek, remove outer layer; quarter the leek lengthwise, then slice thin.
In a small saucepan, melt the butter over medium heat. Add the leek and cook, stirring frequently, for 5 minutes until tender and just starting to caramelize. Add the wine and cook for 3 minutes. Add the stock and the salt; place into a blender and puree until only tiny bits of leek remain.
Pour the soup back into the saucepan, and add the dill. Cook over medium heat for 5 minutes until heated through, then stir in the half-and-half.
Serves 2-4 as a first course.

writes about her adventures in the kitchen - making dinner, celebrating holidays, entering cooking contests ... whatever strikes her fancy. She is also on a mission to find great deals for her Frugal Floozie Friday posts, seeking fabulous food at restaurants on the limited budget of only $5 per person. Feel free to email her with questions or comments or suggestions:
yentamary@gmail.com
.
You should visit Mary's blog — Food Floozie — on which she enthuses and effuses over all things food-related. And be sure to look for her monthly articles about holiday foods and traditions in the Washtenaw Jewish News.
The phrase "You Should Only Be Happy" (written in Hebrew on the stone pictured in this post) comes from Deuteronomy 16:15 and is a wish for all her readers - when you come to visit here, may you always be happy.