Recipe:

Spicy chicken and lime stew

Posted on Wed, Oct 3, 2012 : noon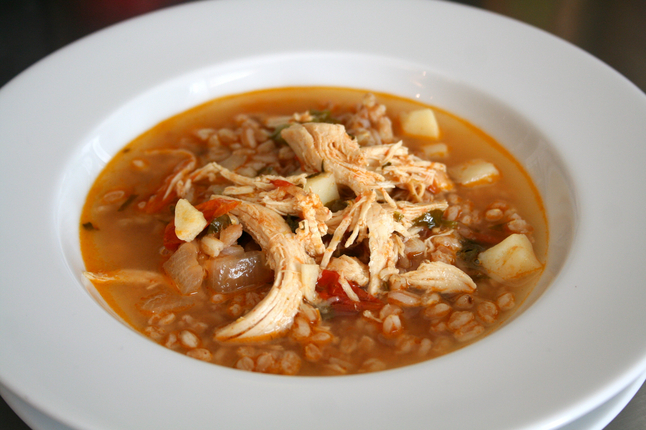 Jessica Webster | AnnArbor.com

"Need a pepper? Take a pepper. Have a pepper? Leave a pepper."

That was the sign over a basket of beautiful red and green japapeno and serrano chiles at my favorite neighborhood wine and cheese shop. How could I resist? I put a small handful of the peppers in my bag and headed home, dreaming of the spicy dinner to come.

I had a hankering for some spicy chicken soup, so I started sauteing some onions and garlic. The soup came together very quickly with ingredients I had in my kitchen. I thought about making a meal of it with some rice, but thought I'd go a healthier route with farro — a high-protein ancient grain. If you're eating gluten-free, skip the farro and stick with rice.

This is a soup that can be altered to suit individual tastes, so make sure you're tasting often as you go along, and add more lime, cilantro, chili powder or salt if you desire.

Just cooking the chicken and broth with the hot peppers adds a nice kick to the soup. If you're not up for an intensely spicy dish, you can remove all the peppers once the soup is ready to serve. If you crave heat like I do, slice up a few of the chile peppers and return them to the pot for extra flavor.

Spicy chicken and lime soup
2 teaspoons olive oil
1 white or yellow onion, diced
4 cloves of garlic, very thinly sliced
6 whole chile peppers, combination of jalapenos, serranos or your favorite peppers
1 cup cherry or grape tomatoes, sliced in half
the juice of 1 lime
1 medium-sized potato, peeled and cut unto 1/2-inch cubes
2 boneless skinless chicken breasts
4 cups low-sodium chicken broth
1/2-cup cilantro, chopped
1 teaspoon chili powder, optional
salt to taste
1 cup semipearled farro
1. Set the farro in a large bowl and add enough water to cover it. Set it aside.
2. Heat the olive oil in a large saucepan or Dutch oven over medium heat. Add the diced onions and cook, stirring regularly, until they are translucent. Add the garlic and tomatoes and cook for about another two minutes, stirring so the garlic doesn't burn. When the garlic starts to soften, add the lime juice and the chile peppers.
3. Give the onion and peppers mixture a good stir to make sure there's nothing sticking to the bottom of the pan, then add the raw chicken breasts to the pot. Add the cubed potato, the chili powder, salt to taste (I used about a half teaspoon) and then pour in the chicken broth. Four cups should be sufficient to cover the chicken breasts. If not, add some more.
4. Bring the broth to a boil, then turn down to medium-low heat and simmer for about 20 minutes.
5. Meanwhile, drain the farro and turn it into a medium saucepan. Add two cups of water and salt it generously as you would pasta water. Bring it to a boil and cook for about 15-20 minutes, until most of the water has evaporated and the farro is tender or a bit chewy.
6. When the chicken is cooked through and is no longer pink in the center, carefully remove the breasts from the pot and set them on a large cutting board. When the chicken has cooled enough to handle, shred it with two forks and then return it to the pot.
7. Now carefully remove the chile peppers from the stew. Taste the broth to test for spiciness. Depending on your tolerance for heat, chop and add back in enough of the peppers to bring the dish up to your favorite level of spiciness.
8. Stir in the chopped cilantro and more salt if you think it needs it.
9. When the farro is cooked, drain the remaining cooking water (if there is any) and divide it between 6 bowls. Spoon the chicken stew over it, and garnish with avocado, more cilantro, or any favorite topping. Serve hot and enjoy!