peggy lampman's dinnerfeed
recipe:

Seared Lamb Chops with Artichoke-Mint Salad perfect for a springtime supper

Posted on Fri, Apr 20, 2012 : 4:18 a.m.
Peggy Lampman | Contributor

mean fighting machine!
Here's a lovely, super quick and easy recipe for a springtime supper. I found it in an old beloved cookbook: Molly O'Neill's, "A Well-Seasoned Appetite".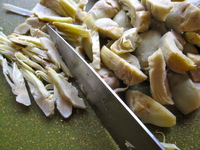 I saw another blog reproducing her recipe to the letter (with no attribution!) that added pine nuts, which would have added a nice crunch. Per O-Neill's recipe, I used lamb loin chops but lamb rib chops would be a fine substitution. I love, love, love the flavor of Arbor Farm's lamb, which is raised and harvested in Manchester, Mich. This seasonal lamb is only available through the middle of May.
The only change I made to her original recipe was adding two tablespoons of olive oil to the dressing. Her recipe called for 3/4-inch thick loin chops, and mine were over an inch thick. I increased the cooking time accordingly for medium rare. Roasted sweet potatoes were the perfect side.
Yield: 2-4 servings
Time: 20 minutes
Ingredients
2 cups thinly sliced thawed frozen artichoke hearts
2 tablespoons freshly squeezed lemon juice, plus extra zest for garnish, if desired
2 tablespoons extra virgin olive oil
3 tablespoons minced fresh mint
3 tablespoons minced fresh parsley
4 loin lamb chops, 3/4-1 1/2-inch thick
Directions
1. Whisk together lemon juice and olive oil. Toss artichoke hearts, mint and parsley into mixture; season to taste with kosher salt and freshly ground pepper. Reserve.
2.Heat a large heavy-bottomed non-stick skillet over medium-high heat until very hot. Place lamb chops in the pan and sauté until medium rare, about 3 minutes on each side for 3/4-inch chops. If using larger chops, turn down the heat after the 3 minutes sear and cook an additional 1-2 minutes per side, depending on thickness of chop.
3. Serve with artichoke salad.