YOU SHOULD ONLY BE HAPPY ....
recipe:

Favorite Rosh Hashanah dishes celebrate bounty

Posted on Mon, Sep 10, 2012 : 1 p.m.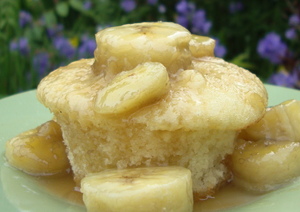 Mary Bilyeu | Contributor

Rosh Hashanah — the Jewish New Year — begins at sundown on Sunday evening. While the secular new year is all about champagne, the dropping of the ball at Times Square, a kiss at midnight, and designated drivers, Rosh Hashanah is more spiritual, more introspective. It begins a 10-day period leading up to Yom Kippur, the Day of Atonement, during which Jews begin the process of teshuvah ([teh-SHOO-vah]), or repentance, assessing the past year.

But Rosh Hashanah is also a time of celebration, of hopes for a happy year. And so it is customary to eat sweet foods, and apples dipped in honey is just one notable tradition. People often eat foods that represent bounty (such as pomegranates, with their numerous seeds, or sliced carrot coins), as well as round foods which are symbolic of the circle of the year and of life.

I've compiled a list of some favorite dishes that would be perfect to serve for a holiday dinner, or for any time of year.

Shanah Tovah! [shah-NAH toh-VAH] = May you have a good year!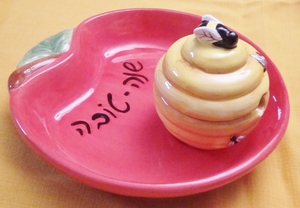 Serving dish for apples and honey (Mary Bilyeu, Contributor)
Loaves of round challah with raisins (Mary Bilyeu, Contributor)

Mary Bilyeu writes for AnnArbor.com on Tuesdays, Wednesdays, and Fridays, telling about her adventures in the kitchen - making dinner, celebrating holidays, entering cooking contests, meeting new friends ... whatever strikes her fancy. She is also on a mission to find great deals for her Frugal Floozie Friday posts, seeking fabulous food at restaurants on the limited budget of only $5 per person. Feel free to email her with questions, comments, or suggestions: yentamary@gmail.com.

Go visit Mary's blog — Food Floozie — where she enthuses and effuses over all things food-related; and look for her monthly articles in the Washtenaw Jewish News. "Like" her on Facebook, or send a tweet on Twitter, too.

The phrase "You Should Only Be Happy" (written in Hebrew on the stone pictured in this post) comes from Deuteronomy 16:15 and is a wish for all her readers - when you come to visit here, may you always be happy.