peggy lampman's thursday dinnerfeed
recipe:

Rose Street Theater Sugar Cookies with Royal Icing perfect for a nostalgic frontyard party

Posted on Thu, Sep 8, 2011 : 4:54 a.m.
Peggy Lampman | Contributor

Do you ever yearn for simpler times; evenings when parents, for instance, folded pajama-clad kids into cars and spent the evening watching a movie at the drive-in? Today's advanced digital technology allows you to bring the mood of an outdoor theater to your own yard, and invite your neighborhood to join the fun while you're at it.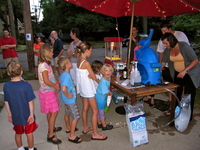 Peggy Lampman | Contributor
"This summer, we thought showing movies in our front yard would be a great way to bring the neighborhood families together and provide a fun activity for lazy summer nights," says Brian Lampman, founder of Rose Street Theater in Ann Arbor. "We had a five-week run beginning in July and into August where we'd show a kid's film every week, complete with pop corn, snow cones, and other treats." (Full disclosure: Brian is my stepson.)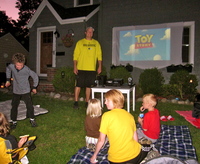 Brian plans to continue movie night into early winter finishing the season in December with 'How The Grinch Stole Christmas.' One advantage of the seasonal transition means darkness arrives earlier — movies can be shown sooner so it's not such a late night. (Second aside: Blankets will replace lawn chairs; hot chocolate will replace snow cones.)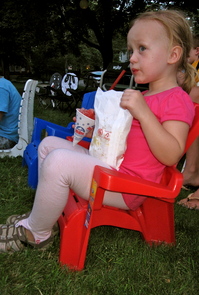 "Mom branded the Rose Street Theater event with rose-shaped sugar cookies," he says. "She made them for us when we were kids." (Third aside: "Mom" is Linda Lampman, my husband Richard's first wife, whose sugar cookie recipe and expertise is far superior to mine.)
Peggy Lampman | Contributor
The event is free to the Rose Street neighborhood and mouth-watering pizza (including gluten-free) was generously donated by another Burns Park favorite — Stadium Market.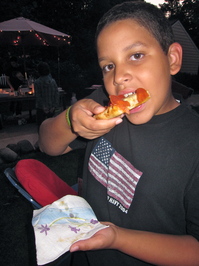 Peggy Lampman | Contributor
The following checklist illuminates how Brian set up his Rose Street Theater. For detailed information regarding specifics and other alternatives for creating your own theatrical venue (written by self-proclaimed cheapskates), visit the web site BackyardTheater.com. Creating and personalizing an outdoor movie theater can be as simple or complex as your budget and techie know-how allows.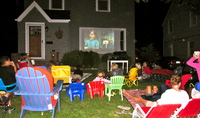 Brian is planning a double-feature for the Michigan/Notre Dame football game this weekend: "The Lion King" for the kids and an after-hours showing of "Gladiator" for their parents. To date there has only been one flaw in this plan. "The upset is discovering, by trial and error, that beer snow-cones just don't work."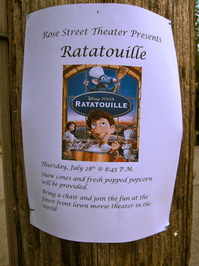 Rose Street Theater Production Checklist:



Invitations, customized PDF's e-mailed, or simple word-of-mouth announcements (include a rain date)


1 outdoor movie projector, such as an Epson MovieMate 60


Extension cords, if needed


Assorted kid's DVDs


1 large white sheet, for viewing movie


Clothespins, for attaching sheet to window overhangs


Chairs (most brought by attendees)


Citronella candles, if the night is buggy


Blankets, if the night is chilly


Snow cone machine, including syrup and cups*


Popcorn machine, including popcorn mix and bags**


Other treats, such as pizza or sugar cookies (see included recipe)


Sugar Cookie recipe courtesy of Linda Lampman; Royal Icing recipe adapted from CopperGifts.com.
Shopping Details: Linda often uses Wilton concentrated paste icing colors available at Michael's to add color to her icings. She puts a bit of paste on a toothpick and mixes it into the Royal Icing until her desired shade is reached.
She purchased the rose cookie cutter from Coppergifts.com, which she says has every conceivable type of cookie cutter. Ace Hardware also has an excellent selection of cutters. She purchases meringue powder from Baker's Nook and Michael's, both great resources for baking supplies.
Yield: 2-4 dozen, depending on size of cookie
Time to refrigerate dough: Several hours or overnight
Active Time: Depends on intricacies of cookie; 30 minutes to over an hour
Baking Time: 9-12 minutes
Sugar Cookie Ingredients
4 cups sifted all-purpose flour
1 teaspoon baking powder
1/2 teaspoon baking soda
1/2 teaspoon salt
1/2 teaspoon nutmeg
1 cup salted butter, softened
1 1/2 cups granulate sugar
1 large egg
1/2 cup sour cream
1 teaspoon vanilla extract
Oil for greasing cooking sheets
Cookie cutters, as desired
Icing (recipe follows)
Sugar Cookie Directions
1. Sift flour with baking powder, baking soda, salt and nutmeg. Set aside.
2. In large bowl of electric mixer at medium speed, beat butter, sugar, and egg until light and fluffy.
3. At low speed, beat in sour cream and vanilla until smooth.
4. Gradually add flour mixture, beating until well combined.
5. Remove dough with rubber scraper, and form dough into a ball; wrap in plastic wrap or baggie. Refrigerate several hours or overnight.
6. When ready to roll out dough, divide into 6 equal parts. Refrigerate parts you are not working with.
7. Preheat oven to 375 degrees. Lightly oil cooking sheets.
8. On well-floured surface, roll dough, one part at a time, to 1/4-inch thickness. With selected cookie cutters, cut dough into desired shape. Transfer cookies to oiled cooking sheet with a spatula.
9. On center rack of oven, bake 9-12 minutes or until cookies are golden. Let cool 1 minute on cookie sheet, then carefully slide off sheet onto baking rack to cool completely before frosting.
Royal Icing* Ingredients
4 cups powdered sugar
3 tablespoons meringue powder
1/4 cup warm water, plus additional if necessary
1/2-1 teaspoon vanilla, lemon, mint, orange or almond extract
Wilton concentrated paste icing (see above Shopping Details)
Royal Icing Directions
Place sugar and meringue powder in a large mixing bowl. Add 1/2 cup warm water, extract and beat on slow to medium speed 8-12 minutes, until icing thickens and can stand in peaks. Beat in small amounts of additional warm water until you reach the desired consistency. To add color, stir in tiny amounts of paste icing until desired shade is achieved.
* Royal Icing is best for sugar cookies because it dries hard.
Looking for a specific recipe? Click here for dinnerFeed's recipe search engine; type the recipe or ingredient into the search box. I am a real-time food writer and photographer posting daily feeds on my website and in the Food & Drink section of Annarbor.com. You may also e-mail me at peggy@dinnerfeed.com.