Peggy Lamman's Friday dinnerfeed
recipe:

Prune Plum Compote allows you to savor autumn bounty through the winter

Posted on Fri, Sep 16, 2011 : 12:52 p.m.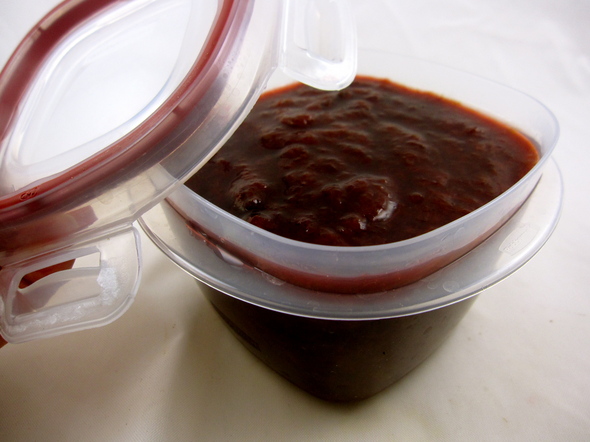 Peggy Lampman | Contributor

Peggy Lamman's Friday dinnerfeed
Here's a recipe for those of us too worn out to fuss with canning, pickling and putting up stuff, but still enjoy savoring a bit of Michigan's autumn bounty and fruits of our (minimal) effort through the winter.
Peggy Lampman | Contributor
I ran into my next door neighbor, Krystyna, at Hiller's a couple of days ago as she was shoveling prune plums by the pound into bags. She said every year she makes a big batch of prune plum compote and it keeps, refrigerated, through the winter. She uses it to spread on bread or waffles, tosses it with yogurt or spoons the compote over ice cream.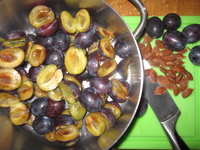 Peggy Lampman | Contributor
Krystyna said all you do is slice the plums in half, discard the pit, and simmer them in water for many, many hours until they are a thickened jelly-like consistency. So I did just that! Aside from pitting the plums and pulling out the coiled plum skins as they rose to the surface, my only effort was in remembering to stir the poaching fruit from time to time.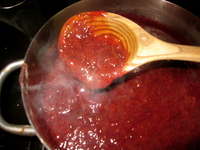 Peggy Lampman | Contributor
The result was a marvelously tart, lip-smacking flavor that I balanced with agave syrup, brown sugar and cinnamon. The final result reminds me of the American Spoon fruit butters I love. I imagine you could substitute the plums with any seasonal stone or other fruit.
These prune plums are everywhere; after leaving Hillers, I saw them at the Stadium Whole Foods, as well. Only 99 cents a recession-busting pound at both stores! Here's another easy recipe for using fresh basil to freeze pesto in ice-cube containers to enjoy through the winter months.
Yield: apx. 2 cups plum compote
Active Time (to pit prunes): 15 minutes
Simmer Time: 5-7 hours
Ingredients
2 1/2-3 pounds prune plums, washed and pitted
Honey, Agave or sugar to taste (I used 2-3 tablespoon agave+1 tablespoon brown sugar)
Cinnamon to taste (I used Vietnamese Cinnamon purchased from Spice Merchants)
Directions
1. Place the pitted plums in a large, heavy-bottomed pot or Dutch oven. Cover with a couple of inches of water. Bring to a boil, stir, then reduce heat to very low. Remove and discard brown plum skins as they rise to the surface.
2. Let simmer 5 to 7 hours or until thickened to desired consistency. Season to taste with sweetener and cinnamon. When cool, package in an air-tight container and refrigerate.

Looking for a specific recipe? Click here for dinnerFeed's recipe search engine; type the recipe or ingredient into the search box. I am a real-time food writer and photographer posting daily feeds on my website and in the Food & Drink section of Annarbor.com. You may also e-mail me at peggy@dinnerfeed.com.